Raw desserts are delicious, and raw desserts are healthy.
But if there's one thing raw desserts aren't, it's lower in calories…
Until now.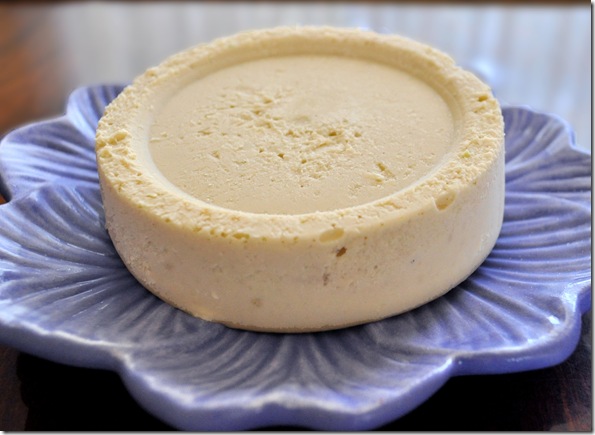 I'm not a raw foodist, but I do enjoy eating raw desserts. One of the things I like most about raw treats is that they're high in calories without also being high in bulk. That can be a true blessing for people like me, who require a lot of calories but who don't wish to give up so-called "bulky" foods such as salads, huge helpings of veggies, and other extremely filling dishes. I rely on calorie-dense foods to supplement my high-bulk diet so I can take in enough fuel without ending up with a stomachache.
However, not everyone needs a high-calorie diet, about which Healthy Tiffany reminded me a few weeks ago. In her comment, she asked if I could create a raw dessert that everyone can enjoy. If you've been reading my blog and have only learned one thing about me, I hope it's that I genuinely care about people and want everyone to be happy. Most of my recipes are easily adaptable for different lifestyles: depending on a recipe, you can sub water or applesauce for oil, use a gluten-free flour, or even pick and choose which sweeteners to use.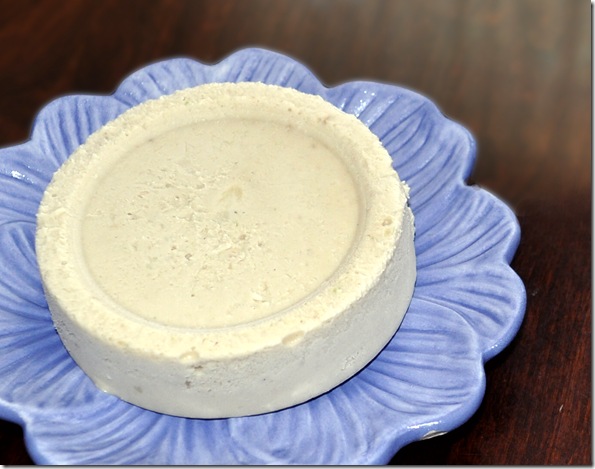 Please ignore the fact that it looks like a hockey puck. It's delicious, I swear!
Thanks to Tiffany for the challenge.
Raw

"Secret

Veggie"

Cheesecake
1/2 cup cashew butter, such as Artisana (about 110g)
Heaping 1/2 cup raw zucchini (80g)
Heaping 1/8 tsp salt
Scant 2 tbsp lemon juice (20g)
1/2 tbsp coconut oil OR water (8g)
1/2 tsp pure vanilla extract
Stevia or sugar of choice, as desired – If you use a liquid sweetener, omit the water/oil.
Add all the ingredients together and blend very well. If you're using a Magic Bullet, you might want to blend the zucchini a little first, so it doesn't stay chunky. Transfer your mixture to a pie-crust or cheesecake mold (I actually use an empty soy cream cheese container) and freeze. Thaw before eating. This makes a mini cheesecake. For a true-sized cheesecake, double or triple the recipe.
Variations:
Raw Cookie Dough Pie: add chocolate chips to the batter!
Piña Colada Pie: omit the lemon, and blend in crushed pineapple
Coconut Cream Pie: omit lemon, use coconut butter for cashew butter
Cashew Freezer Fudge: freeze in a shallow pan and cut into squares
Cheesecake Popsicles: freeze in popsicle molds
Peanut Butter Pie: omit the lemon and use peanut butter for the cashew butter. Top with chocolate! (I did this! Photos coming soon!)
.
Still in cheesecake mode? Check out my Raw Banana Split Cheesecake recipe.
If, like me, you're not watching your weight, it doesn't mean you can't enjoy this recipe too. Just be sure to cut yourself a big slice. So easy, so good, so healthy! Don't tell your kids there's a veggie inside. Or do. I've never been a proponent of lying to kids to get them to eat there veggies. 'Cause someday you're not going to be there to feed them, and if they haven't learned to love veggies, they'll make non-veggieful choices when out on their own. Sorry Mrs. Seinfeld, but I don't subscribe to your "Deception." Tell kids the truth!
What do you think of the "hiding veggies" movement made popular by books such as Deceptively Delicious?
..