I actually enjoy cold, rainy days.
They offer a good excuse to stay home and be lazy. (Unfortunately, they're not so fun when you actually have to go out in the cold rain.) Yesterday was the epitome of a rainy day, which meant: laziness on the menu! Here's how my laziness manifested itself: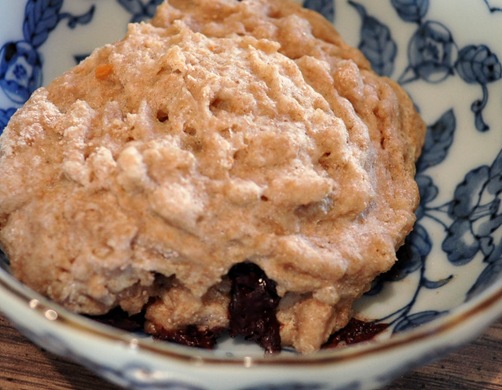 Above, a microwave muffin – a microwave version of a Single Lady Muffin.
I sprayed a little dish (you could use a coffee mug) with coconut oil spray, scooped in the batter for a Single Lady Cupcake (with chocolate pieces, natch), and microwaved for 90 seconds. Behold the yumminess: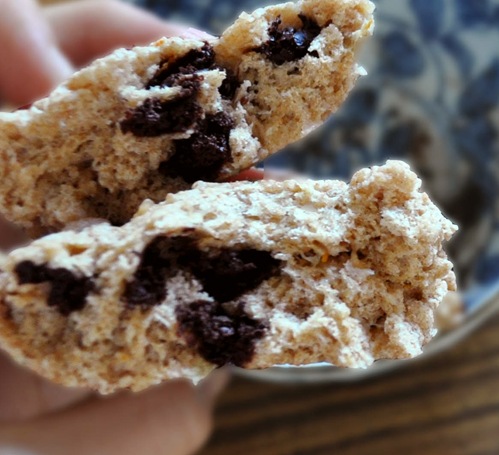 A note about the "lazy-girl" microwave version: If you're using only applesauce, not oil, just keep in mind that the microwaved cake is a bit drier than the oven version. It's still plenty yummy, though! Next up might have to be a savory version:
Broccoli + nutritional yeast = Cheesy Broccoli Muffins
Nutritional yeast (or vegan cheese) + tomato sauce = Pizza Muffins!
Ooh or maybe even corn muffins? Microwave corn muffins in only 5 minutes?! Bring on the rain!
Do you ever have "lazy" days?
Y'know, days where you don't even want to get outta your PJs? How do you motivate yourself (if you do!) on those days? And do you like rainy days? Are there any special activities (such as baking, reading, scrapbooking, etc.) that you like to do on rainy days?  Personally, I could do without cold rain. But I am a fan of warm rainy days. I even enjoy running in it.
You might recall I am gorgeous when wet. Of course, by gorgeous, I mean that Rachel's hairless Sphinx cat and I could be twins (Friends-reference number 5,462 on this blog). Actually, even when I'm not wet, my hair doesn't much like the rain. But I think frizzy hair on rainy days is probably a universal problem. 😕