Aww look, it's fun-sized!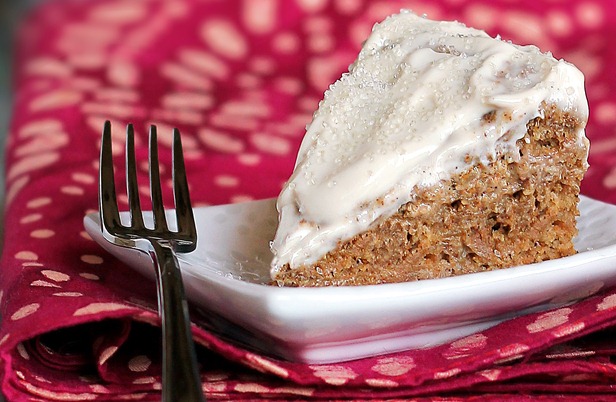 Spice up your life
I was in fourth grade when the Spice Girls hit the scene. My friend Jackie got their album for Christmas, and we'd dance around the house to it, wearing crazy outfits and hairdos. (One of the songs was called "Naked." Jackie's mom made sure we always skipped over it!)
Fun-sized Spice Cake
Today's recipe was inspired by my Pumpkin Cream Cheese Bars.
Initially, I'd aimed to make a maple version of the bars. However, the first attempt lacked any maple flavor whatsoever, and so I decided to make spice bars instead. In reaching for a new baking dish (for attempt #2), I happened upon a mini springform pan. And thus, this little spice cake was born. As I tried to think of a name, I kept going back to the fact that it's a baby spice cake—just like the singer! (For those of you who weren't teens in the 90s, that would be Emma Bunton, also known as "Baby Spice.")
What singers or bands were popular when you were growing up?
I was a teen in the 90s, so groups like Blink 182, N'Sync, and the Backstreet Boys played at my middle-school dances. Oh, and Britney Spears, Hanson, and the Spice Girls.
I never got caught up in the Hanson craze, but a few of the girls in my class wanted to marry those boys! And my friend Robin actually bought the Spice Girls movie. (One of only three copies sold?) She made me watch it with her; as expected, it was awful! Aliens abducting the main characters? Really?? Someone thought that was a good idea?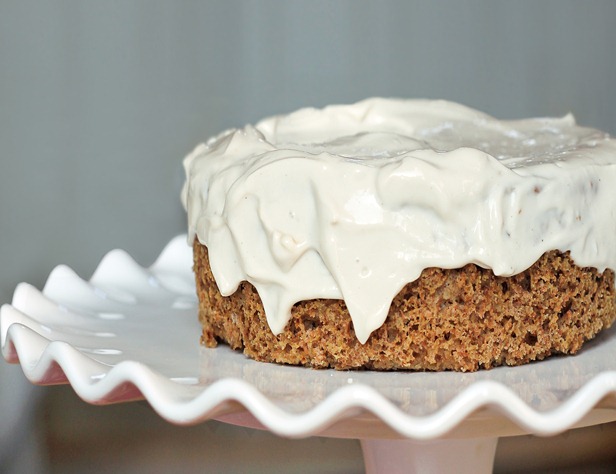 Many of you will appreciate that this recipe is fat-free.
I didn't actually set out to make it that way. But the batter looked too gooey, after I put in all the applesauce, to add any more liquid. Luckily, this doesn't taste fat-free (especially when it's frosted). But you can always replace some of the applesauce with oil if you so desire.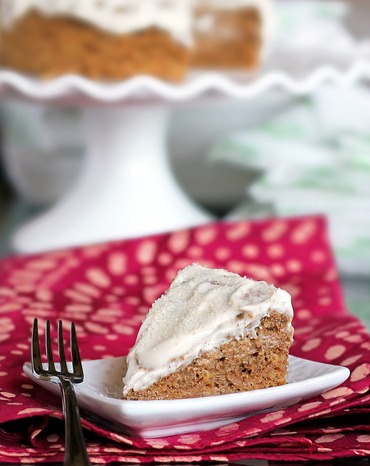 Eggnog "Baby Spice" Cake
(Makes 2-4 servings)
1/2 cup spelt or all purpose flour
1/4 tsp salt
1 tsp baking powder
pinch stevia or 2 tbsp sugar
1/4 tsp baking soda
1 1/2 tbsp agave or pure maple syrup
2 tbsp milk of choice, such as almond milk or even vegan eggnog!
1/2 tsp pure vanilla extract
1/2 cup applesauce
1/2 tsp cinnamon
1/4 tsp nutmeg
1/8 tsp ground cloves
optional: raisins, walnuts, pecans, etc.
Combine dry ingredients and mix very well. In a separate bowl, mix wet ingredients (including applesauce), then pour dry into wet. Stir until just combined, then pour into a greased pan (I used a mini springform, but a 4×7 would also work), and cook at 350 F for 20-25 minutes, depending on the depth of your dish. Allow to cool for 10 minutes before removing the springform.
Frost with: Creamy Dreamy Frosting.
For fun, I added a tiny bit of rum to the frosting. But you can opt to leave it out or even use rum extract. And feel free to use a different frosting recipe if you'd prefer. Or you could always opt to pay tribute to the UK, home of the Spice Girls, and top this cake with Marmite. But I wouldn't recommend that. No, not at all!