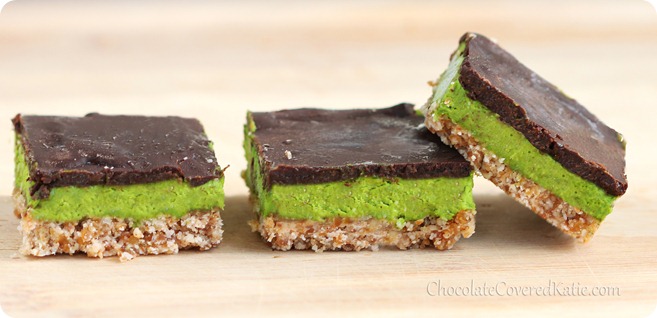 New York City is home to a critically-acclaimed restaurant called Dirt Candy, whose menu boasts some truly unique dishes: popcorn pudding, celery cheesecake, jalapeno hush puppies, mint chocolate nanaimo bars with a base of green peas…
You can all breathe a sigh of relief, because I did NOT use green peas in my mint chocolate nanaimo bars today.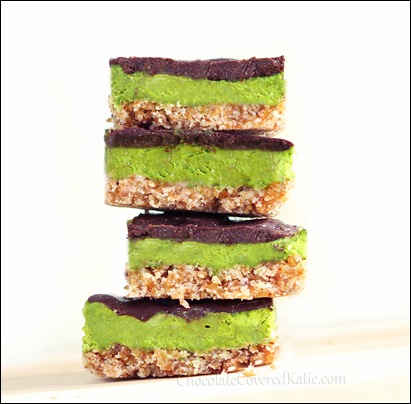 However this relief might be fleeting once you see what I did use

.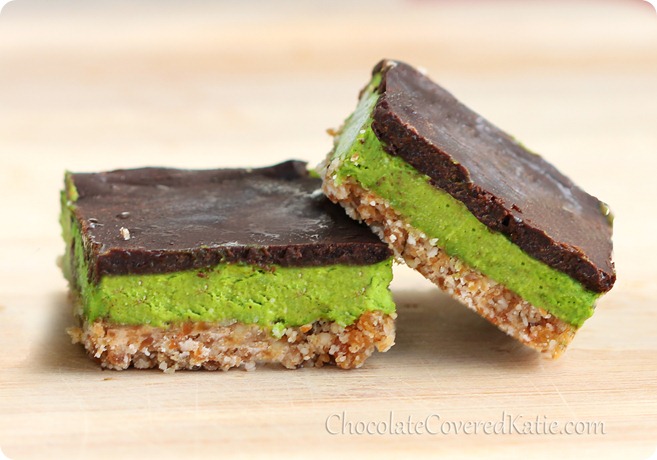 Nanaimo bars, a popular Canadian dessert hailing from Nanaimo, British Columbia, consist of three layers: a crumbly bottom later, creamy center, and a chocolate coating for the top. While Nanaimo Bars are traditionally full of butter, refined flour, and sugar, today's recipe offers a much healthier alternative: with one sneaky ingredient you will never suspect!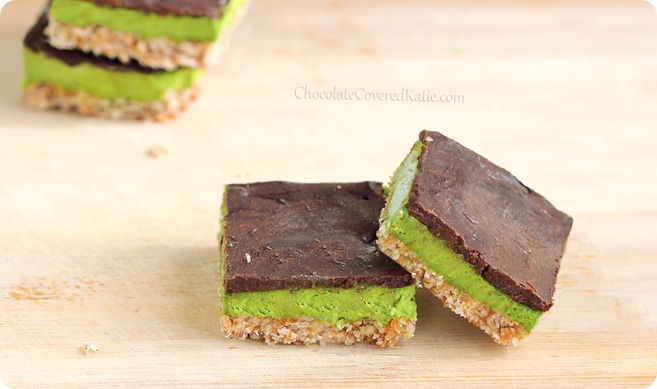 Mint Chocolate Nanaimo Bars
Cream Layer:
(For a nut-free bar, feel free to just substitute your favorite mint chocolate chip ice cream for the cream layer.)
1 1/2 cups raw cashews or macadamia nuts (160g)
1/8 tsp salt
scant 1/4 tsp pure peppermint extract
1/2 tbsp pure vanilla extract
1/4 cup virgin coconut oil (40g)
2 Nunaturals stevia packets, or 2 tbsp liquid sweetener (such as pure maple syrup)
3 oz raw spinach (85g or 2 very-loosely-packed cups)
Place the nuts in a cereal bowl and cover with water. Let soak 8 hours or overnight. (You can make the crust layer while you wait.) Drain and pat completely dry with a paper towel. Combine all ingredients in a vita-mix or high-quality food processor, and process until completely smooth. (This can take a few minutes in a food processor.)
Crust Layer:
1/2 cup raw almonds, walnuts, pecans, or a combination of these (or sunflower seeds for nut-free)
1/2 cup shredded coconut, unsweetened (I used the full-fat kind)
scant 1/2 cup pitted dates (8 small dates) or raisins
1/8 tsp salt
2 tbsp cocoa powder, optional
Process all ingredients until even crumbs form. (Blenders will yield sticky mixtures, so it's best to use a food processor.) Transfer to an 8-in square baking dish lined with parchment or wax paper going up the sides for easy removal. Using a piece of wax or parchment paper, smush into the pan until the crust evenly fills the bottom. Make the final layer:
Chocolate Layer:
1/2 cup cacao or cocoa powder (40g)
1/2 cup virgin coconut oil (80g)
2 tbsp pure maple syrup (or liquid sweetener of choice) (28g)
Melt the coconut oil if it is not already melted. Stir together all ingredients to form a smooth sauce. Spread over the other layers. Freeze just until chocolate has started to set, then cut into bars. It is best to cut after 10 minutes or less have elapsed, to prevent cracking. Then place back in the freezer to firm up completely. Bars can be stored in the freezer for a few weeks; thaw before eating.
—> View Chocolate Nanaimo Bars Nutrition Facts <—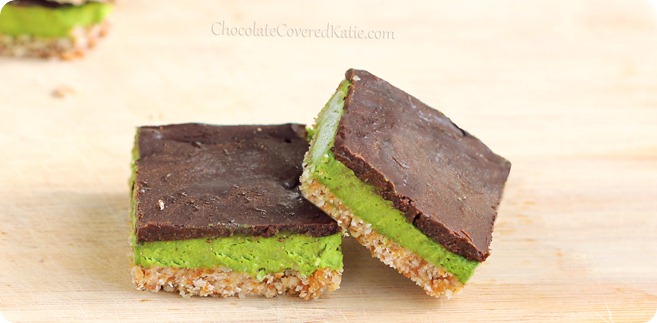 P.S. Dirt Candy also sells a Rosemary Eggplant Tiramisu.
Hmmm…