Better known as Chipwiches!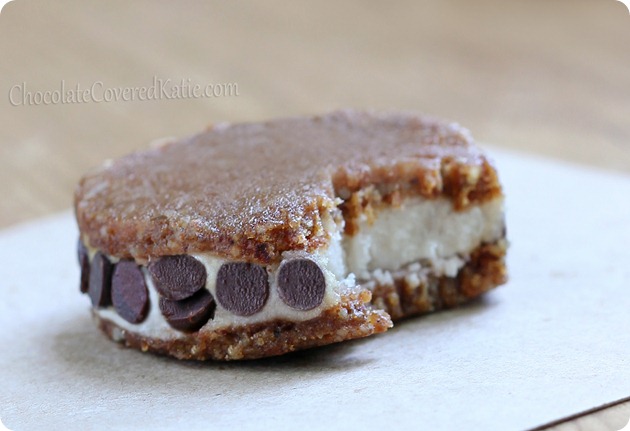 The first time I ever tried a Chipwich was at a Texas Rangers baseball game, and I remember thinking, "Two cookies, chocolate chips, and ice cream all in the same wrapper?
This must be the best dessert EVER!"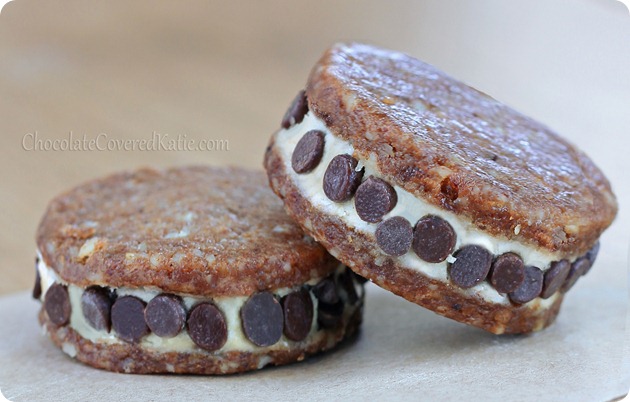 I pretty much still believe that :).
(Today's recipe is a raw version… if you prefer the classic, use my Flourless Chocolate Chip Cookies recipe in place of the cookie recipe listed below. Follow the same directions for shaping into Chipwiches.)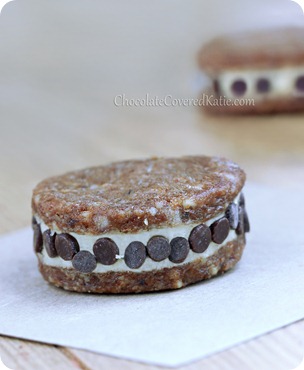 Chipwich Ice Cream Sandwiches
Packed 1 1/2 cups pitted dates (160g) (I like SunMaid, which are softer)
3/4 cup raw nuts (Try walnuts, cashews, macadamias, or a combination.)
3/4 tsp pure vanilla extract
1/4 tsp salt
at least one circle cookie cutter
1 ice cream recipe (or vanilla ice cream of choice)
mini chocolate chips, for decoration
If using my homemade ice cream recipe (linked above), prepare it about an hour ahead of time, so that it is soft but not melty, and keep frozen.
Add the first 4 ingredients to a high-quality food processor (the mixture comes out much stickier in a blender, but it technically can be done). Process until fine crumbles form. If mixture is too dry, add up to 1 tbsp water—but no more. Pour the entire mixture into a gallon-sized plastic bag, and smush into a ball. Still in the bag, roll out the dough. Cut open the bag and use a cookie cutter to make circles. Put the cookie cutter over one of the cut-out cookies, then spread a scoop of ice cream on top, filling the cookie cutter to the edges. Place a second sandwich cookie on top and freeze 10 minutes. When ice cream firms up, pop the sandwich out of the cookie cutter, decorate with mini chocolate chips, and store in the freezer in an airtight container. Repeat to make the other Chipwiches. (Note: you will only use about half the ice cream recipe, but it's important to make the entire batch for optimum blending. The only way I could've used the whole recipe would've been to double the crust recipe… and that would make for a very angry food processor!)These can be frozen for up to a month—the ice cream will harden; so be sure to thaw, until ice cream is soft again, before eating.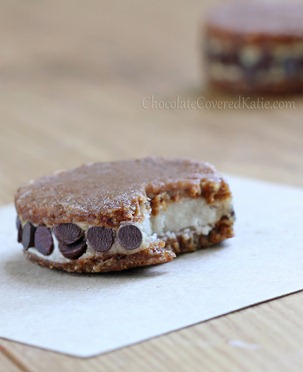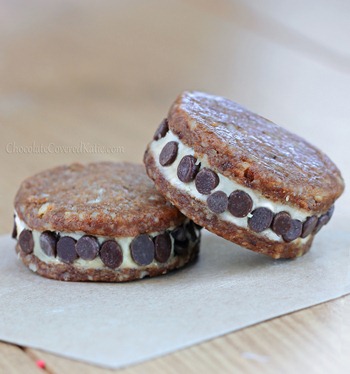 Question of the Day:
Do you ever go to baseball games?
Any favorite teams? And favorite snacks? When I was really little and went to Phillies games, I'd always get a Lemon Chill, eat the entire thing, and then feel really cold for the rest of the game. But after discovering Chipwiches, I never went back to Lemon Chills… for obvious reasons!