Bacon cupcakes?
By now, you've most likely noticed the recent pervasiveness of bacon in grocery stores, in restaurants, and especially on Pinterest… Bacon chocolate bars, bacon vodka, bacon cinnamon rolls, bacon toothpaste?? Scarily enough, all of these items are very much real entities.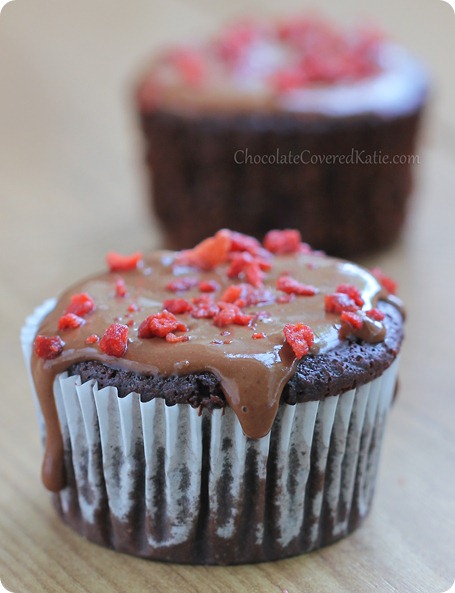 And bacon cupcakes: rich chocolate cupcakes with a smokey flavor sure to please any bacon lover in your life.
While a bacon cupcakes recipe might seem out of place on this blog, I wanted to offer a healthier alternative for those interested in trying out the bacon trend without the extra calories and saturated fat… or for those who love Charlotte's Web and Babe as much as I do! The thing is, you don't actually need any real bacon to achieve that textbook "bacon" flavor; all you need is a secret ingredient found at pretty much any mainstream grocery store: liquid smoke.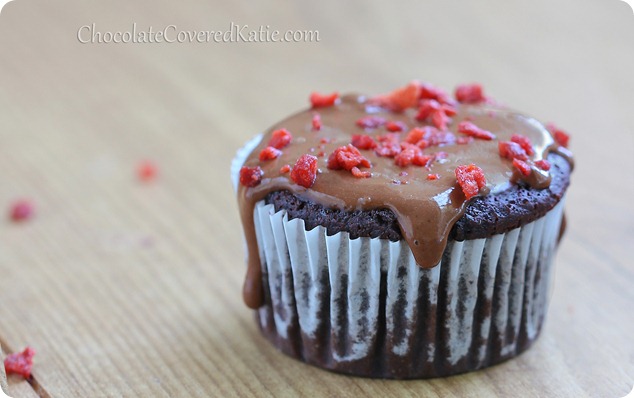 I made a glaze for the cupcakes by taking my Reeses Fudge Frosting and thinning it out with a little extra almond milk. Then I sprinkled a few bacon bits on top (Frontier Bac'uns, Betty Crocker, and McCormick bacon bits all happen to be bacon-free) and they were good to go!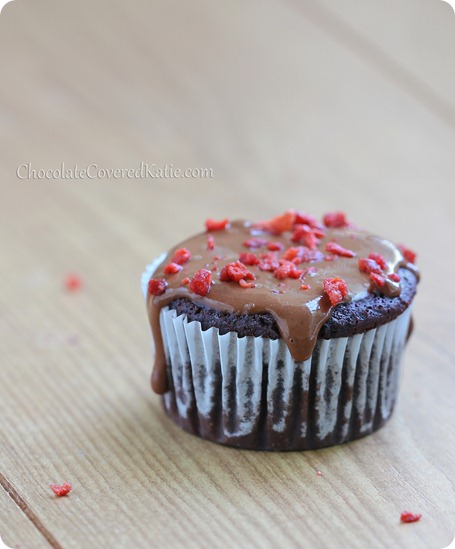 Bacon Cupcakes
1 cup spelt or all-purpose flour (135g) (Arrowhead Mills gf also works.)
6 tbsp cocoa powder (30g) (not Dutch)
1/2 tsp baking soda
1/2 tsp salt
1 cup xylitol or sugar of choice (180g)
1/2 cup mayo-style spread, such as Vegenaise (For a mayo-free version, click here.) (110g)
1 tbsp pure vanilla extract
3/4 cup water (180g)
1 tsp liquid smoke
Preheat your oven to 350 F. Place 12 liners inside a muffin pan. In a large bowl, combine the first five ingredients and sift very well. In a separate bowl, combine remaining four ingredients and whisk until the mayo spread is completely smooth. Pour wet into dry, and stir until just combined. Immediately divide among the liners—it won't seem like a lot of filling, but these cupcakes rise a lot! Bake 21 minutes, remove from the oven, then let sit 15 more minutes before removing from the pan. These taste much more fudgey and rich the next day, so bake the day before eating if you can. Store in the refrigerator for optimum freshness. (The recipe for the healthy chocolate frosting shown in the photos is linked under the second picture in this post.)
I can vouch for the recipe working with homemade cashew mayo, Vegenaise (low-fat or regular), or Earth Balance Mindful Mayo. Although I can't vouch for every single homemade mayo spread out there, the recipe should work as long as your mayo spread includes vinegar or lemon juice and a fat source such as oil or cashews. If you are using a homemade mayo, I recommend omitting any onion powder and mustard called for in your recipe.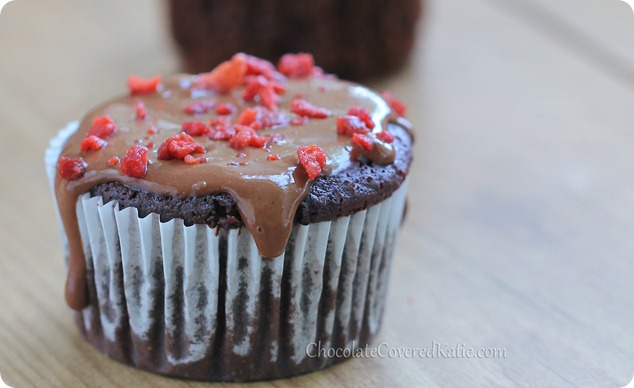 Save a horse, ride a cowboy.
Save a pig, eat a cupcake :).