This vegan loves cream sauce.
Up until yesterday, I don't think I'd ever tried cashew Alfredo sauce. So when I saw it on the menu at Cafe Blossom, a vegan restaurant in New York City, I instantly wanted to order Spaghetti Squash Alfredo: maitaki mushrooms, sautéed garlic, leeks, and slow roasted cherry tomatoes, mixed with tender spaghetti squash in a rich cashew cream sauce. I also ordered a side of grilled asparagus.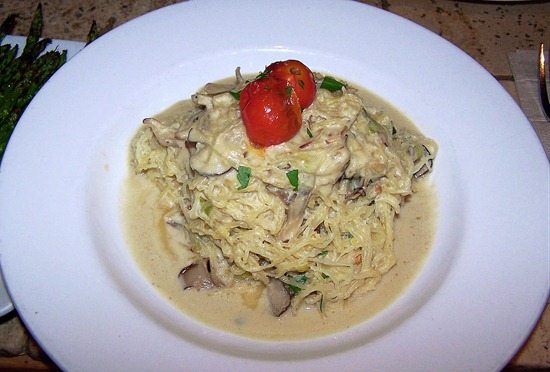 While devouring every last drop of sauce, I drafted the following letter in my head:
Dear Cafe Blossom peeps,
Your cashew Alfredo is the best thing since sliced bread chocolate-chip cookies. Please, can you send me the recipe so I can eat it, drink it, and bathe in it daily? I would be forever grateful.
Sincerely,
Chocolate Cashew-Covered Katie
What do you think? Do you think they'll go for it?
Or be seriously creeped out? 😕
For more of my restaurant posts, click here: Healthy NYC Restaurant Reviews.