When I wake up in the morning
And the 'larm lets out a warning
I don't think I'll ever make it on time
By the time I get my books and I give myself a look
I'm at the corner just in time to see the bus slide by
It's alright cause I'm saved by the bell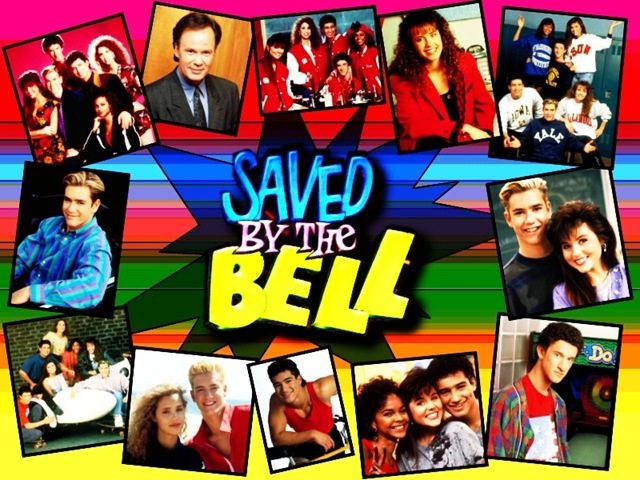 Reminisce with me: Who  else, growing up, loved loved loved Saved by the Bell? I know I can't be the only one! But have you watched that show recently (super-early in the am, you can sometimes find SBTB reruns)?  It's ridiculously dumb. I mean, in the episode I caught, Zach—who has no dance experience—stars in a ballet so that he can graduate from high school.
Still, I hold nothing but fond memories of my SBTB-watching days. How many of you, like me, wanted to be Kelly Kapowski? How many of you wished to go on a date with cute Zach Morris (or hunky A.C. Slater)? Or participate in a dance-off at the Max, make a video yearbook, star in the school production of Snow White and the Seven Dorks…
But there I go on a tangent again. The only thing today's post has in common with Saved by the Bell is the title. After receiving a comment asking about my morning routine, I thought it might be a fun topic for a post.  Therefore…
My Morning Routine
Most likely, nobody (excluding the commenter and yours truly) cares about this. So hopefully I won't bore you too much.
I usually wake up naturally, around six or seven. Alarm clocks and I do not get along; I think I was scarred for life by my sister's old clock—an electric-guitar-playing chicken! I throw on my running clothes—laid out the night before—and head downstairs for "first breakfast." Lately, first breakfast consists of some fruit (kiwi, peach, grapefruit half, watermelon, what-have-you), nuts, and maybe a cracker or two.  Yesterday's brekkie was the following: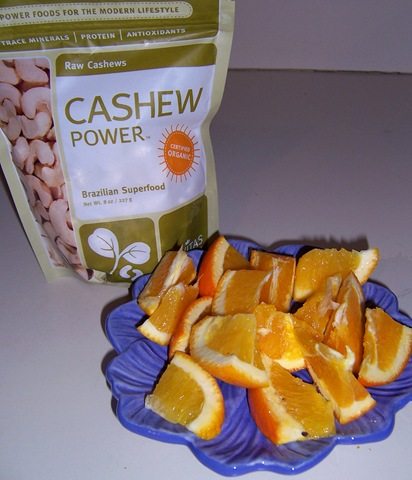 I think cashews are my favorite nuts. And whenever I eat oranges, I'm reminded of playing soccer as a kid. Anyone else remember eating oranges at halftime? Do kids still do that?
Properly fueled, it's time to get revved up for the day. Nothing beats a good, hard run first-thing in the morning to wake up one's senses. I don't wear any of those newfangled gadgets, but I do have a fancy-schmancy $10 watch, and I'm usually outside for a little over an hour.
Then, second breakfast.
According to sources such as Runner's World Magazine, it's important to refuel within 15-30 minutes of working out. So I usually do most of the breakfast prep-work the night before.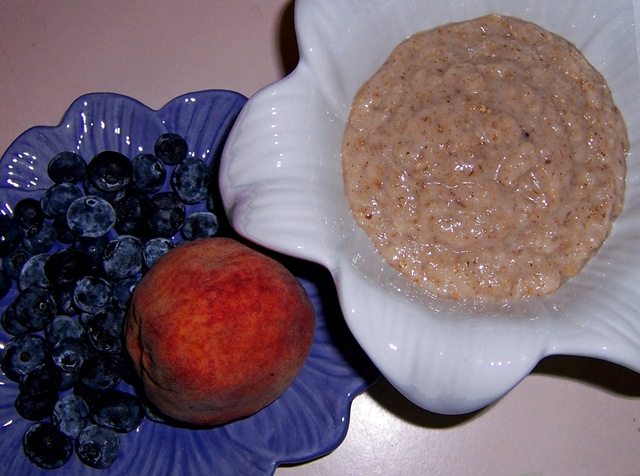 I knew exactly what I wanted today: Peanut Butter Barley Fusion (with a few modifications, alongside a bursting-with-ripeness peach and sweet blueberries)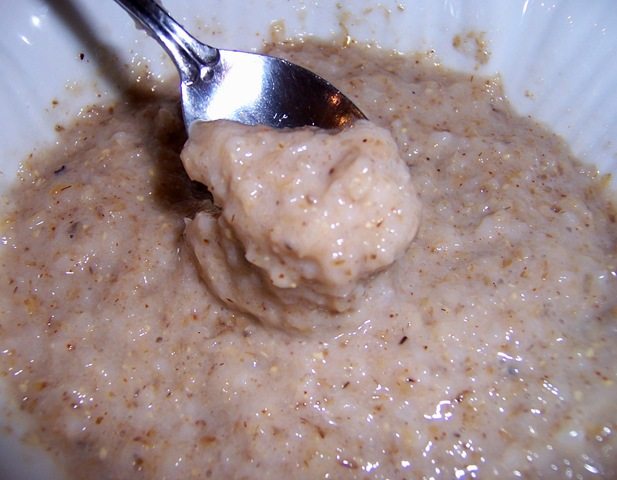 And that, dear readers, concludes my Morning Routine.