These bars might be your new favorite snack.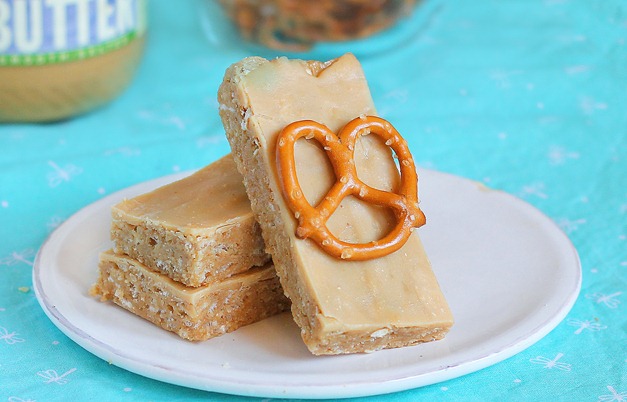 Peanut butter snack bars!
Salty and sweet, these no-bake bars taste even better than peanut butter pretzel Luna Bars. But they confuse me: How can a recipe with absolutely no chocolate taste so good?
It just doesn't make sense.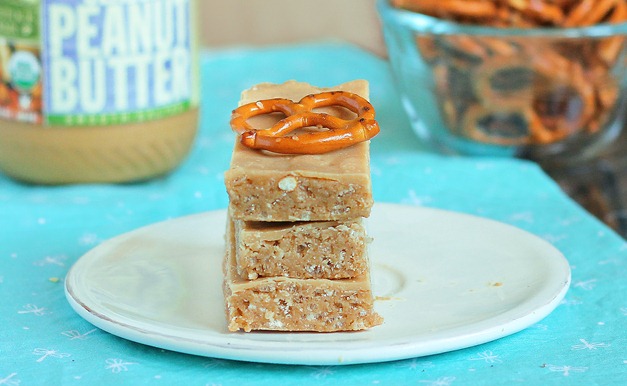 You know what else confuses me?
Moles. And protons and neutrons and electrons. But mostly, moles. I sat through an entire year of AP Chemistry and still don't understand moles. Not in the slightest.
Until I learned to cook, I thought I disliked science. Only recently did I realize the reason for my animosity towards the subject: I just couldn't figure out how our school science experiments applied to real life. (Even the more exciting experiments, such as growing plants in 7-up or red food dye… how on earth was I ever going to use the information gleaned from that study?)
But it turns out I do like some branches of natural science, such as the science of nutrition, and the science of cooking. (Edible experiments are the best!) My advice to science teachers: Ditch the moles.
Focus on pretzels and peanut butter!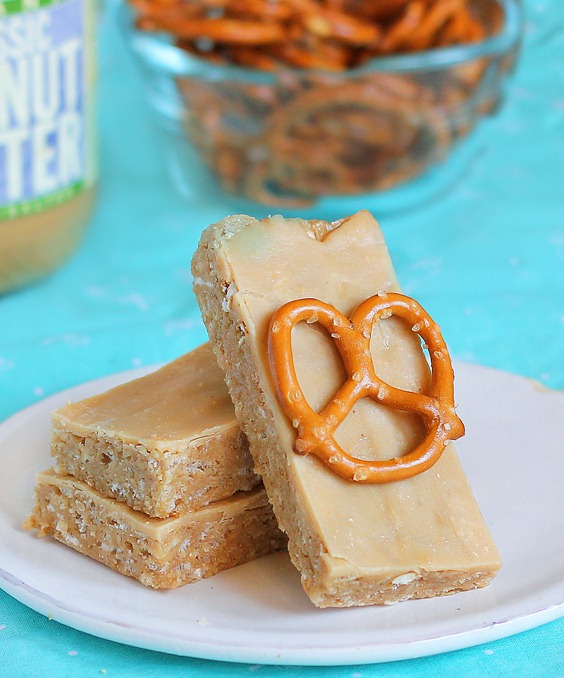 Peanut Butter Pretzel Bars
(No-bake!)
Category: Healthy Peanut Butter Recipes.
1 cup rice crispies (30g) (either brown or white)
packed 1/2 cup oat flour (70g) (see instructions for substitution)
1/4 tsp salt (my pb also has salt)
1 tsp pure vanilla extract
5 tablespoons agave (Pure maple syrup will probably work)
3 tablespoons pb (or other nut butter) (Or you can switch the proportions of peanut butter to agave.)
optional: handful of broken-up pretzels (I didn't measure)
optional: double batch PB Magic Shell
Combine all dry ingredients. In a separate (large) bowl, combine wet and stir to form a thin paste. (If you store your pb in the fridge, you should warm it a little for easier mixing.) Pour dry into wet (not the other way around), and stir until evenly coated. Line a baking dish or tupperware container with a large piece of wax paper and pour the mixture into the dish. Fold the extra paper over the mixture and squish down as hard as you possibly can! Use a heavy object to really press it down. (The mixture will fill a 7×5, or about 2/3 an 8×8.) Stick the mixture in the fridge or freezer to harden before cutting into bars. Makes 6 bars. (If you can't find oat flour, you can make your own by blending oats in the food processor. Just be sure to measure after blending.)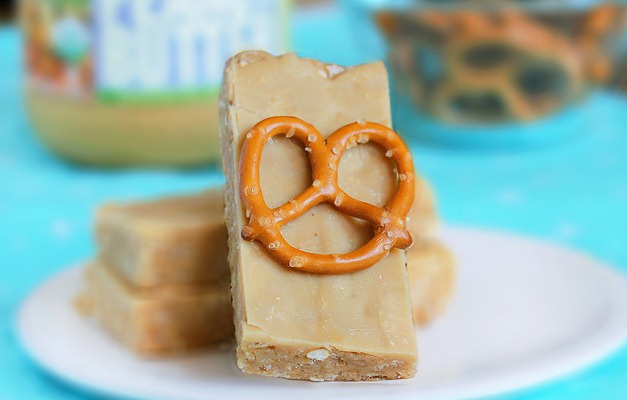 For authentic Luna Bars, top with: Peanut Butter Magic Shell.
As stated earlier, you should make a double batch to coat the bars. Spread it on evenly. When the bars cool in the fridge/freezer, the tops will magically harden.
Question of the Day:
Did you have a least favorite subject in school?
Growing up, I dreaded science class, whether it was chemistry or biology or physics. People always told me how lucky I was to get good grades on Spanish and English tests without studying… Little did they know I once studied for an AP Chem test and still got a 25 (my worst-ever test grade). But you know what? I'm more proud of the C I earned in Chem than the As in subjects that came more easily. I worked hard for that C; it could have so easily been an F! Link of the Day: