Soft homemade peppermint sugar cookie bars – complete with a secretly healthy frosting!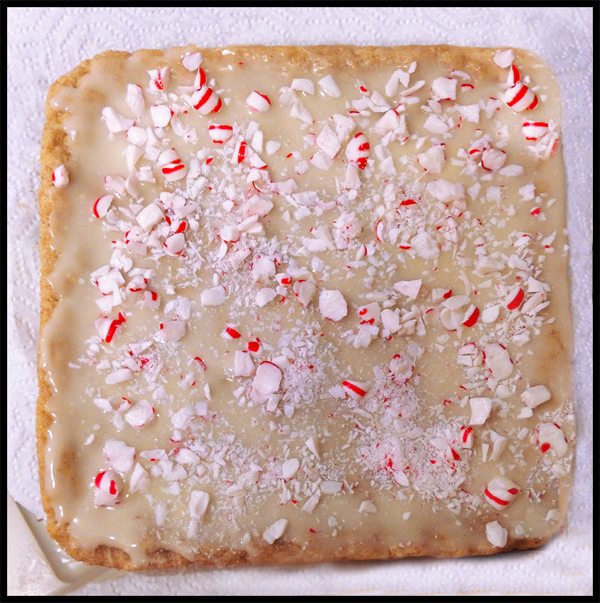 It was actually last year that I came up with the recipe for these peppermint sugar cookie bars. I didn't get a chance to post them before Christmas, and who wants to see peppermint sugar cookie bars on a blog in March or April?
Happy Easter… here's a recipe with some candy canes crushed on top!
???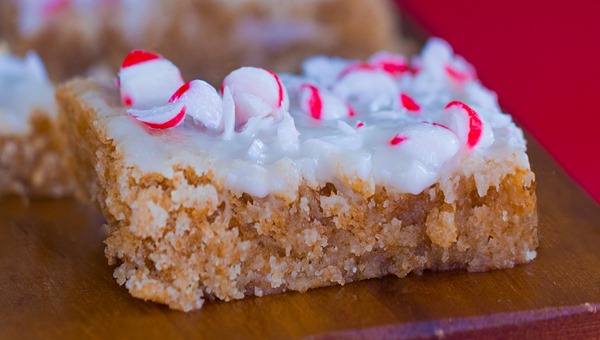 I don't think it would go over so well.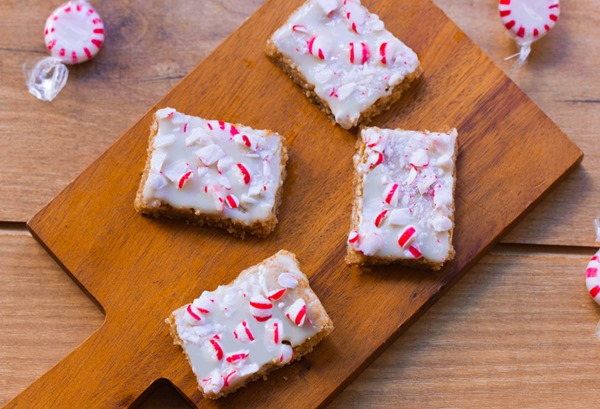 Soft Peppermint Sugar Cookie Bars
Adapted from my Healthy Sugar Cookie Bars
Peppermint Sugar Cookie Bars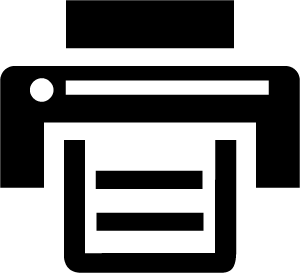 Print This Recipe
[mrp_rating_result show_count="false" show_rich_snippets="false"]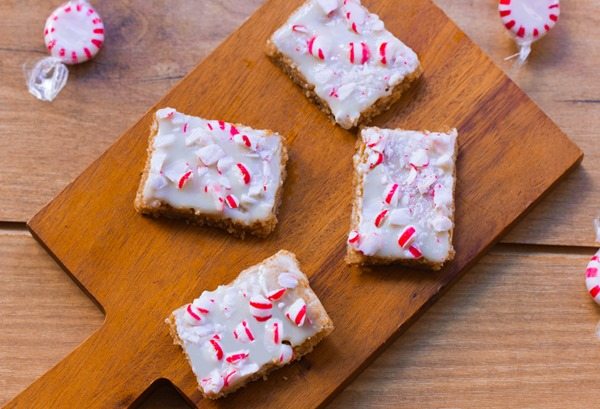 Ingredients
1 1/2 cups spelt flour or white flour (or Bob's gf plus 1/4 tsp xanthan gum)
1/2 tsp baking powder
1/4 + 1/8 tsp salt
3/4 tsp baking soda
1/2 cup sugar of choice or xylitol
1 tsp pure vanilla extract
1/8 tsp pure peppermint extract
3 tbsp milk of choice
1/2 cup coconut or vegetable oil
1 batch Yogurt frosting (or peppermint frosting of choice)
Instructions
*Pure peppermint and vanilla extracts are available at regular grocery stores; they should say pure on the label.
Preheat oven to 325 F, grease an 8-inch pan, and set aside. Combine all dry ingredients in a bowl. In a separate bowl, whisk the vanilla, peppermint, milk and oil. (If using coconut oil, it's a good idea to gently heat your milk to room temperature first.) Mix dry into wet, then smooth into the prepared pan. Bake 13 minutes.  The bars will look underdone when you take them out, which is what you want. Just let them cool for at least 10 minutes before touching. If desired, frost with your favorite peppermint frosting or the following:
Peppermint Yogurt Frosting
Stir the powdered sugar in a bowl, removing all lumps. Add the yogurt and extract, and stir. It will seem very dry at first, but just keep stirring and it will eventually turn into frosting. If it looks too thin, just add more powdered sugar. Too thick? Add more yogurt. Coconut sugar or date sugar can easily be used in the linked healthier powdered sugar recipe if you so desire.
Link Of The Day: