Grilled-to-perfection homemade portobello mushroom burgers.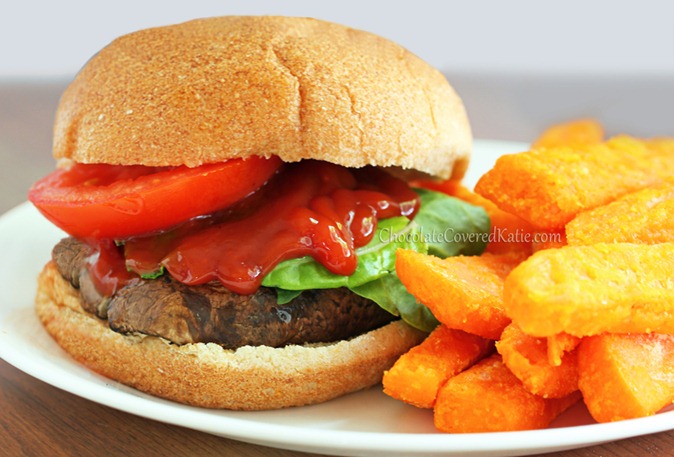 I'm not going to tell you that my boyfriend took a bite out of one of these grilled portobello mushroom burgers and declared it to be the "best burger ever!"
And I'm not going to tell you that my younger sister, who worked at a fast-food restaurant for three years and really loves burgers, decided it tasted exactly like a real hamburger.  No, portobello mushroom burgers are not hamburgers.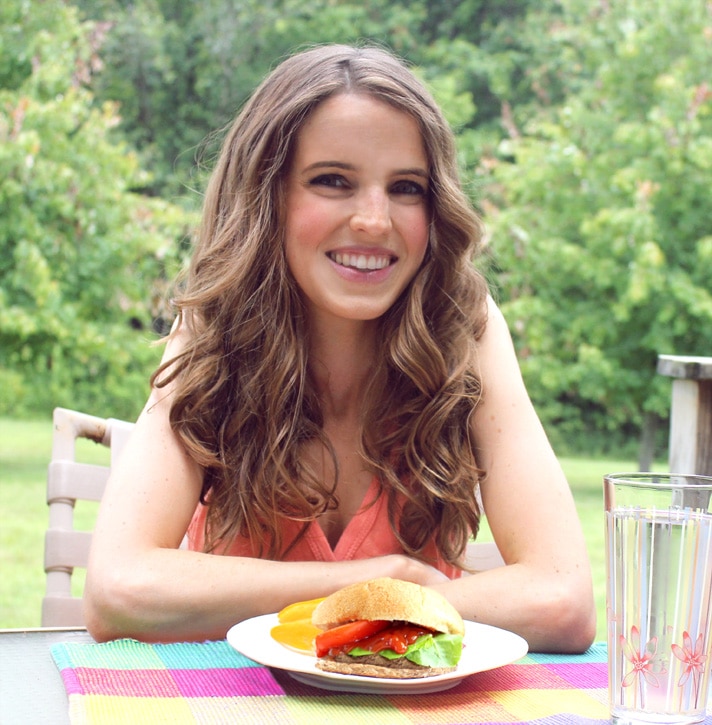 But that's completely okay!
I think one of the main problems with fake meat products is they claim to be just that: fake. Trying to pretend a mushroom burger is a hamburger or a slab of tofu is a chicken wing will just set you up for disappointment. Why not celebrate these plant-based foods for their own unique textures and flavors? Some of the so-called fake meat products are pretty darn good when they're not being passed off as something else.
Like these portobello mushroom burgers… Thick, juicy, tender, and hearty, these burgers get the stamp of approval from both vegans and carnivores; from not only me, but also from my burger-loving sister and my vegetable-hating boyfriend (we're working on that whole vegetable-hating thing…).
In the photos: a portobello mushroom burger with a side of Crispy Sweet Potato Fries.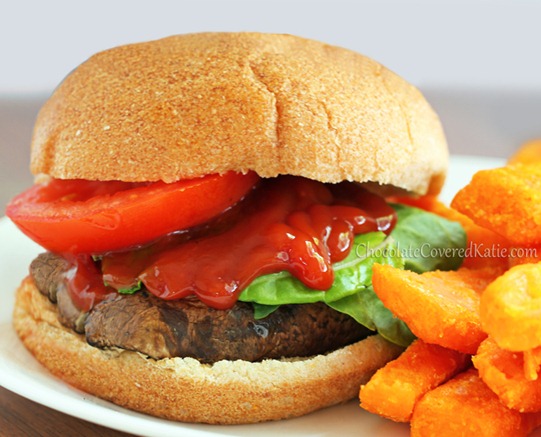 What are your thoughts on "fake meat" substitutes?
On the one hand, I worry that labeling a vegetarian dish a "substitute" makes it sound inferior; like we are missing out or trying to trick ourselves into believing whatever we're eating tastes exactly like the food it is supposed to be mimicking. It also makes it seem like people who still eat meat don't need to bother trying the "substitute" because they can have the real thing.
Yet on the other hand, calling a food by a familiar name (such as chicken nuggets or barbecue ribs) attaches the food to something people already know and love, thus enabling them to make a positive connection. So I guess there are pros to both sides; it's just not a black-and-white issue.
Portobello Mushroom Burgers
Portobello Mushroom Burgers
Yield:
Makes 4 Portobello Mushroom Burgers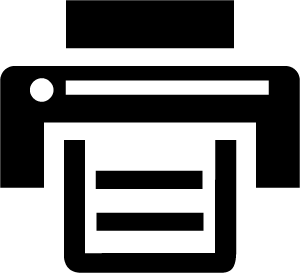 Print This Recipe
[mrp_rating_result show_count="false" show_rich_snippets="false"]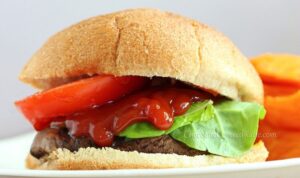 Ingredients
2 tbsp balsamic vinegar
2 tbsp red wine vinegar
1 tbsp minced garlic
2 tbsp soy sauce
2 tsp olive or vegetable oil
sprinkle of salt
4 portabella mushroom caps, gills removed
burger buns and fixins
Instructions
Portobello mushroom burgers recipe: Whisk first 6 ingredients together in a medium bowl. (Technically, you can leave out the oil if you absolutely must, but it really helps the marinade adhere to the mushrooms and keeps the mushroom burgers from sticking to the grill.) Poke a few holes in each mushroom. Set mushrooms, top-side down, in a large rectangular container. (I use a lidded container so I can just flip the entire thing instead of flipping each mushroom individually when the time comes to turn them.) Pour the marinade evenly over the mushrooms, then turn the mushrooms over. Allow to marinate no less than 2 hours.
Preheat your grill to medium heat (if you don't have a grill, you can always fry the mushroom burgers in a pan). Use a grill pan with small grids, or cook on foil. Grill the mushrooms 5 minutes, flip, 5 minutes. Then 5 more minutes on each side. So grill a total of 20 minutes. Dress with your burger fixins of choice.
Link Of The Day: