This is your new favorite breakfast.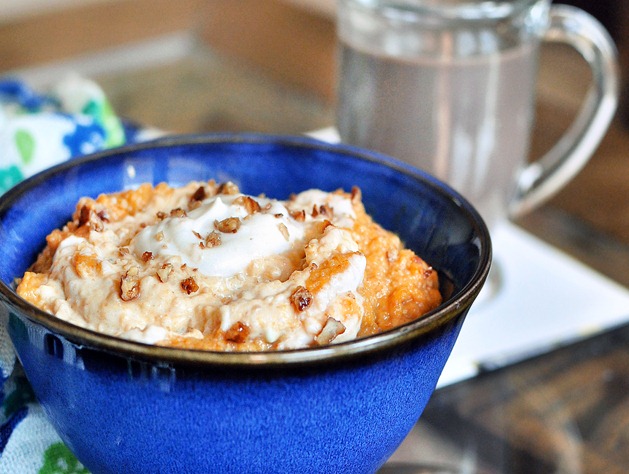 Or rather, my new favorite breakfast.
This delicious breakfast recipe is super–filling (and keeps you full for a long time), and it's extremely easy and quick to prepare.
I don't usually eat the same thing for breakfast more than two days in a row, because there are way too many delicious Healthy Breakfast Recipes out there (pancakes! oatmeal! waffles!). But this one's so good that it's all I've been craving the last four days.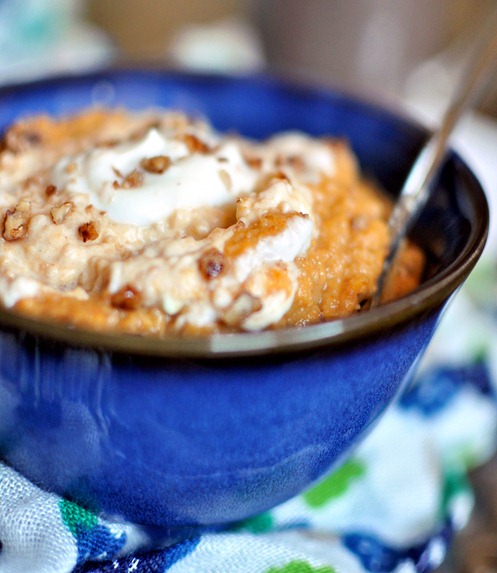 Pumpkin Bread in a Bowl
(can be gluten-free)
Inspired by Banana Bread Cereal.
1/3 c canned pumpkin (or cooked pumpkin or sweet potato puree)
3/4 c milk of choice
1 cup flake cereal (I like spelt flakes, but bran, corn, etc will work. Some people have even used oatmeal!)
1/4 to 1/2 tsp pure vanilla extract
1/2 tsp cinnamon
1/8 tsp salt
sweetener (such as stevia, sugar, or even maple syrup)
optional: chocolate chips, pecans
Blend all ingredients together. The cereal will have a thin consistency at first, but if you leave it in the fridge (after blending) for even just 10 minutes, it starts to get really thick! I usually make it before I run, and it's the consistency of thick pudding by the time I return.
Click to see the Nutrition Information.
If you're using the optional pecans or chocolate chips, you can either blend them right in or sprinkle them on top after serving.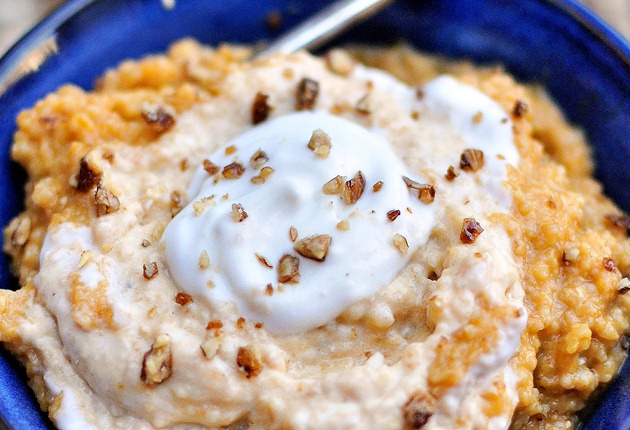 Above, swirled with Vegan Cool Whip.
I like to blend things: Any things. All things. When you blend a bunch of ingredients, the individual flavors fuse together, for one amazing new taste. By blending this recipe, you get pumpkin, vanilla, spice, and crunch all in one delicious spoonful. I swear, one of these days I'm going to try blending a pb&j sandwich…