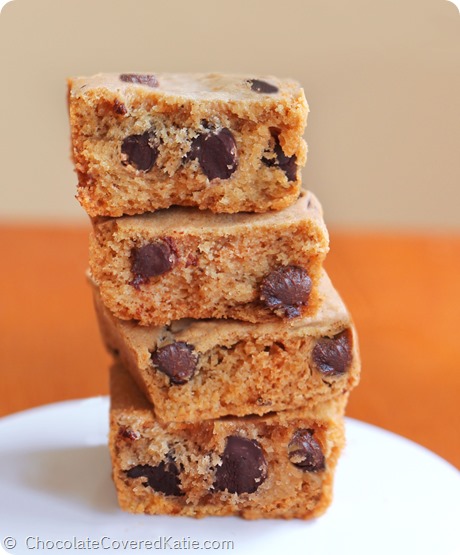 Oh hi, pumpkin!
Nice to see you again… it has been entirely too long!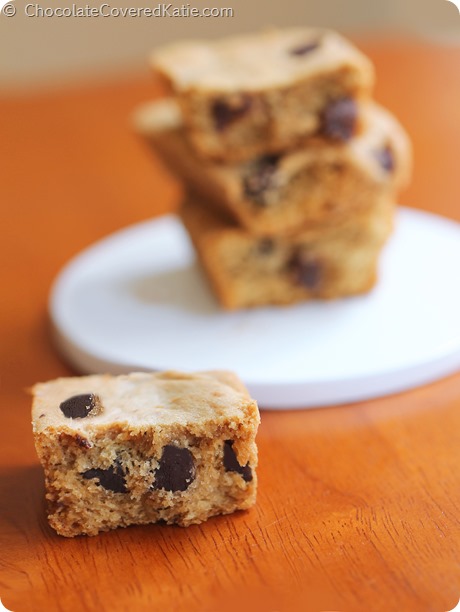 Are you happy to see the return of pumpkin season?
There are about a million and three new pumpkin recipes I've been holding onto since June that I've wanted so badly to share with you all, and finally I can post them! Starting with these gooey pumpkin chocolate chip cookie bars.
Whole-grain, and loaded with pumpkin and chocolate chips, they are perfect for a lunch box or to consume as an afternoon snack with a tall glass of ice cold almond milk.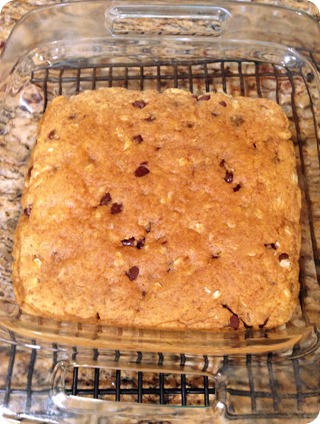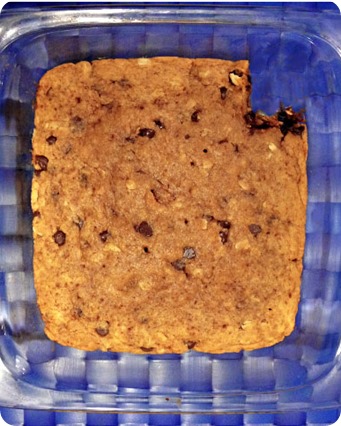 Above, I've included some unedited iphone photos… Sometimes I think it's fun to show what the recipes look like in a non-photoshoot setting!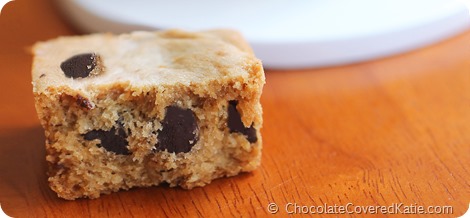 Pumpkin Chocolate Chip Cookie Bars
1 1/2 cups spelt or white flour (180g) (Oat flour works; the texture is just a bit denser.)
1/2 tsp salt
1 tsp baking powder
1/2 tsp pumpkin pie spice (or cinnamon)
1/4 cup rolled oats (20g)
1/2 cup brown sugar or date sugar (90g)
1/2 cup to 1 cup chocolate chips, depending on how chocolatey you want the bars
1/2 cup vegetable or melted coconut oil (80g)
1/2 cup canned or pureed pumpkin or sweet potato (120g)
2 1/4 tsp pure vanilla extract (10g)
pinch uncut stevia, or 1 tbsp sugar of choice
3 tbsp pure maple syrup or honey (If strict vegan, don't use honey.) (45g)
Preheat the oven to 325 degrees. Line the bottom of an 8-inch square pan with parchment paper. Set aside. In a large mixing bowl, stir together the first 7 ingredients. In a separate bowl, whisk all remaining ingredients. Pour wet over dry, and stir to form a batter. Spoon batter into the prepared pan. Bake 25 minutes. They will still look undercooked when you take them out, but this is okay. They continue to cook as they cool. Let cool for 20 minutes, and if they're not firm enough yet, refrigerate overnight. They will firm up nicely! Makes 15-24 squares, depending on how large you cut them.
—> View Pumpkin Cookie Bars Nutrition Facts <—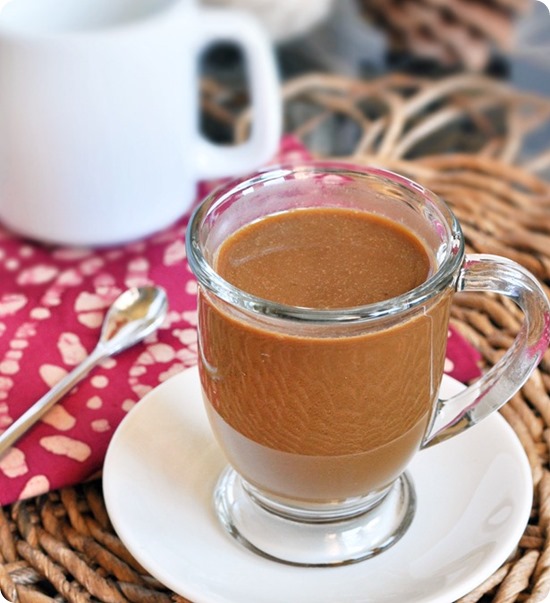 Link of the Day: Healthy Pumpkin Spice Latte – with REAL pumpkin in the ingredients
Questions of the Day:
Are you excited for pumpkin season? Have you started eating pumpkin yet?