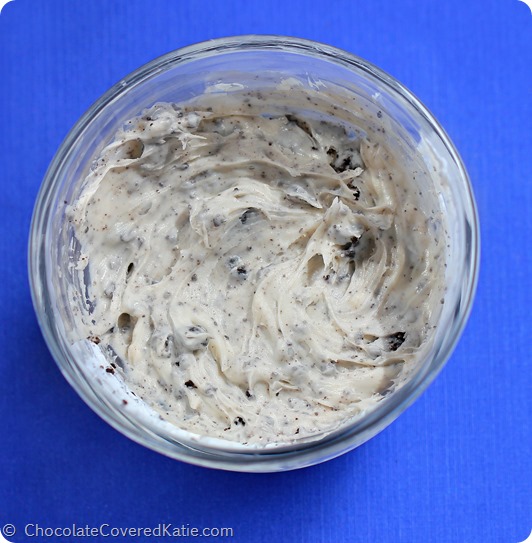 Just 5 Ingredients!
With none of the corn syrup, artificial flavors, or trans fat found in packaged frostings. (And none of the palm oil, high maltose corn syrup, corn starch, canola oil, tapioca starch, distilled monoglycerides, polysorbate 60, added color, rice flour, sodium stearoyl lactylate, sodium acid pyrophosphate, soy lecithin, xanthan gum, potassium sorbate…)
Creamy and smooth, it's perfect for icing cakes, cookies, or my #1 favorite chocolate cupcake recipe.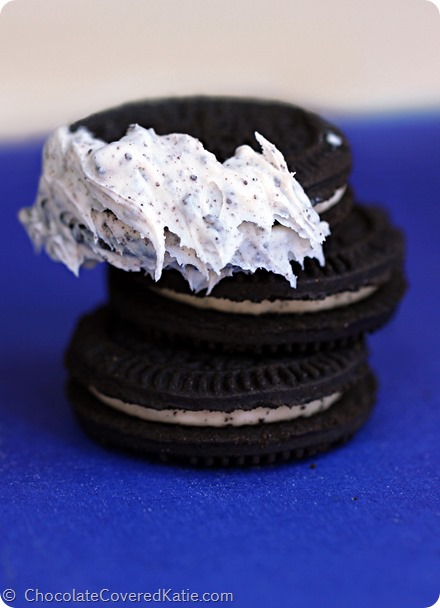 Every now and then, I will have WAY too much fun with a photoshoot…
This was definitely one of those times, especially since I had to got to stop and lick frosting off my fingers every three seconds! 🙂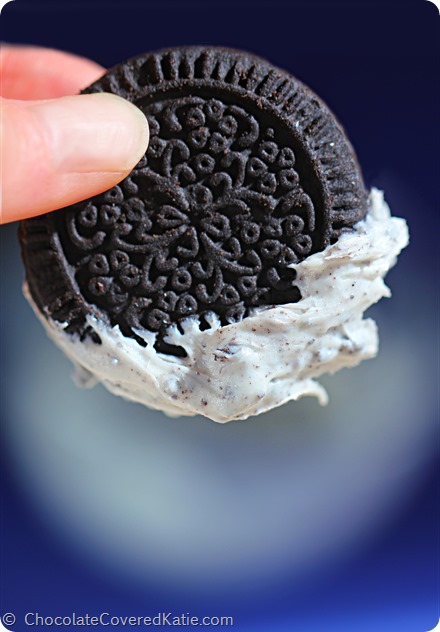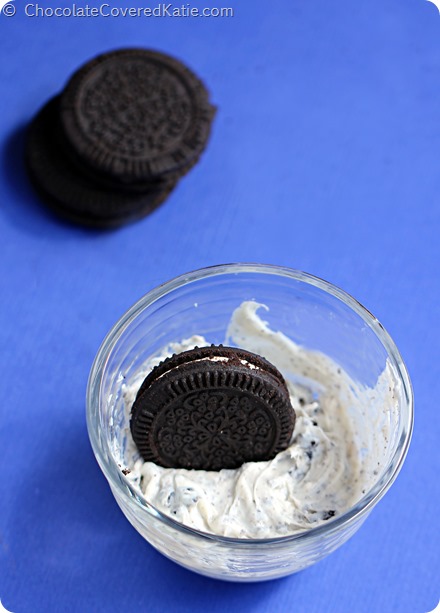 Cookies 'n Cream Frosting
(Makes about 1 1/4 cup)
1 cup raw cashews or macadamia nuts (120g) (For a nut-free version, see the nutrition link below)
1/8 tsp salt
1/2 tsp pure vanilla extract
1/4 cup water
1/3 cup powdered sugar OR pinch stevia (see chart)
2-4 chocolate sandwich cookies (I used Healthy Oreos)
In a cereal bowl, cover the nuts with water and let sit at least 8 hours (no longer than twelve). Then drain and pat dry. Combine the drained nuts with the salt, vanilla, sweetener, and the 1/4 cup water, and blend until very smooth like buttercream – without any visible cashew pieces. (Blend a full minute in a Vita-Mix or up to twelve minutes in a food processor.) Crush the chocolate cookies with a fork, then stir in by hand. Stirring them in by hand prevents the cookies from turning the entire frosting brown. This frosting can be piped through a piping bag if desired. Leftovers are best stored in the fridge, and it's best to frost cakes right before serving.
—> View Cookies'n Cream Frosting Nutrition Facts <—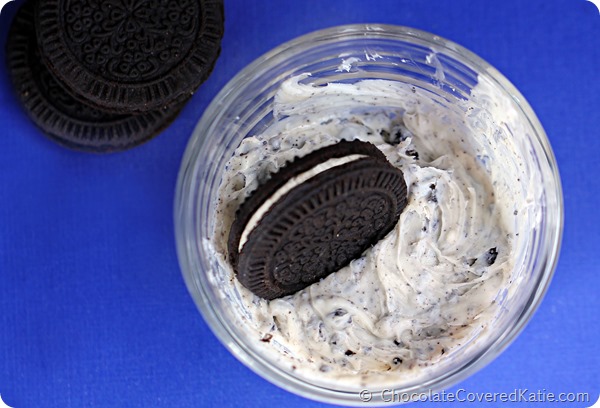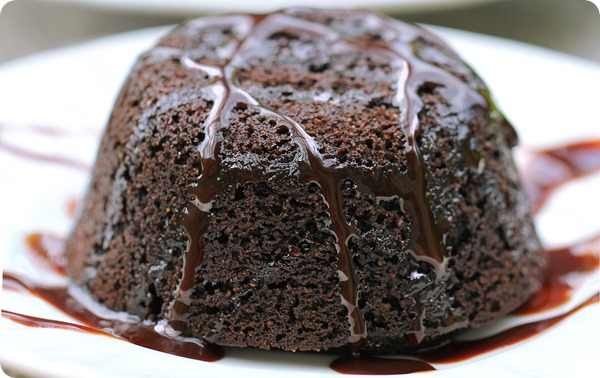 Link of the Day: Single Serving Chocolate Molten Lava Cake
Side Note: I choose not to write about certain subjects here because I'm not sure my food blog—with its frivolous subject matter—is the proper place or that my words could possibly take away anyone's pain. Devoting one paragraph would seem irreverent, while devoting an entire post might come across as exploitative. But although I'm not publicly posting quotes or Bible verses on my food blog or on facebook about tragedies that have taken place (or are currently taking place) in America or around the world, it doesn't mean I'm not privately sending thoughts, prayers, and donations. It doesn't mean my heart isn't breaking for those who are directly involved.