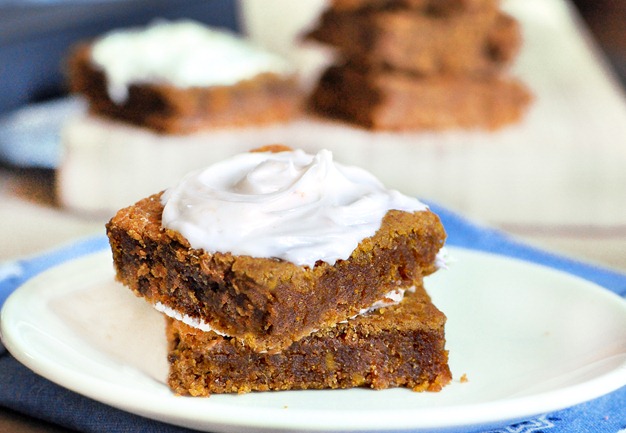 Leaves paint the ground.
Vivid orange, red, and yellow swirl through the sky, stirred by a cool Fall breeze.
Monet's paintbrush.
(Hope you liked my little poem!)
Fall is by far my favorite time of year. Everything about it just seems so cozy: oversized sweaters, steamy mugs of hot cider, scarecrows and falling leaves. It's the comfort food of seasons. Not to mention the actual comfort foods of Fall: roasted veggies, juicy apples, and—of course—pumpkin!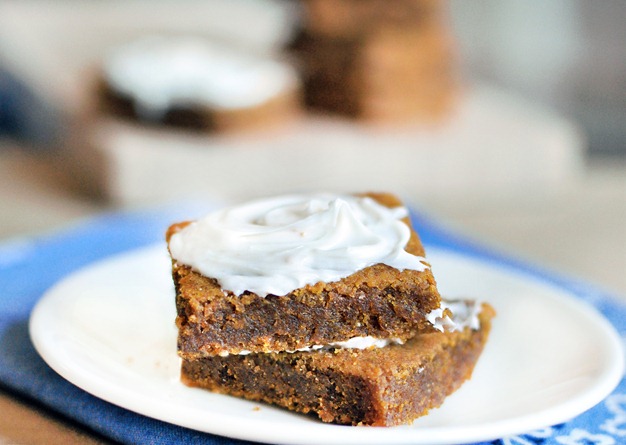 Topped with my favorite Healthy Cream Cheese Frosting.
If you could sum up "Fall" in a bar, this would be it. My first attempt at these bars was based on a (non-vegan) recipe I found online from Better Homes and Gardens. Sadly, that attempt turned out bland and dry. So for my second attempt, I went with my own intuition, adding ingredients I thought sounded good together and hoping for the best.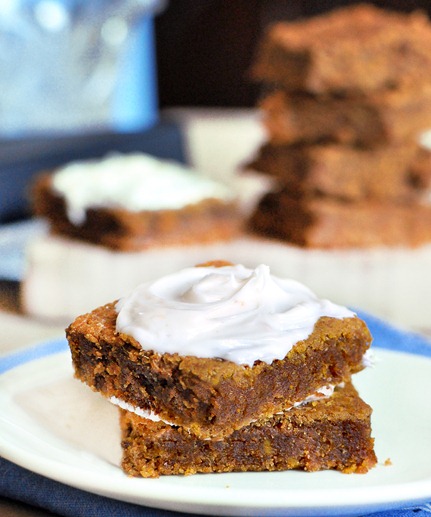 Oh they were delicious! These bars have a soft texture and the perfect balance of sweet to spice.
Pumpkin Cream Cheese Bars
(These can be gluten-free!)
1/2 cup spelt or white flour, oat flour, or Bob's gf)
1 tsp cinnamon
1/4 tsp pumpkin pie spice
1/2 tsp baking powder
1/4 tsp baking soda
1/4 tsp salt
1 tsp ener-g powder OR 1 tbsp ground flax (If necessary, you can omit completely)
3 tbsp brown sugar or agave (For a sugar-free version, you can use xylitol)
pinch uncut stevia OR 2 more tbsp sugar
1/2 cup canned or cooked and pureed pumpkin
2 tbsp milk of choice
2 tbsp oil (Some readers say subbing applesauce is fine, but I haven't tried)
1/2 tsp pure vanilla extract
Preheat oven to 350 F. Combine dry ingredients, then add in wet. Spread into an oiled 7×5 pan (or double the recipe for an 8×8) and cook for 14-15 minutes. Note: You can sub agave for the sugar; they'll just be fluffier and a bit more dense. Let the pan cool for at least ten minutes before cutting or frosting the squares. Also, the flavors seem to intensify and these taste even sweeter the next day.
View Pumpkin Bars Nutrition Facts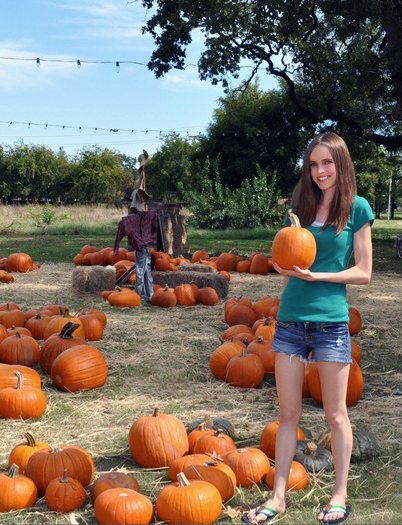 You can frost with the aforementioned Healthy Cream Cheese Frosting. Or you can opt to leave them plain. They are deliciously-sweet even when completely unfrosted! (Alternative topping ideas include: apple butter, peanut butter, coconut butter, etc.)
Do you like reading or writing poetry?
I actually do, which is surprising because I hated reading poetry when I was younger. I'd get so confused! But I've always loved writing freestyle poetry, where there are no rules—you get to throw in exactly the words you want, in exactly the order you want. Come to think of it, that's how I create recipes, too!