Are you looking for a good granola bar recipe?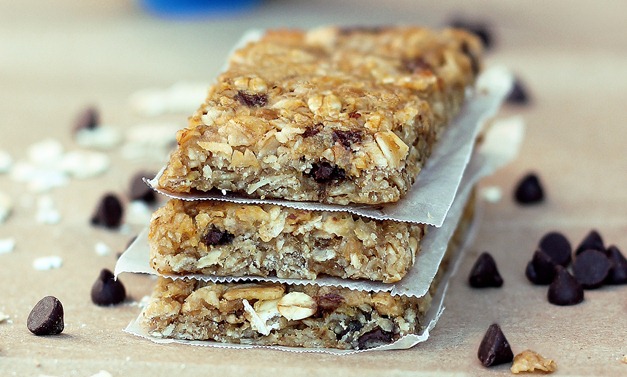 This recipe won't disappoint.
These delightfully chewy granola bars include all the goodness of everyone's favorite Quaker granola bars, but without the corn syrup, refined sugar, and long list of artificial ingredients. So if you're looking for a good granola bar recipe…
It's staring you in the face. 🙂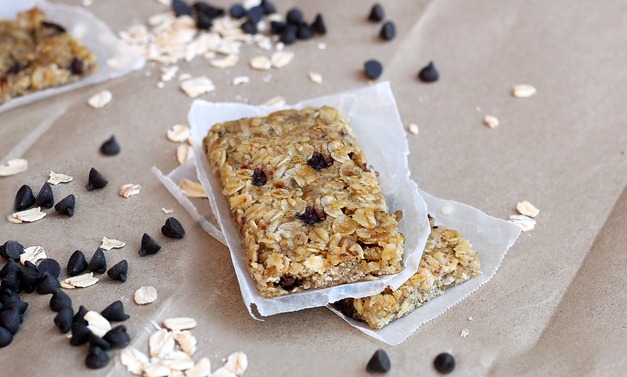 Unless you are extremely tall or your computer is low to the ground.
Then it's staring you in the belly button.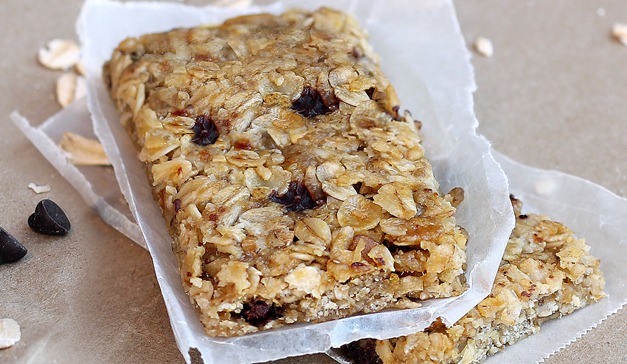 It even looks like a face. See the eyes and the nose? Those would be made out of chocolate chips. Yes, a chocolate chip face.
Are you jealous?
I am!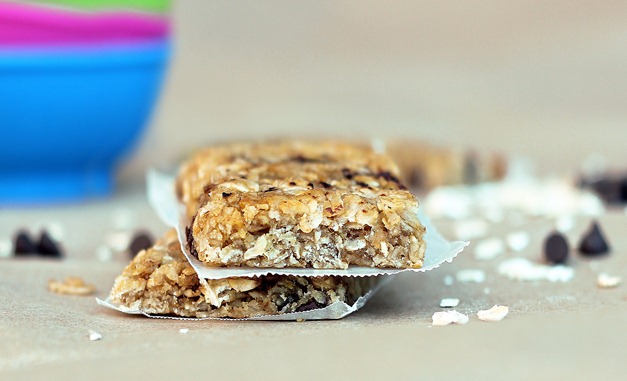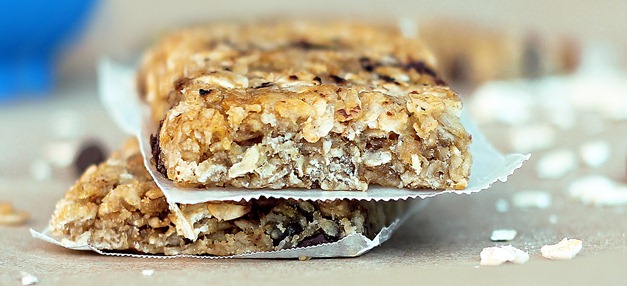 Oh, to live life with a chocolate chip face…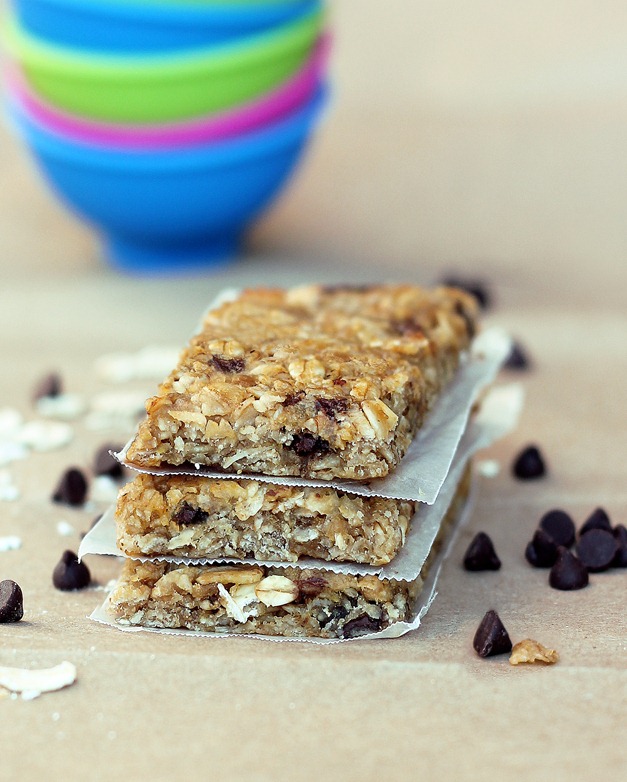 Quaker Style Chewy Granola Bars
(Can be gluten-free)
1 cup rolled oats (for all substitution notes, see nutrition link below)
1/4 tsp baking soda
1/4 cup rice crispies (brown, white, or gluten-free)
1/4 cup plus 2 tbsp oat flour (see recipe instructions below for an easy substitution) 55g
1/2 tsp pure vanilla extract
2 tbsp coconut oil or veg oil (See nutrition link below for notes on a fat-free version.)
1/4 cup agave (Honey will also work, but not for strict vegans.)
1-2 packs stevia (up to 1/16 tsp uncut) or 1-2 tablespoons brown sugar or extra liquid sweetener
1/4 tsp salt
2 tbsp applesauce (banana would probably work as well, or pumpkin!)
Ideas for the add-ins: mini chocolate chips, chopped raisins or other dried fruit, shredded coconut, chopped walnuts, etc.
Unless you're doing the no-bake option, preheat oven to 350 F. Combine all dry ingredients and mix very well. (If you don't have oat flour: simply grind rolled oats in a food processor to make oat flour. Be sure to measure the correct amount of flour for the recipe after grinding, not before.) In a separate bowl, combine wet ingredients. Stir wet into dry and use another sheet of parchment (or wax) paper to squish evenly-coated mixture into a parchment-lined 7×5 pan (or double the recipe for a bigger pan). Squish very, very hard, with a can or something heavy. Either fridge until firm (the no-bake option is firmer if you use coconut oil), or cook 18 minutes, then squish very hard again. Cool in the fridge for at least ten minutes before cutting into bars.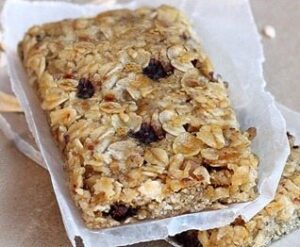 These bars can be stored at room temp, but if you use coconut oil they're best kept in the fridge. Or they can even be frozen. The bars thaw very well. Other homemade granola bar recipes:
(Click on the photos to see the recipes.)
Do you wish you were taller?
Or shorter? Or are you happy exactly the way you are? I'm 5'5, and I always wanted to be taller when I was growing up. But now I actually like my average height. My grandpa used to say that you're tall enough as long as your feet touch the ground. How are grandparents so wise? 🙂