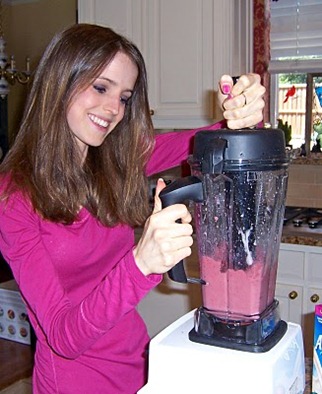 This post is for YOU.
Yes, you. All of you. Every person who is reading.
You might've noticed a lot of my blog comments (and tweets and facebook responses) start with "Thank you so much…"
I'm sure it sounds like an annoyingly-broken record, but I really do mean every one of those "aww thank you"s. Thank you for trying my recipes, for sharing my website with friends, or for even just reading my blog in the first place. I get up every day, excited about my job, and it's all thanks to you. Although I can't think of a way I could possibly repay you all, this giveaway will hopefully at least make one of you very happy!
This giveaway is now closed.
Congratulations to the randomly-selected winner: Leslie.
Leslie said she'd give her big toe for a Vita-Mix. Rest assured, Leslie, you can keep your toe!! But please email me at chocolatecoveredkatie at msn, including your shipping address and phone number in the message, so the company can send you a brand new machine!
Future giveaways:
I was blown away by the response to this giveaway and apologize for any site slowness (or crashing) you might have experienced while trying to enter. I'll be much better prepared next time…
And there will be a next time, as the Vita-Mix Company was so happy with this giveaway response that they're open for future giveaways.
So if you didn't win today, stay tuned. 🙂