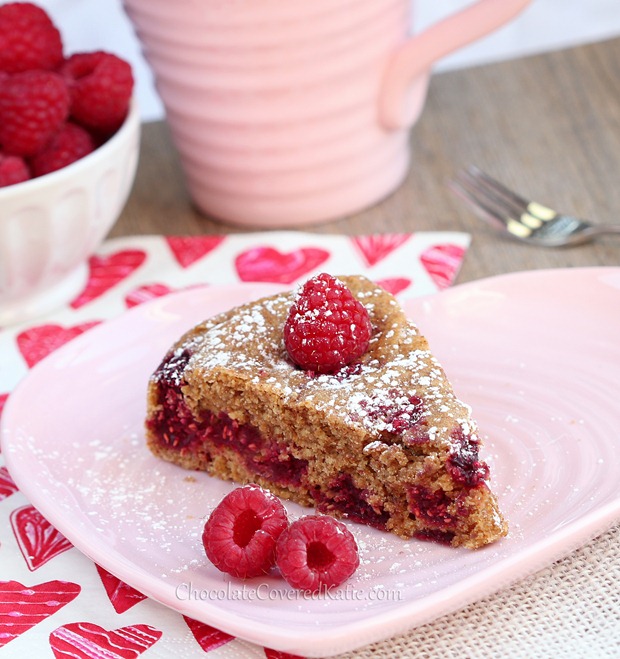 Do not skip this post!
True, there's no chocolate, no peanut butter, and no Oreos. (Your attention is waning already, isn't it?) But just because a dessert might not be Super Nutella Triple Threat Fudge Cake doesn't mean it can't still taste delicious.
(By the way, why don't I have a Super Nutella Triple Threat Fudge Cake on the blog?)
This light raspberry yogurt cake has a melt-in-your-mouth texture and tastes like a giant breakfast pastry. It's definitely something worth waking up for!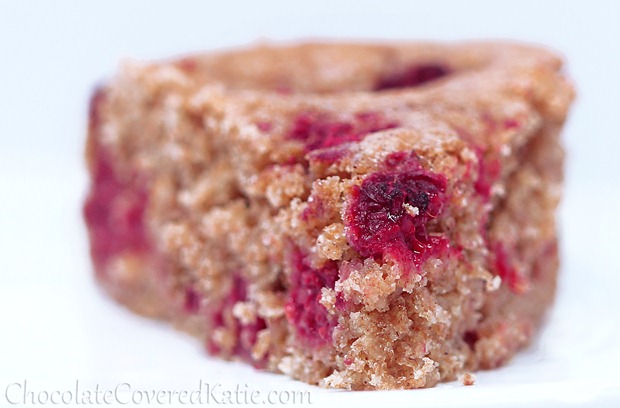 Raspberry Vanilla Coffee Cake
(makes 10 slices)
1 cup milk of choice (240g)
1/2 cup vanilla-flavored yogurt (such as Wholesoy or Silk) (115g)
1 tbsp ground flax (5g)
1 1/2 tsp pure vanilla extract (6g)
3 tbsp coconut or veg oil (30g)
2 cups spelt flour, all-purpose, or Bob's gf (250g)
2/3 cups xylitol or sugar (or sucanat) (130g)
4 tsp baking powder
1 tsp salt
1 tsp cinnamon
1/16 tsp pure stevia, or 2 extra tbsp sugar (or 2 NuNaturals packets)
1 2/3 cups raspberries (230g)
1/3 cup more raspberries (50g)
optional: chocolate chips
Preheat oven to 350 F, and grease a 9 1/2-in springform pan. Combine first 5 ingredients (yes, the flax too) and whisk. Set aside. In a separate, large measuring bowl, combine all remaining ingredients except the final 1/3 cup raspberries, and stir well. Pour wet into dry and stir until evenly combined (don't overmix). Pour into the prepared pan, then sprinkle the remaining berries on top. Bake 1 hour, or until a toothpick inserted in the center comes out relatively clean. Cool the healthy raspberry coffee cake in pan on a wire rack, 15 minutes, then remove the sides of the pan.
Nutrition information is almost identical to here.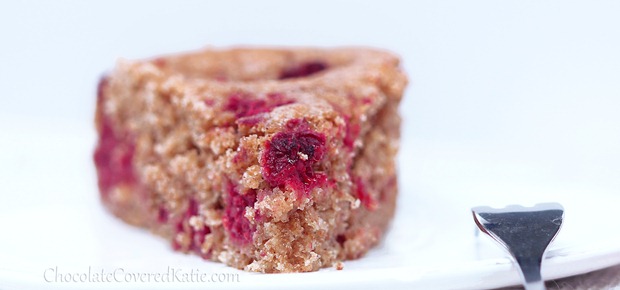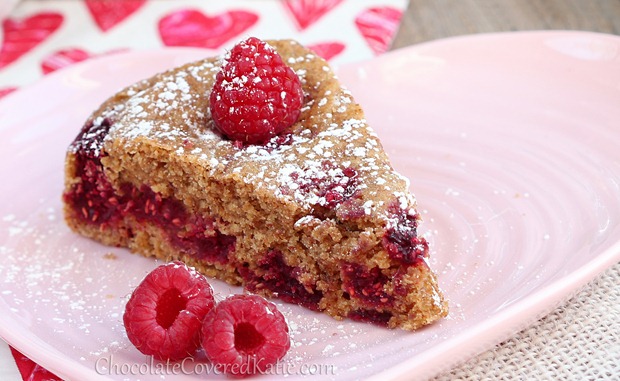 Question of the Day:
Did you fall for any April Fool's jokes yesterday?
I told my sister that Kate Middleton was having triplets. She was very excited… and then very mad at me! Also, just to clarify: In case anyone missed the end of yesterday's post and didn't notice the awful photoshopped picture of me at the beginning, yes it was an April Fool's joke. Thanks for all the congratulations emails and comments… I wish it were true, but it's not!
Link of the Day: