This is my new favorite roasted butternut squash recipe – hopefully you will love it too!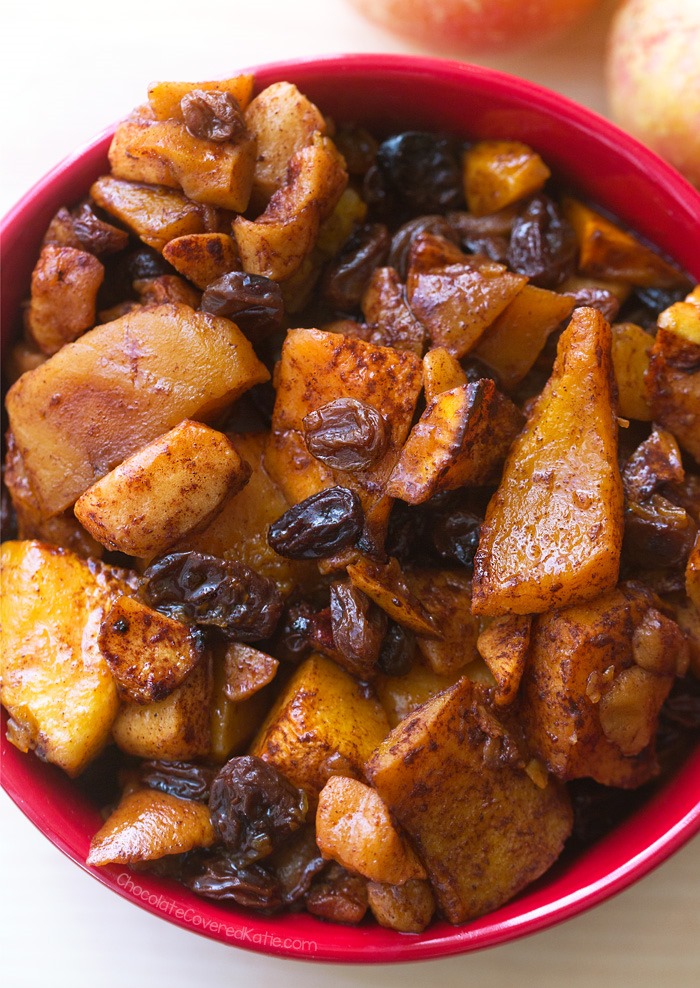 Doing something a little bit different today!
I've been getting a lot of requests to publish more What I Eat In A Day style posts, and yet I also know some readers are more interested in just the recipes. So today's post includes both meals and recipes.
After three Friendsgivings, a family dinner, and eating Thanksgiving leftovers for the past four days straight, I think it's safe to say I've consumed more than my fair share of Thanksgiving foods for the rest of the year.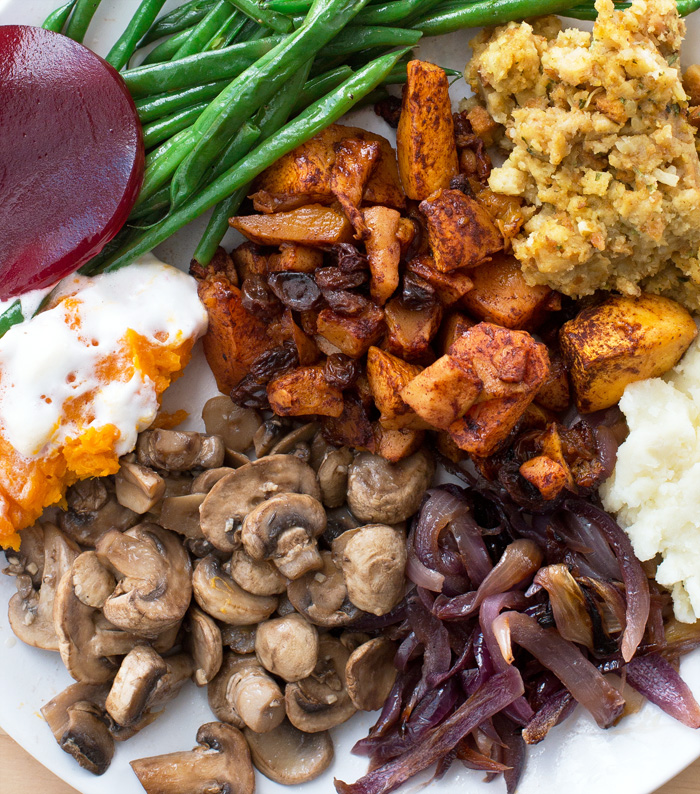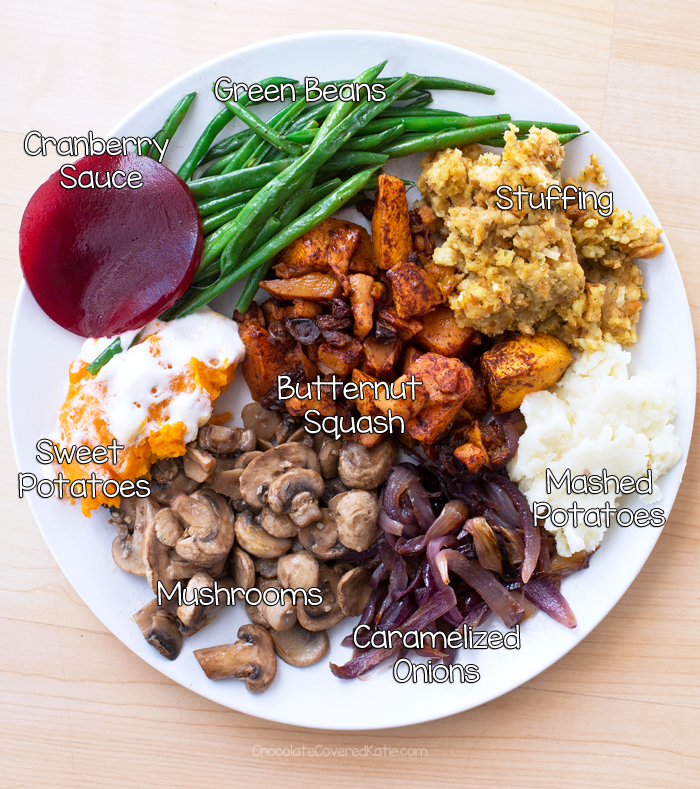 Above is my plate from Thursday's family dinner (minus the gravy, the desserts, and the wine). Our family tradition didn't change much when I gave up meat over ten years ago – I just eat the sides and not the turkey, which was pretty much what I did even as a child, because turkey was never my favorite… I always saw it as wasting prime space that could have been filled with more marshmallow sweet potatoes!
Sometimes I'll make a vegan main dish, and I did also do the Tofurky thing once, which is kind of a rite of passage for every vegetarian. But this year there were more than enough sides to turn into a delicious feast, leaving me plenty of time to work on perfecting my homemade pecan pie.
Dessert was Healthy Pumpkin Pie, coconut whipped cream (Whole Foods and Trader Joes both now sell canned coconut whipped cream!), and the aforementioned homemade pecan pie. I'm currently trying to decide if I should post the pecan pie recipe this year in time for Christmas or save it until Thanksgiving comes around again next year.
I know the canned cranberry jelly on my plate is not the healthiest food in the world by any stretch of the imagination, but I always have to take a little when it's offered, more for the nostalgia aspect than anything else.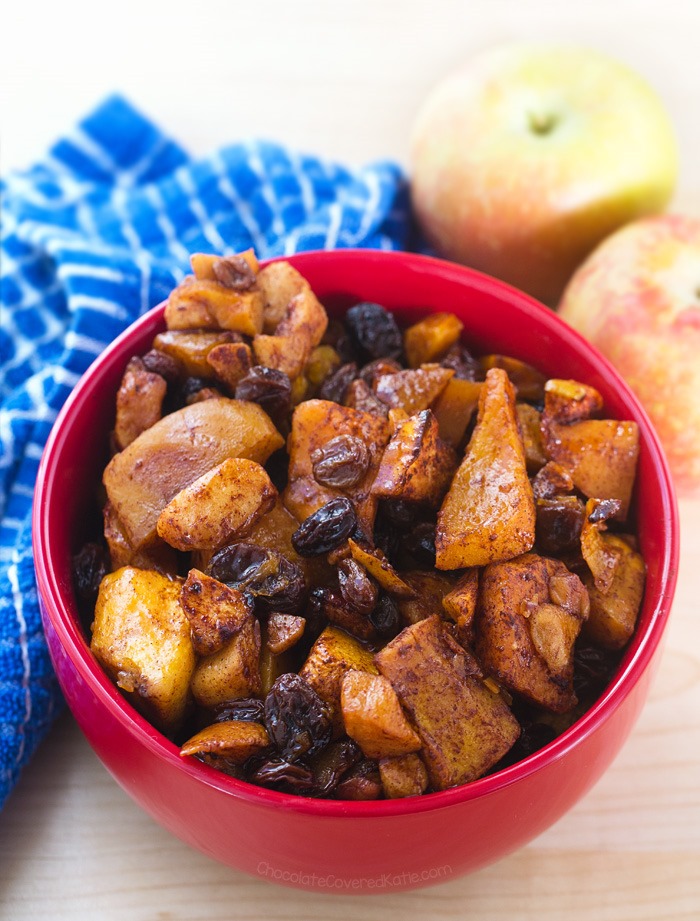 Marshmallow Sweet Potatoes:
Simply use the method outlined in my post on How To Cook Sweet Potatoes, then either melt vegan marshmallows on top or cover the sweet potatoes with Healthy Vegan Marshmallow Fluff. The higher-oven cooking technique gets the sweet potatoes so caramelized and sweet that there's really no need to add any extra sugar!
Caramelized Onions:
I like to caramelize my onions in the oven, because it's ridiculously easy. The most difficult part is slicing the onions without crying, which I've never been able to do. Spread the sliced onions in a parchment-lined glass baking dish and place in a cold oven. You can do the sweet potatoes at the same time to save energy. Turn the oven to 480 F and let it preheat with the onions already in the oven. Mine are nice and caramelized after a half hour or so, and then I season them with a little salt and sometimes some oil or buttery spread (which you can omit if desired).

Roasted Butternut Squash:
The cinnamon roasted butternut squash recipe was something new this year that I dreamed up while roasting a container of pre-cut butternut squash from Trader Joe's a few weeks ago. Basically, I just combined a bunch of ingredients I thought sounded like they'd be good together—sliced apples, cinnamon, raisins, pure maple syrup, and the butternut squash. The results were just as fantastic as I'd imagined, and this will be a staple at the Thanksgiving (and most likely Christmas) table from now on.
I've written the recipe out further down in this post, and feel free to substitute what you have on hand. Dried cranberries can be subbed for the raisins, shredded coconut or crushed walnuts can be added, and if you want to use sweet potatoes instead of butternut squash, that works too!
If you want to cut your own butternut squash, I'd recommend peeling it first before chopping. Butternut squash is one of only two vegetables that I buy pre-cut whenever possible, because the time and effort saved is well worth the extra money spent.
(The other vegetable I buy pre-cut is onions. Cutting onions is my least favorite cooking task by far.)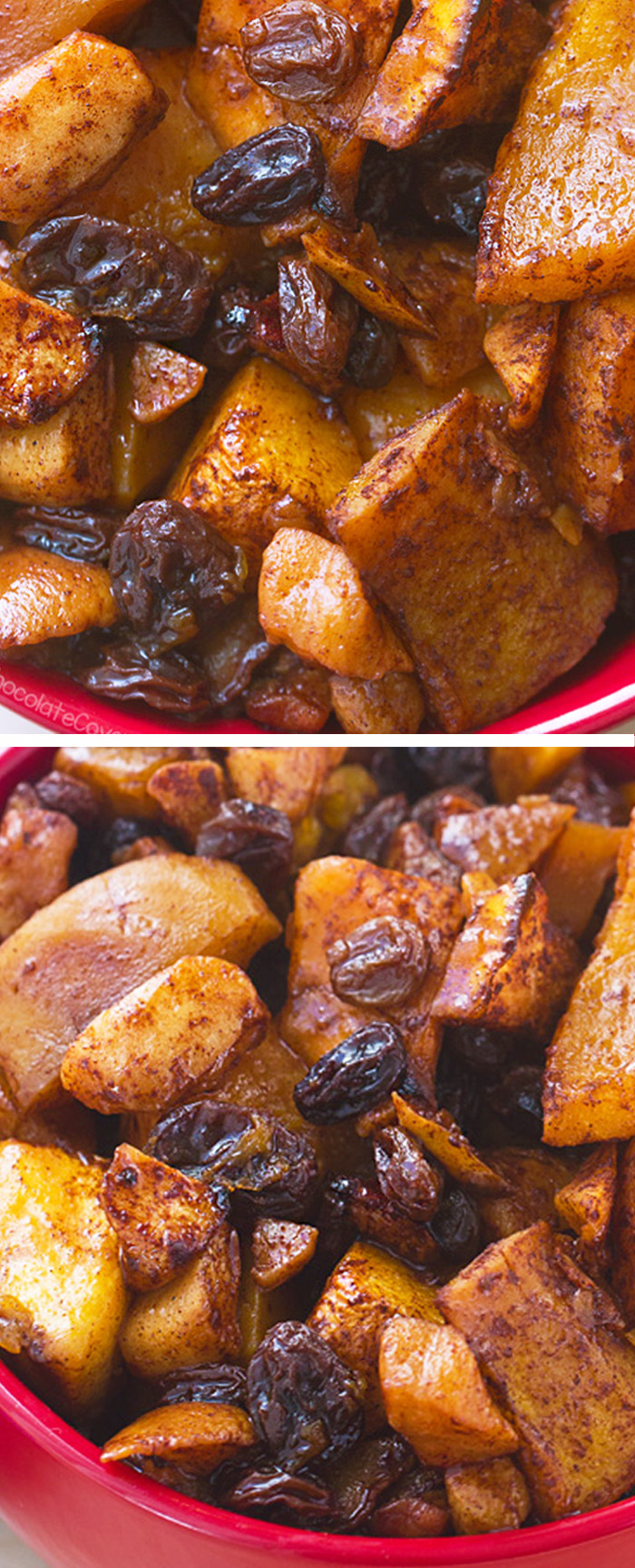 Roasted Butternut Squash
Roasted Butternut Squash Recipe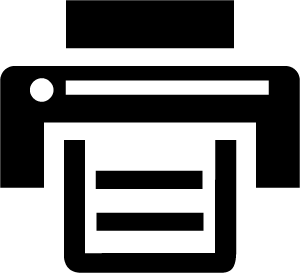 Print This Recipe
[mrp_rating_result show_count="false" show_rich_snippets="false"]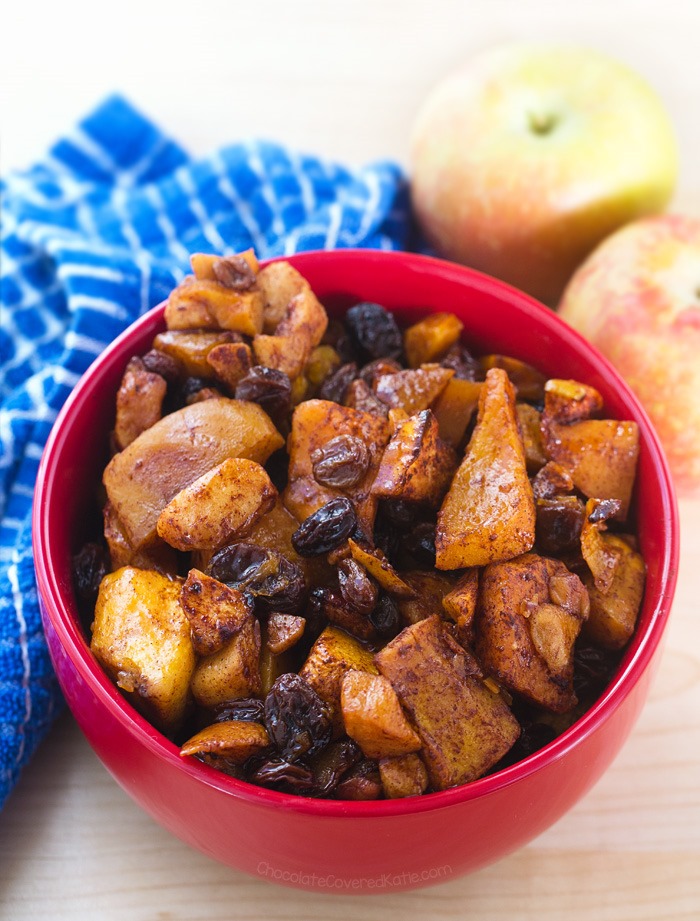 Ingredients
5 cups peeled, cubed butternut squash OR sweet potatoes
2 cups diced apple
1/2 cup raisins or dried cranberries
2 tsp cinnamon
1/2 tsp salt
sweetener of choice, such as 2 tbsp pure maple syrup or pinch stevia
optional 1 tbsp oil or buttery spread, for richness
Instructions
Stir all of the ingredients together (minus the sweetener if using a liquid sweetener). Spread out in one large baking dish, or two medium baking dishes, lined with parchment paper. Place on the center rack of an unheated oven, then turn to 480 F. Bake 40 minutes. Stir, return to the oven, and close the door. Turn off the heat but leave in the closed oven an additional 10 minutes. Stir in the sweetener, if using a liquid. Good hot or cold, and leftovers can be refrigerated 3-4 days or even frozen if desired.
Links Of The Day: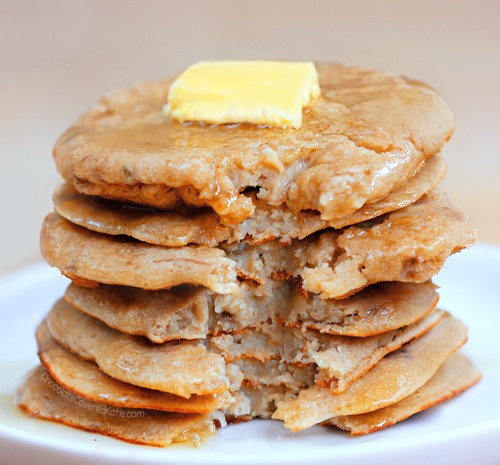 Flourless Pancakes – 3 Ingredients