Sometimes, in NYC, it feels like you're running a marathon:
Catch a train to Union Street, here. Take a tour of Ellis Island and the Statue of Liberty, there.
Visit the Natural History Museum here, the MoMa there.
Find your way to Times Square for your Broadway show at 8.
Quickly stop by the East Village to stock up on some vegan cheesecake cupcakes.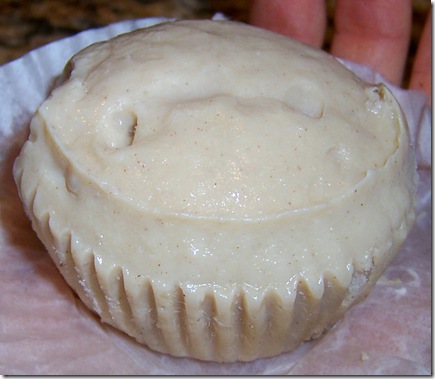 Above, one of last year's vegan Cheesecake Cupcakes.
My first full day in NYC started with running for real.
I called the concierge the night before, inquiring about running routes. She gave me directions up to Central Park. "You can run forever in there," she said. So, the next morning, I set out in search of Central Park. Running the 15 blocks to the park was a bit annoying; I had to keep going down side streets in order to stay moving during red lights. But once I found my way to the park, it was G-l-o-r-i-o-u-s! (If ya got lost with all those hyphens, the word I was going for was "glorious.") The weather was perfect: a little cloudy/misty (it would rain later in the day), and in the 70s.
When you're in NYC, there's no need to play this game: Running and Imagination.
After breakfast and a shower, it was time for more exploring. I took it a little slower this time, walking instead of running. We walked around for awhile, people-watching and taking in the fast-paced NYC happenings.
Then we parted ways, and I ambled over to the Lifethyme Cafe.
On the menu for lunch: Pumpkin Lasagna! Ingredients: chard, red peppers, carrot, zucchini, tofu, olive oil, chia seeds, and pumpkin (Below, deconstructed on a bed of mixed greens)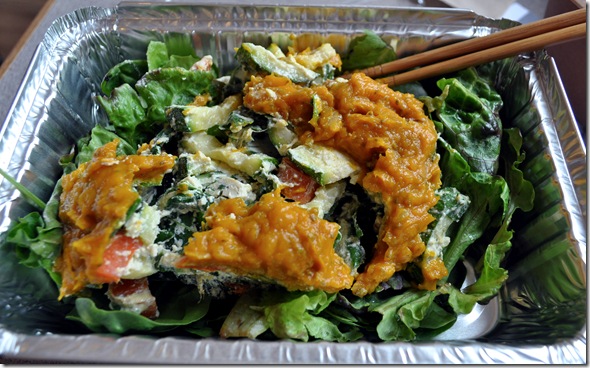 Their lasagna was even better than last year's Spinach-Quinoa Quiche.
Question of the Day:
Have you ever people-watched?
I love "people watching" no matter where I am: stores, restaurants, out running, etc. Especially when on vacation, I see the strangest sights! In Austin, we once saw a naked bike ride. In Barcelona, my family was unfortunate enough to view a very old man wearing nothing at all (except tattoos all over his body… yes, even there!). And today, we witnessed a man running down the street with a gas mask, black gloves, and patriotic spandex shorts.
Look out; Scary Spandex Man has a twin! 😕 Yipes..