Forgive me, for I have sinned.
Please don't ever apologize for eating a cupcake, a Twinkie, a non-vegan food, or any other morsel that happens to categorize you as "straying" from whatever diet you've chosen.
Guilt is present in so many areas of our lives. We feel guilty when we spend too much on a shopping trip, guilty when we have to say no to a friend's request, guilty when we end a relationship. Why, then, are we adding to this by associating food with guilt as well? Food ought to be a source of enjoyment, of comfort. Who doesn't have fond childhood memories in association with food: making Christmas cookies with Grandma, digging into an enormous slice of homemade birthday cake, or eating dessert for dinner? (Please don't tell me I'm the only one who did this!)
Kids know how to truly enjoy life! But all too often, adults say, "Oh, I was bad" or "Oh I shouldn't." Sundaes are called "sinful" and brownies are deemed "diet derailers." I'm not saying one should eat these foods every day for breakfast, lunch, and dinner.  But I do believe there is a place for treats in a healthy diet. The problem is that many people are trained to see everything as "black and white."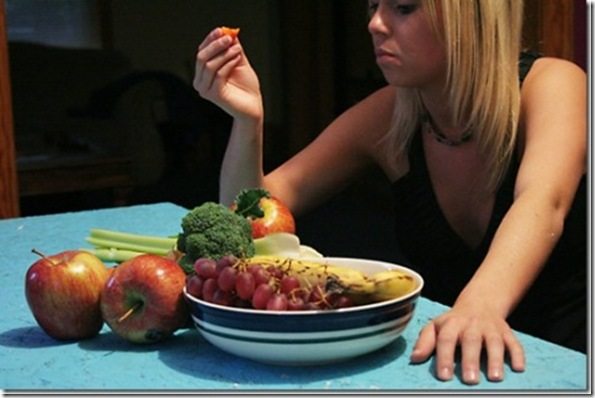 If you're interested in a novel of a post, I wrote more here: Orthorexia: The new Eating Disorder. But for now, I want to switch gears and zero in on a particular sub-topic:
Eating a "perfect" vegan diet.
People often send me emails, lamenting the fact that they could never be a "perfect" vegan. But there is no such thing!
I am not a perfect vegan. Even the so-called "vegan police" (those who point fingers at others, saying their efforts aren't good enough) do not live 100% cruelty-free lives. The fact of the matter is that it's impossible to live your life and not step on anyone else's toes. There's gelatin in book bindings, slavery involved with the chocolate trade, and some animals are even killed in the production of veggies when they run under the tractors. What I'm trying to say is that one shouldn't feel guilty for feeling like his or her diet (or any aspect of his or her life) isn't "cruelty-free" enough; we're all just doing the best that we can in this life. Unfortunately, if one tries to bite off more than he or she can chew (pun intended), one runs the risk of burning out and giving up on doing anything!
There's also something to be said for part-time vegans or vegetarians (a.k.a. flexitarians). Truth be told, the plethora of vegan items available in mainstream stores today is mostly thanks to these people. There just aren't enough vegans in the world (yet!) to provide the amount of demand to get, say, Silk Soymilk at Wal-Mart or Almond Breeze at Costco. But with the help of flexitarians, one can now find non-dairy ice creams, mock meats, Larabars, and other vegan goodies outside of Whole Foods.
Even if you're not ready now–or ever–to give up meat, you can still make a huge difference. Every little bit helps, and sometimes people are more-willing to believe ot trust omnivores than vegans when it comes to product recommendations. For example, if I tried to pass off my 5-Minute Chocolate Mousse to my relatives, they would balk, saying "Oh of course the crazy vegan thinks this is good; she hasn't had the real thing in years!"
But if my meat-eating dad were to give them a taste, chances are they'd be more receptive. It's one of the reasons I don't fret over honey, nor do I beat myself up for eating a food that may contain traces of milk. Some might call me a hypocrite, but I feel I'd just turn more people off to the diet if they saw me scrutinizing every label for hours on end, trying to decipher if "natural flavors" in a certain product are animal-derived. (I'm unsure where I stand on the "veganism and honey" issue. More bugs probably die in the making of my organic kale or broccoli! I don't go out of my way to eat foods with honey, but I also won't flip out if I happen to consume it accidentally.)
No matter what you are or aren't able to do, feel proud of yourself for even wanting to make a difference in this world. I believe that if everyone does as much as he or she feels comfortable doing, the world will slowly become a better place. When I first learned about factory farming, I struggled with the whole "I'm just one person; my not eating meat won't make a difference at all. No one will even notice" thing. But if you think about it, all the "one persons" add up. If everyone said that he or she were only one person and no one would notice if he or she made an effort to help change the world, then nothing would ever change. Alone, we're just one person, but when we all come together, we make a huge group, and every one person counts! Plus, you never know who else you'll inspire. It's the domino effect.