Say that three times fast.

I am a power shopper in every sense of the term. I'll go in, look around for five minutes, and if nothing catches my eye, I'm gone. I just don't like wasting time.
Yesterday I put my power-shopping skills to work. Groceries? Check. Books? Check. Clothes? Double check.
Best purchases of the day: a pair of my favorite running shoes.
(I needed them and they were $20 off. Score!) and some tempo shorts. Ok, so I didn't need the shorts. But I am such a sucker for cute running clothes… and for good sales. I'll never buy full-price if I know a certain item will eventually go on sale. Even coconut butter. When Whole Foods marks the Artisana down to $8, I pounce! (If you ever see a girl with 10 jars of coconut butter in her cart, it's me.) Same goes for shampoo, vitamins, and some produce.
After all that power shopping, I worked up an appetite for Chinese (thanks, in part, to the aroma of Panda Express wafting through the mall. I swear, it's like they use super-smelling chemicals on that food!). So, when I got home, that's what I made: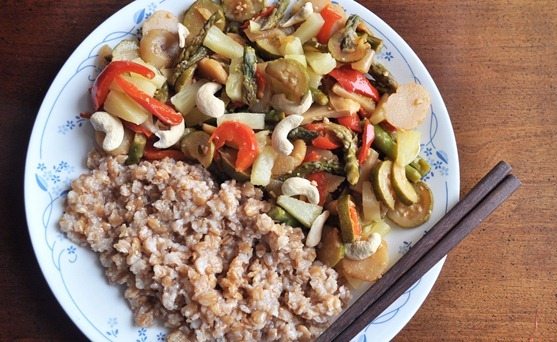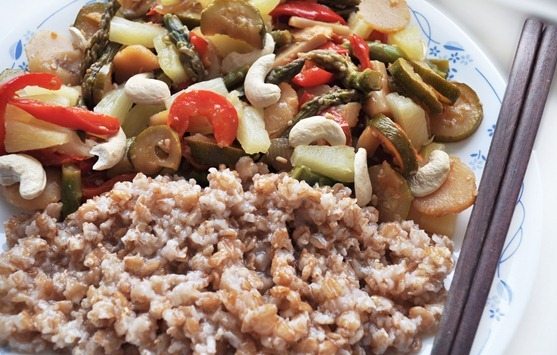 I discovered—midway through cooking—that we were out of soy sauce. So I just let the veggies do the talking flavoring. Surprisingly, the soy sauce wasn't missed at all. From now on, I'll always leave it out. I don't really watch my sodium, per se, but there's no point in adding excess sodium to something that tastes just as good without it.
Have you ever done that? Just let the veggies flavor a dish, without adding a sauce? Sometimes I don't like to add sauce, because then the entire dish tastes like sauce. Veggies have so much flavor to add in their own right, especially when garlic is included.
As a side, I forewent rice in favor of Home Alone Pilaf.
If you haven't tried rye flakes, I highly recommend them. They're chewy, yet soft, and they have an almost nutty flavor.
.
Questions of the Day:
Do you like shopping? And are you a bargain hunter?
I'm definitely a bargain hunter in that coupons make me super-happy, and I love when my favorite things are on sale. But I don't normally browse the clearance rack at clothing stores or run out when stores have special sales. I never seem to find good clothes on clearance.
Unrelated: I'm leaving the Artisana Coconut Butter Giveaway up on Twitter for one more day.
🙂