Heart Healthy.
Or not so much. It's ironic that—thanks to sugary sweets, fancy dinners, and rich desserts—a day devoted to matters of the heart can be so dangerous for your heart. Google "red velvet" and your results will be saturated with butter, eggs, heavy cream, and enough sugar to sweeten even the Grinch. Pretty, for sure. But healthy, it is not.
Until now.
Flipping through People Magazine last Friday,  I stumbled across a recipe for "Jessica Alba's favorite red velvet pancakes." Red velvet pancakes?! I had to create a heart-healthy version.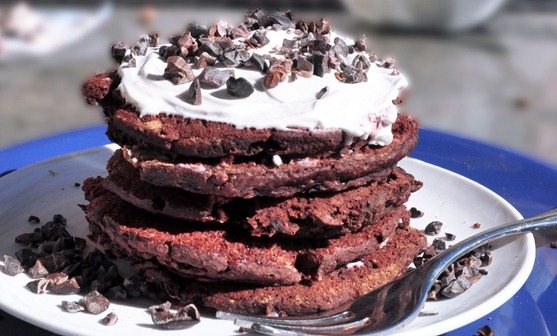 Mission accomplished. These are like eating cake for breakfast!
Red Velvet Pancakes for One
2T flour (I used 20g whole-wheat pastry)
2T plus 1tsp oat bran (20g) (you can sub flour)
red food coloring (For alternatives, see: Natural Food Coloring Ideas.)
1/2 tsp plus 1/8 tsp baking powder
scant 1/8 tsp salt
2T cocoa powder (I use regular, but if you want a more brownie-like taste, try dutch cocoa)
1/2 tsp vanilla extract
1/3 cup plus 1T nondairy milk (95g, or more, if needed)
optional: If you don't like the taste of fat-free pancakes, be sure to add 1 tablespoon oil
1-2 T sugar, or 1 stevia packet (I left it out. If using liquid sweetener, decrease milk accordingly.)
Mix dry ingredients. Add wet and mix. Then make your pancakes! (Makes 5-6)
Nutrition Information:
(For the entire batch)
Calories: 230 (130 if omitting oil)
Fat: 14g (or less than 1g if omitting oil)
Protein: 3g
Fiber: 5g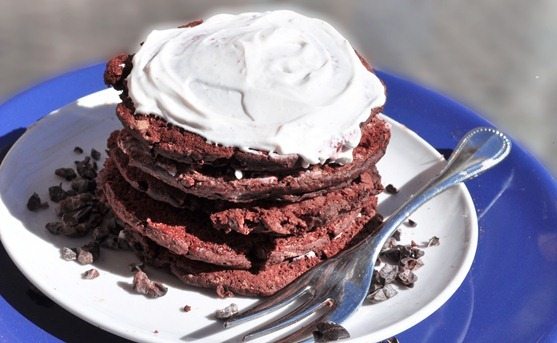 I topped these with my Healthy Cream Cheese Icing.
Then, really fancy things happened. I dusted the pancakes with cocoa powder and swirled some of the chocolatey fairy dust into the frosting.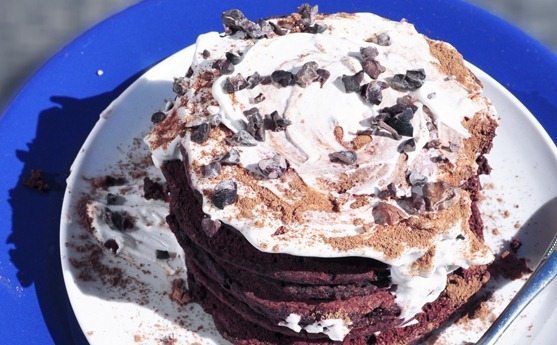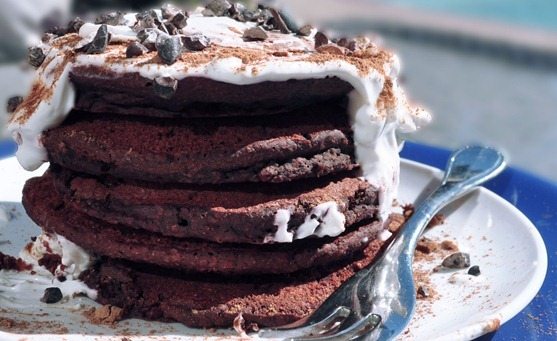 If you're still hungry for pancakes (although I don't know how that'd be possible, after these!), I have an entire recipe tab devoted to them: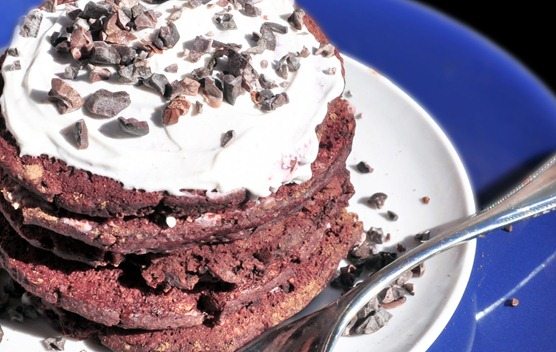 Question of the Day:
What do you do to be Heart Healthy?

Get regular exercise? Eat healthy foods? Spend quality time with people who make you happy? The heart is an amazing little organ; be sure to treat it right!