Healthy Apple Crumble!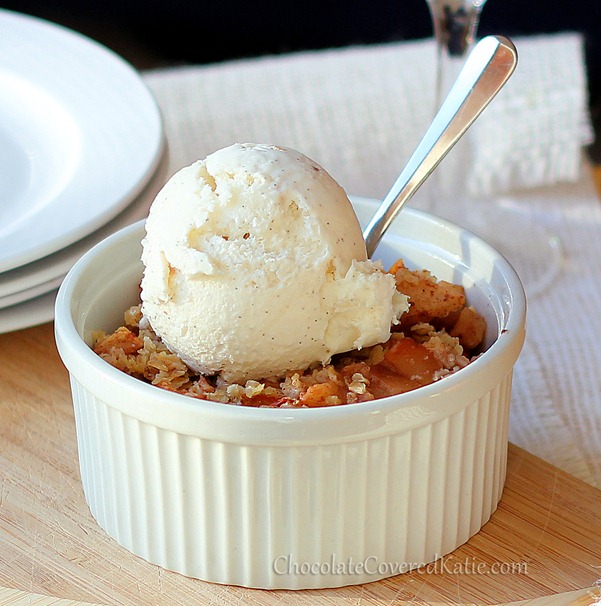 A little-known fact about me:
I love apple crumble so much that I sometimes choose it over chocolate.
I've been known to choose it over dinner, too. It all started during my freshman year of high school, one night before the prom, when my group of friends ate at a place called at Tony Roma's. Naturally, all of the boys ordered steaks or ribs. And naturally, all of the girls ordered salads. Apparently that's the stereotypical ladylike thing to do when you go out on a date.
Whatever.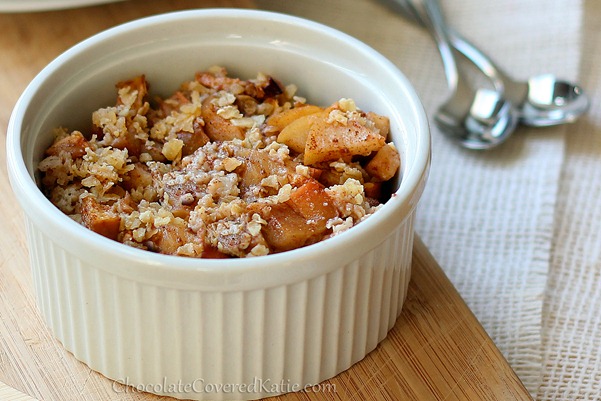 Uninterested in the prospect of lettuce as dinner, I scoured the menu for something more substantial. For vegetarians, the offerings were pretty slim.
However, I noticed they had apple crumble on the dessert menu. Topped with ice cream, of course. So that became my dinner—and it was awesome. From then on, every time we went out to a not-so-vegetarian-friendly place like Tony Roma's or Hard Rock or TGI Friday's, I didn't worry what to get for lunch or dinner… I just ordered apple crumble!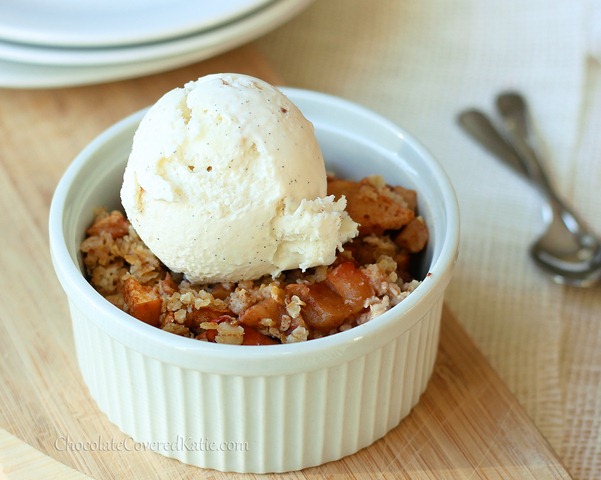 This healthy apple crumble reminds me of the one from Tony Roma's–sweet cinnamon apples mixed with buttery crumbles…  it is perfect for any time of the year (but especially Fall).  It also makes a generous serving, not some little half-cup thing.
Try topping it with this recipe: Homemade Vanilla Bean Ice Cream.
And eat it for dinner!
Healthy Apple Crumble
Healthy Apple Crumble Recipe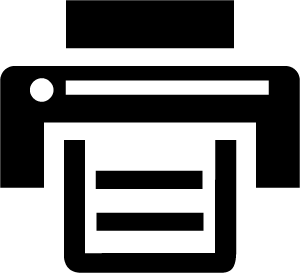 Print This Recipe
[mrp_rating_result show_count="false" show_rich_snippets="false"]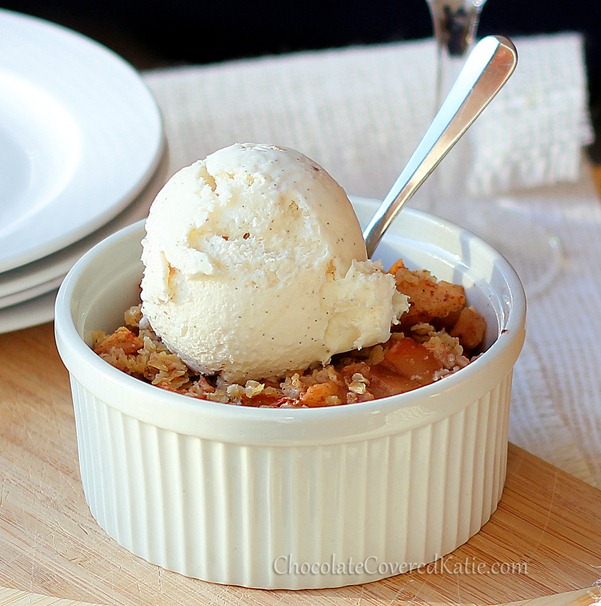 Ingredients
1 medium-sized apple, diced small
1/8 tsp salt
2 tbsp milk of choice
1/2 tsp apple pie spice (you can probably sub cinnamon)
1 stevia packet or 1-2 tbsp sugar or sucanat
optional add-ins: walnuts, raisins, etc.
3 tbsp quick oats (15g) (For substitution notes, see nutrition link below.)
2 tsp oat flour (or another flour of choice) (4g)
1 tbsp oil or butter-type spread (such as Smart Balance Light or Earth Balance) (15g) (For a fat-free substitution, see "nutrition facts" link below.)
Instructions
Healthy Apple Crumble Recipe: Preheat oven to 350 F and grease an oven-safe 2-cup dish. In a small mixing bowl, combine first five ingredients (and optional add-ins, if desired). Stir well. In a separate mixing bowl, combine remaining three ingredients and stir well. Now mix everything together and pour into the greased dish. (If you like a more-crumbly crumble, increase the amounts of the last three ingredients.) Bake 40 minutes (in the middle of the oven, not the very top), then turn the oven to high-broil for 2-3 minutes. Turn off heat, but let sit in oven 15 more minutes.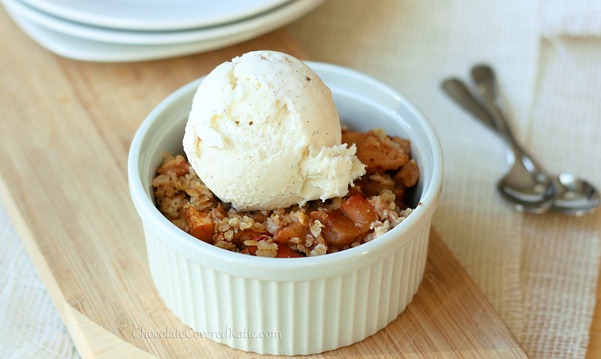 For more single-serving ideas, click on the following link: Over 100 healthy dessert recipes that make enough to serve just one person.