Hey Cacao Nibs!
Yesterday I offered Thanksgiving main-dish idea: Vegan Lentil Mush.
So, for today, how about dessert?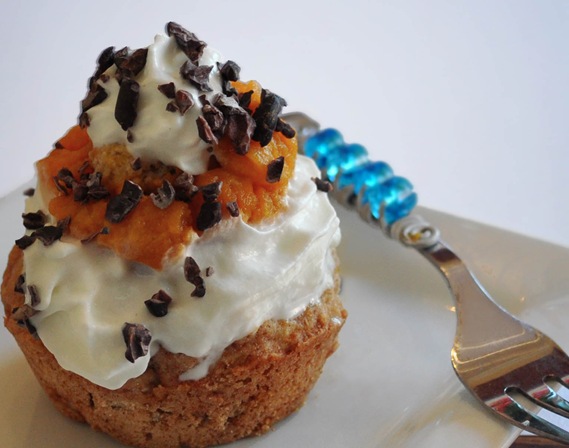 You start out with a yummy Vegan Pumpkin Muffin for One.
Then you cut a hole in the center. For the filling, ya know. (Read on; we'll get to that!)
Fill the hole, using the fun "Whipped Cream" Trick.
Then you can add other toppings if you so choose. (I added soyatoo and cacao nibs.)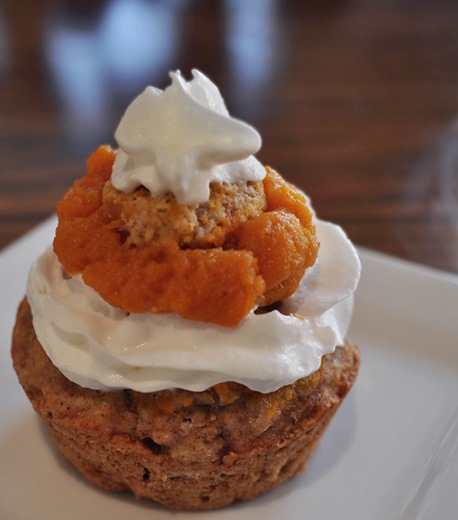 And thus, a modest Vegan Pumpkin Muffin for One morphs into a beauty-queen cupcake.
Now, about this pumpkin cream… I've actually posted the recipe before, but to save you the trouble of clicking endless links, here it is again:
Pumpkin Cream Mousse
2/3 cup cooked pumpkin (about 140ish grams)
1/4 tsp cinnamon
1/16th tsp salt
Up to 3T liquid (Try creamer for part/all the liquid. I used 20g Silk creamer, 30g water.)
Optional: sweetener of choice, to taste (You might also try adding some Tofutti cream cheese.)
Whip it all up in the blender for a loooong time.