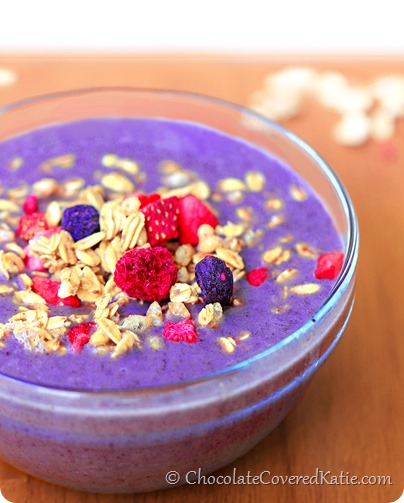 When I visited my younger sister a few weeks ago in New York City, she insisted on taking me to a healthy fast-food place called Juice Generation for their famous acai smoothie bowls she claimed were "the best things ever!"
I found this proclamation to be really funny, and if you knew my sister you would immediately understand why. Although Michelle is a very healthy individual, she's not exactly the vegan, yoga-loving, kale-obsessed, health-food-touting type.
No, not exactly.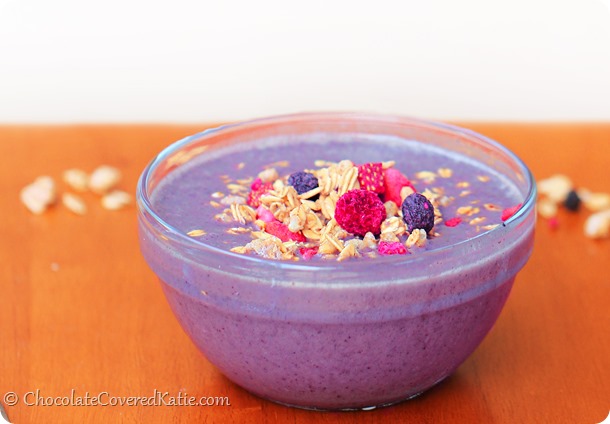 We arrived at Juice Generation to find a line out the door, mostly young girls in workout clothes who were buzzing energetically about their morning SoulCycle class or 6-mile run through Central Park.
By osmosis, I suddenly felt very fit… even though my only exercise for the day had been walking the single block from Michelle's apartment to the store.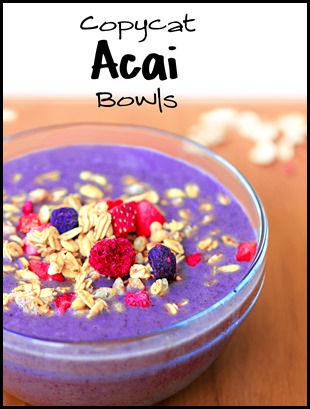 I did enjoy my authentic Juice Generation acai bowl… But at over $9 for one bowl, it's just as easy (and much cheaper!) to make your own.
Acai Smoothie Bowls
(Serves 1)
1/2 cup milk of choice
1/2 cup canned coconut milk or more milk of choice
1/4 tsp pure vanilla extract
tiny pinch salt (to bring out the sweetness)
1 overripe frozen banana OR 3/4 cup Thai coconut meat
1 tbsp acai powder (found at Whole Foods or online)
sweetener of choice, as desired
To make: Blend all ingredients together until smooth. Pour into a bowl and top with your favorite granola, shredded coconut, and/or fresh berries. **Note: The acai bowls will be much richer if you opt for the canned coconut milk, but lower in fat and calories if you use 1 cup milk of choice (such as almond milk), so choose whichever option best fits your dietary needs. Feel free to double or triple the recipe for multiple servings.
Click for: Acai Smoothie Bowls Calories & Nutrition Information
Flavor Variations:
Peanut Butter Acai Smoothie Bowl: Add 1 1/2 tbsp peanut butter (or allergy-friendly alternative) to the ingredients before blending. Top with granola, sliced fruit, and more pb.
Hawaiian Acai Smoothie Bowl: Replace 1/2 of the banana with 2/3 cup frozen pineapple tidbits. Top with granola, fruit, and shredded coconut.
Green Power Acai Smoothie Bowl: Add loosely-packed 1/4 cup greens of choice, pre-blending.
Chocoholic Acai Smoothie Bowl: They do not offer this flavor at Juice Generation… but obviously I think they should! Add 1 tbsp cocoa powder before blending, and top with chocolate chips (or melted chocolate).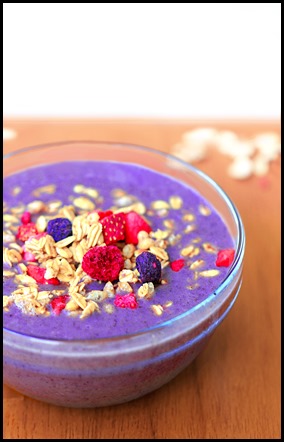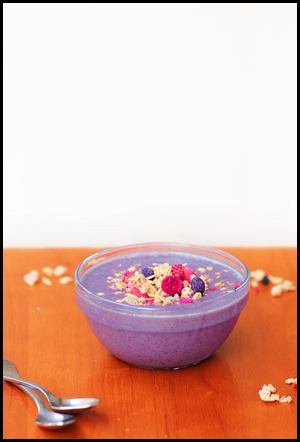 Question of the Day:
Have you ever tried eating a smoothie in a bowl with a spoon?
Or do you prefer to drink your smoothies in a glass with a straw? Although I do like smoothies in a glass, I will often eat them in a bowl if I want to add toppings. This way I'm not struggling to drink berries, chocolate chips, or nuts through a straw, and smoothie bowls can be a really refreshing snack, especially in the summertime. Link of the Day: