Today's recipe is a quick one, and it comes courtesy of the folks at Vitamix as a reminder that there is JUST ONE DAY LEFT to enter the Vitamix Blender Giveaway.
Enter the giveaway here –> Personal Vitamix Blender Giveaway
If you've already entered the giveaway, then continue reading for some pancakes!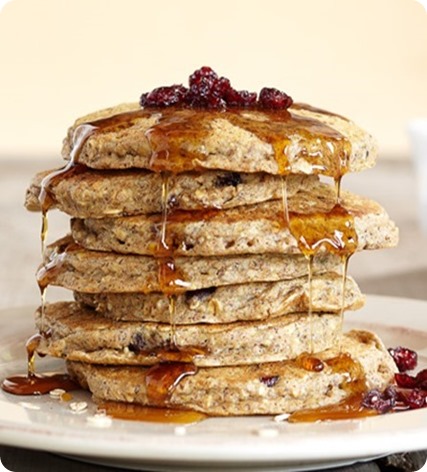 Cranberry Oatmeal Blender Pancakes
Reprinted with permission.
3/4 cup rolled oats (60g)
1 cup whole wheat flour (or all-purpose or Bob's gluten-free) (125g)
(CCK Note: Vitamix's recipe does not call for this, but I'd recommend adding a pinch stevia or 2 tbsp sugar of choice)
2 tsp baking powder
1/2 tsp baking soda
1/2 tsp salt
1 1/2 cups milk of choice (360ml)
1/4 cup dried cranberries (30g)
2 tbsp raw sunflower seeds (15g)
Combine the first 5 ingredients in a mixing bowl, and stir. (A trick for even fluffier pancakes: combine the first 5 ingredients in a Vitamix or blender instead of a mixing bowl, and blend for 20 seconds.) Stir in remaining ingredients to form a pancake batter. While waiting 5-10 minutes for the batter to set, lightly grease a medium skillet. Place the skillet over medium heat. When the pan is hot, drop small ladelfuls of pancake batter onto the skillet. Flip pancakes, using a spatula, when the pancake edges begin to look dry. Allow to cook one additional minute, then remove from the heat. Serve with your favorite pancake toppings. Yield: 10-12 pancakes. Thanks again to Vitamix for providing this pancake recipe.
Click for: Cranberry Blender Pancakes Nutrition Facts
The next post will be a new Chocolate-Covered Katie exclusive recipe!