No, I don't eschew all soy. I believe that all most foods in moderation are perfectly fine. But that's exactly the point: moderation. The problem with soy is that these days it's in everything, from beverages to vitamins to Fritos! And unlike the Japanese, who have been reaping the health benefits of soy foods for hundreds of years, we Americans often eat the bean in a processed state.
.
For more on my thoughts about soy, see the "Soy and Processed Foods" Debate post.
(Side note: If anyone ever says to you, "Ewwwww you're drinking soymilk?! And you actually like tofu?" you can counter with, "Eaten any potato chips lately? What kinda oil do ya reckon is in those? ;)) So although I don't believe it's necessary to cut out all soy from one's diet (and I do believe that some soy is beneficial in a healthy diet), I also limit the amount I consume. For today's snack, I went with a just-as-tasty alternative: soy-free Vegan yogurt.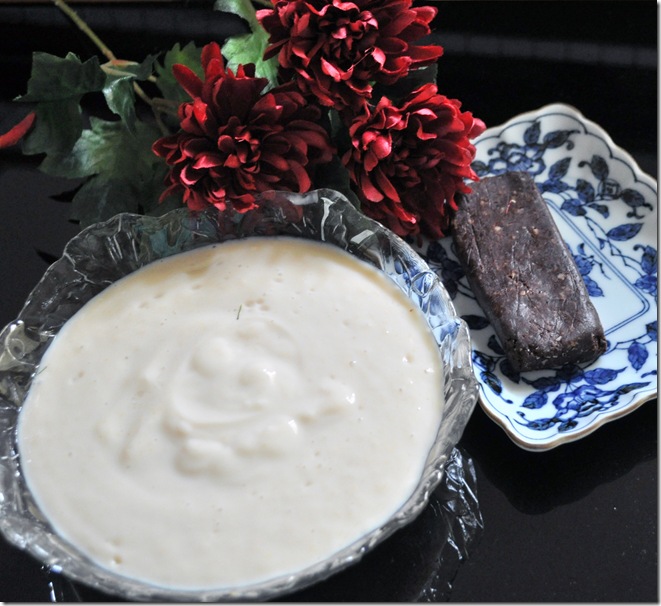 Above and below, homemade soy-free vegan yogurt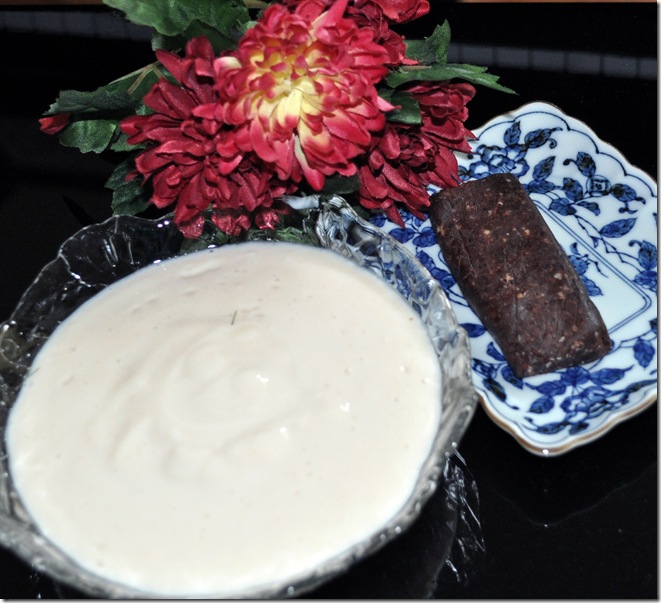 Today's yogurt-licious flavor was peach soy-free vegan yogurt.
I made a huge serving and ate it all; twas delish!
I blended it all together at the same time. But if you want a chunky peach yogurt, you can blend, then add the peaches and quickly re-blend.
,
What are your beliefs about soy?
Do you make an effort to include some soy in your diet for its health benefits? Or do you limit your soy consumption? Abstain completely? Or perhaps you're completely overwhelmed at all the conflicting claims, and you don't know what to think: soy is good! soy is bad! eat more soy! don't eat soy! I think it's a good idea (obviously I'm not a medical doctor) to include some soy in your diet (mostly in an unprocessed form), but not to go overboard. Variety is the key!
P.S. I know you're wondering: I didn't eat the flowers ;).
I did devour the delicious raw Hot Chocolate bar on the side, though.
.
.