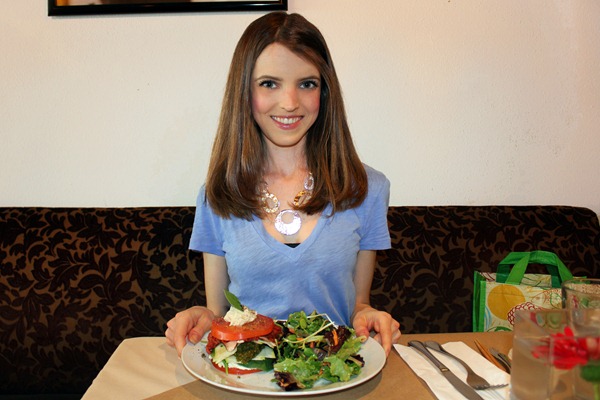 Lunch Date!
Yesterday, I had lunch with my friend Sarah.
I'm often asked by people on special diets (vegetarian, vegan, gluten-free, etc.) for advice on going out to eat with others who don't follow any specific diet. As far as being a vegetarian or vegan, it's actually pretty east once you get the hang of it! Below are a few ideas that work for me as a vegan; hopefully some of the tips will be useful for those of you who follow any sort of special diet:
Eating out on a Special Diet
If you get to choose the restaurant, ethnic places are usually a safe bet. Ethiopian, Indian, Chinese, Italian, Mexican, Thai… these establishments tend to be more vegetarian-friendly than your average burger joint, so you don't even have to do a special order.
If it's not up to you to pick the place… In my eight years as a vegan, I've learned that the best way to ensure you'll get some vegan food, hassle-free, is to call ahead. This is a good strategy for three reasons: One, you don't have to call attention to yourself or seem "high maintenance" when the waiter is taking orders. Two, if they can't accommodate your diet, you have time to make different arrangements. Three, it's courteous to give the chef a heads-up so he/she can be better prepared. Plus, you'll probably end up with something yummier if the chef knows in advance about your diet and is therefore able to brainstorm a meal for you. Often, my meal turns out to be the best thing at the table, since it's prepared by the head chef, him/herself.
Get creative: combine side dishes, breakfast items, or even parts of different dishes to make a meal. For instance, if a restaurant offers broccoli pizza, you know they have broccoli.
If you end up at a fast-food place, or any laid-back establishment, you can always pack something from home and eat it when everyone else's meal arrives so you're not left out.
And on the rare occasion that you do end up at a place where there is absolutely nothing you can eat, sit back and enjoy the company of your dining companions. There is more to life than food, and you can always eat later.
Thankfully, restaurants are becoming increasingly more aware of dietary restrictions as more and more people adopt special diets. I've gotten some great meals by eating out.
If interested, you can see more here: My Restaurant Reviews
Of course, sometimes you're lucky enough to have an adventurous friend who wishes to tag along with you to a place that only serves your "special" food. In my case, that special food would be vegan food. And the adventurous eater is my friend Sarah, who's been a vegetarian for almost a year now ("All your fault," she tells me). I took her to Bliss Café for the first time, and she loved it! Below, her coconut curry soup before she licked the bowl clean: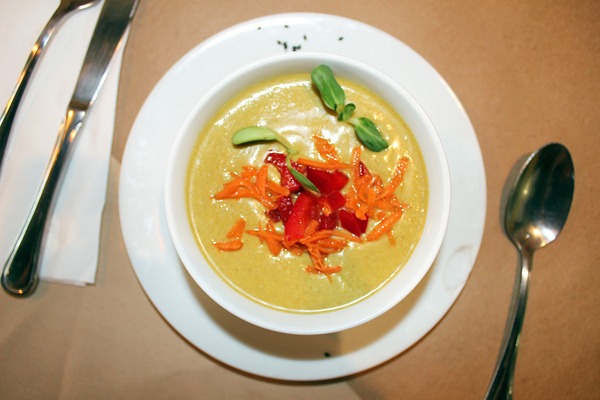 Sarah's photo, too. She was very proud of it

.
I went with a tried-and-true favorite: Raw Lasagna
Question of the Day:
Do you eat out often?
Or do you prefer to cook your own meals? I don't really eat out very often, simply because the restaurants around me offer things I can easily (and more cheaply) make at home.
But I might eat out every day if they open a Dallas branch of this place.
Tomorrow: How about a chocolate recipe?