Sunshine Baked Oatmeal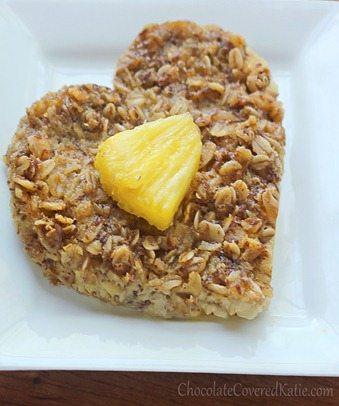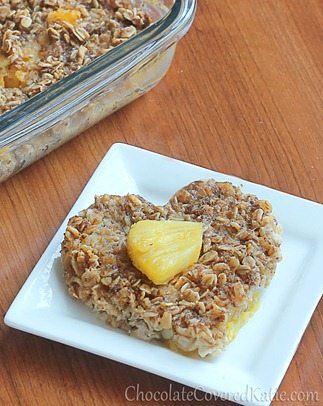 I'm in love and it's a sunny day.
This healthy breakfast recipe is like the love child of oatmeal and pineapple cobbler. The fruit caramelizes as it bakes, which tastes so amazingly good… and the kitchen feels like a tropical island paradise!
It was inspired by the wildly popular Oatmeal Breakfast Cupcakes.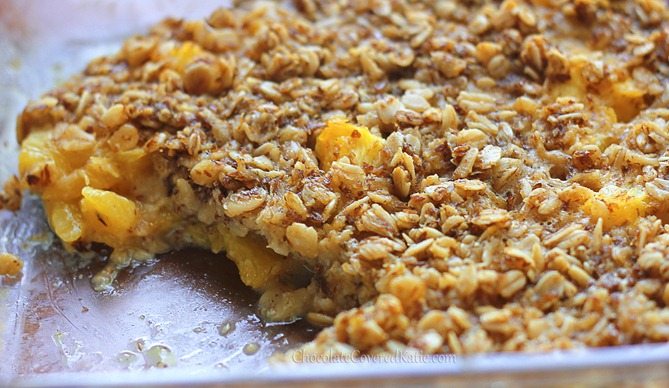 The first time I made this vegan baked oatmeal was back in December: an apple pie version. Recently, I found myself with quite a large amount of leftover pineapple (after making the Dole Whip Recipe I posted earlier). For Mothers' Day breakfast this year, I adapted my apple pie baked oatmeal to work with pineapple… this tropical version turned out to be even better!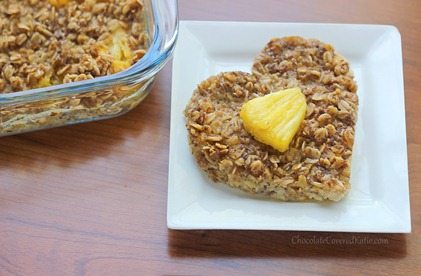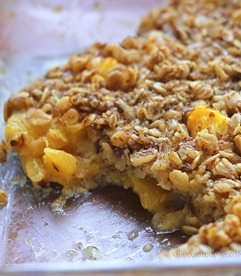 Sunshine Breakfast Baked Oatmeal Recipe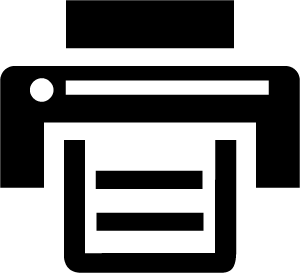 Print This Recipe
[mrp_rating_result show_count="false" show_rich_snippets="false"]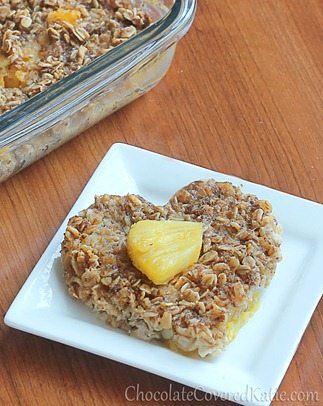 Ingredients
2 1/2 cups ripe pineapple or mango, chopped small (350g)
1 cup rolled oats (85g)
3-4 tbsp Sucanat or brown sugar (depending on desired sweetness) (30g)
1/16 tsp uncut stevia, or 2 extra tbsp Sucanat or brown sugar (or 2 NuNaturals packets)
3 tbsp ground flaxmeal (or ground chia) (18g)
1/2 tsp salt
3 1/2 tbsp coconut or vegetable oil (35g)
2/3 cup milk of choice (160g)
1/2 tsp pure vanilla extract (2g)
optional ingredients: 1/2 cup chopped walnuts or 1/2 cup shredded coconut
1/2 cup more milk of choice (120g)
Instructions
Preheat oven to 375 F and lightly grease an 8-in square baking pan. Combine first two ingredients in a bowl, then pour in an even layer into the bottom of the pan. In a mixing bowl, combine all remaining ingredients but the last 1/2 cup milk, and stir to combine. Spread this evenly over the pineapple or mango, then pour the remaining 1/2 cup milk evenly on top. Bake 35 minutes, then let sit 5 minutes before cutting into slices, using a knife or a very-large cookie cutter. Makes 4-6 servings. For a piña colada oatmeal variation: add 1/2 cup shredded coconut to the mixing bowl. Use canned coconut milk as your milk of choice.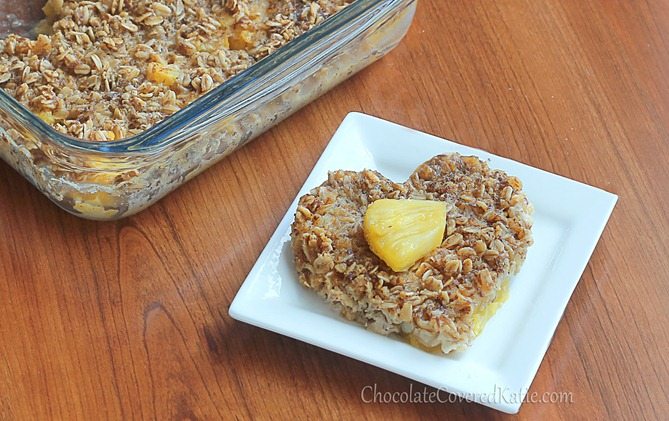 Do you prefer to see larger recipes or single-serving recipes?
I will still post a mix of both, but seeing the majority vote is helpful when I'm developing recipes, so I can know which types of recipes to focus on more often.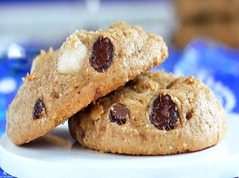 Link of the day: Healthy Chocolate Chip Cookies