Lentil Sloppy Joes!
Seeing as I've posted recipes for both Healthy Oreos and Healthy Butterfingers this week, I figured a non-dessert post was in order. After all, a person can't live on chocolate, cookies, and candy, alone. We can come close…
Anywhoos, so last night I made these: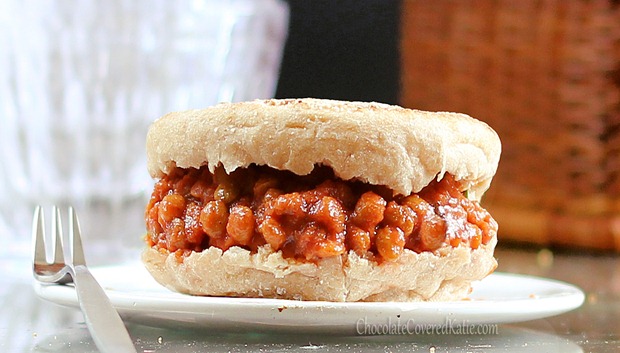 Thinking of sloppy joes brings me back to high school.
My mom always placed high importance on family dinner nights, and she'd somehow manage to make a big meal even on days we were super busy. (We were always super busy!)
My sister and I played on the school's varsity tennis team, with long practices each day, and Friday nights were particularly animated: we'd board a bus in the afternoon, then play intense matches until well after dark. Intense might not be a strong enough word… we sometimes played against China's future Olympic team!
Ever the supportive parent, my mom attended almost every match. Yet, when we'd finally drag our tired (and hungry) bodies off the courts, there it would magically sit, waiting for us:
A home-cooked meal.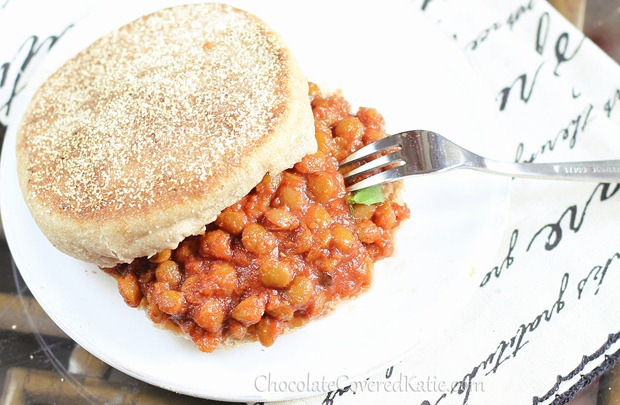 Sloppy joes became one of our favorite Friday-night dinners, and one of our mom's favorites as well, because she could make them in the morning in the crock pot. Her recipe is actually meatless (I've been a vegetarian since high school), but it calls for a few ingredients one can't buy in the US. So last night I changed it up, and I incorporated lentils into my new creation.
Although I didn't use a crock pot for this recipe, I imagine you could. The recipe comes together very quickly, and there's even a microwave option!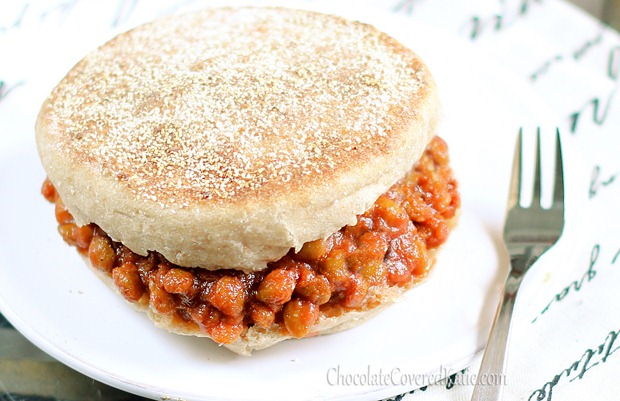 Did you sit down to family meals when you were growing up?
Or do you try to have family meals with your own kids? My family tried to all eat together whenever we could. Sometimes after-school activities got in the way; and sometimes we were forced to eat in the car, en route to soccer practice or art class. But when we got the opportunity to sit down as a family, we took advantage.
I don't remember ever eating dinner in front of the television, unless it was a special "movie night."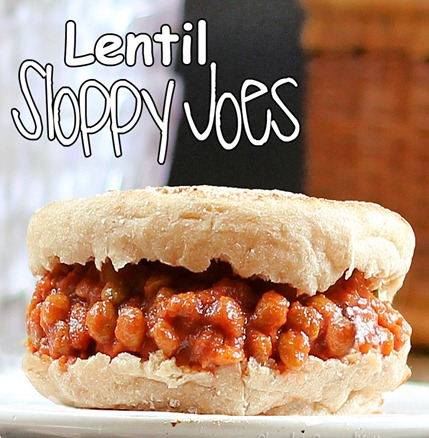 Lentil Sloppy Joes
(Sloppy Loes)
2 15-oz cans lentils, drained and rinsed (about 3 cups cooked lentils)
1 tbsp minced garlic
1 1/4 tsp chili powder
1 tbsp ground cumin
1/2 tsp salt
3/4 tsp cinnamon
1-2 stevia packets, or 3-5 tsp sugar or sweetener of choice, or to taste
14 oz tomato sauce (I used no-salt-added)
up to 1 cup water
1 tbsp apple cider vinegar
2 tbsp soy sauce (or soy-free alternative)
optional: 1/2 an onion (diced) and 2 tsp oil
Lentil sloppy joes: If making these on the stovetop: sauté the onion and garlic in the oil until onion is translucent. Add lentils and spices, stir, then add all other ingredients and cook uncovered (stirring occasionally) until thick like sloppy joe filling. If making this in the microwave: add all ingredients to a large microwave-safe dish (minus the onion and oil, which you won't use with this method). Microwave until it boils, stir, then repeat the process until it is thick like sloppy joe filling. Makes about 5 cups.
View Sloppy Joes Nutrition Facts
Link Of The Day: