Ghosts.
Goblins.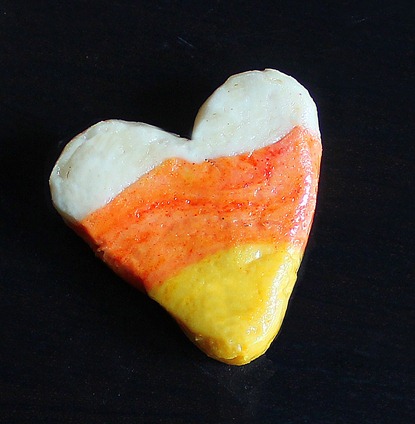 And… candy corn?
Think of candy corn as comic relief from Halloween.
It's cute, it's yummy, and it's not the slightest bit scary.
That is, until you look at the ingredients. Gelatin, corn syrup, FDC Yellow 6 Lake, Red 40, Blue 1 Lake…
Are you scared yet?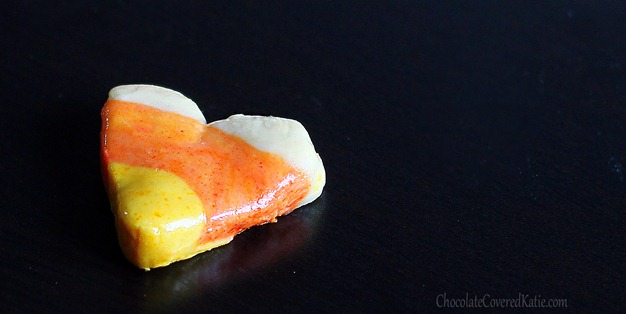 I've always loved candy corn, more for its festiveness and adorableness than for the actual taste.
So when I made these candies I wasn't going for an exact copycat, but more of a fun and healthier and vegan candy corn substitute.
You might like them even better than real candy corn!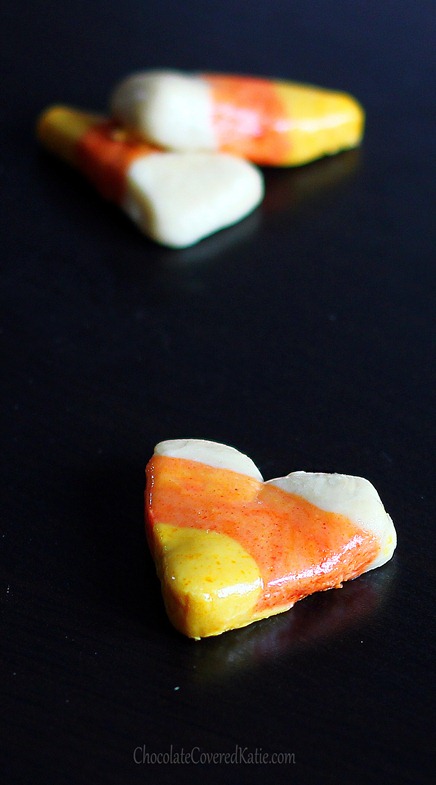 Vegan Candy Corn
1/4 cup raw cashew butter (or peanut butter if you want pb-flavored candy corn. Who knows… it might be fun!) (58g)
tiny dash salt
1/4 cup powdered sugar or Sugar-Free Powdered Sugar (28g)
Either red and yellow food coloring (you can purchase natural food coloring at Whole Foods), or a tiny pinch turmeric and a few drops beet juice
Mix the first three ingredients together in a bowl until it becomes a crumbly dough. (Note: if your nut butter is from the fridge, let it sit awhile or heat it up so it's easier to mix.) If dough is too gooey (mine wasn't), you can add a little extra sugar/sf sugar. Taste the dough and add a little more salt if desired. Now transfer the crumbles to a plastic bag and smush very hard into a ball. Remove from the bag and form three little balls, then add a few drops yellow food coloring or the turmeric to one ball and knead until it's all one color. Do the same with the red. (For my un-edited "in process" photos, see the nutrition link below.) Roll balls into skinny strips—the skinnier the strips, the smaller the resulting candy corns, and press strips together. Cut into triangles or other shapes. As stated above in the post, these aren't supposed to taste exactly like store-bought candy corn; they're yummy in their own right. You can store in the fridge, but my roommate—the candy nut—says they taste best straight from the freezer. Or you can even bake them: 350 F for 3-5 minutes, then allow to cool for at least 10 minutes before removing from tray.
View Nutrition Facts + Step-By-Step Photos
What are you doing for Halloween this year?
Are you dressing up? Or staying home and handing out candy? Or trying to console a dog who goes berserk every time the doorbell rings? Guess I just gave away my Halloween plans…
Link Of The Day: