Thanks to iHerb for partnering with me on this superfood recipes post. I'm donating all profits from the referral links in the post to charity (Doctors Without Borders), and the products mentioned here are included because I genuinely love them.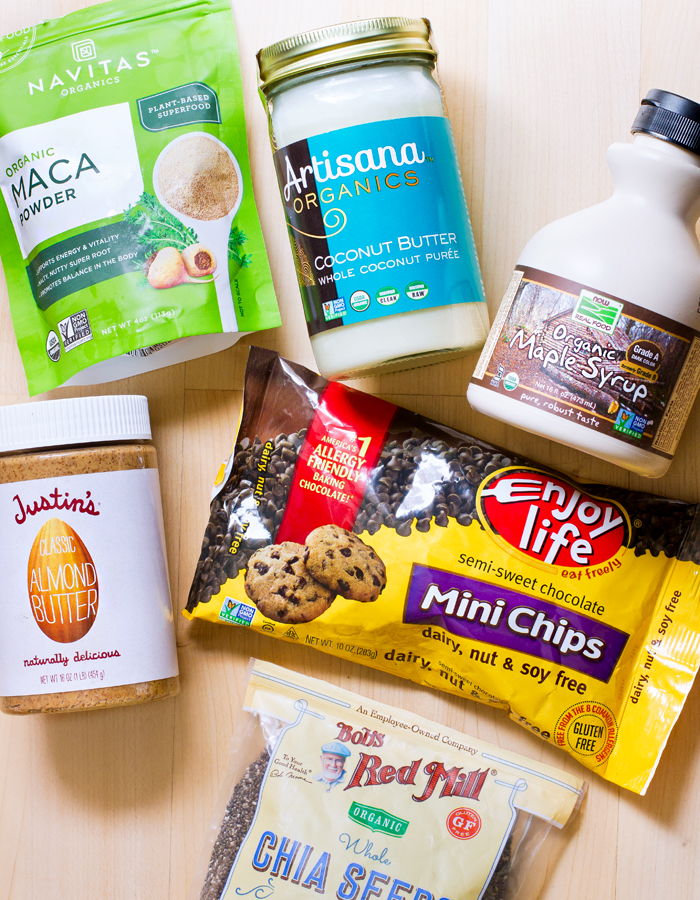 Where should I buy the ingredients to make your recipes?
I've been wanting to write a post about this for a while, because it's one of the most common questions readers ask me. Although most of the ingredients in my recipes can be found in regular grocery stores, it's almost always much cheaper to buy them online. The best place I've found to get specialty ingredients such as almond butter, spelt flour, chia seeds, and unrefined sugar is from a site called iHerb.
For example, their Artisana Coconut butter is an astounding five dollars less per jar than that same jar of coconut butter at Whole Foods.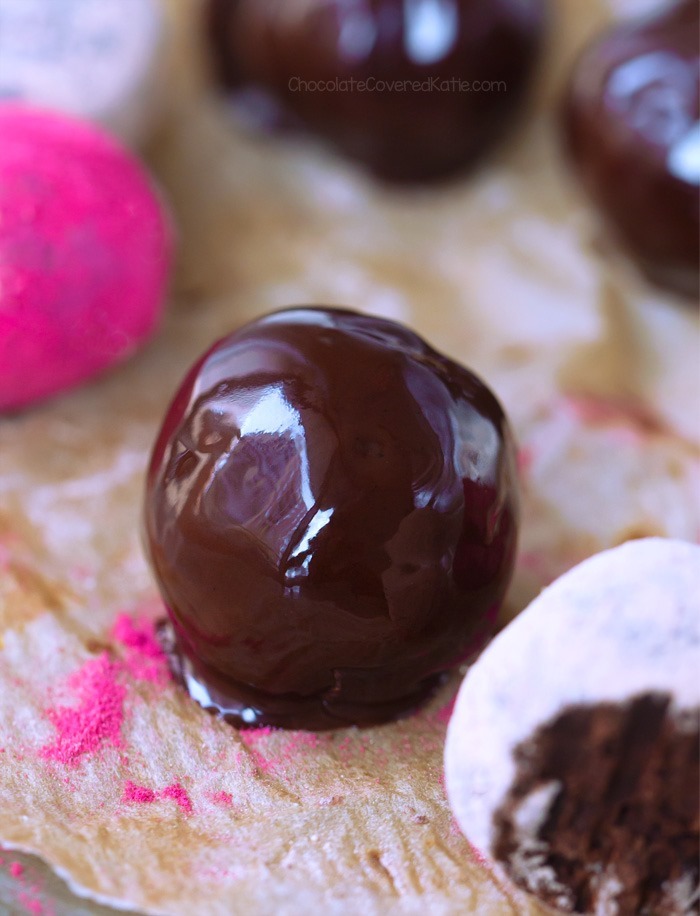 And you can get Vegan Mini Chocolate Chips for two dollars less than the same brand in stores.

They also give you free shipping on US orders over $20, or shipping discounts to over 160 other countries, so I've never had to pay shipping on an order, and they carry over 5,000 grocery items. It's where I personally get most of the ingredients to make my recipes, and I recommend them to everyone not only because of the lower prices, but also because they're an environmentally-friendly company (with carbon neutral shipping) and donate a portion of their profits to charities fighting poverty around the world.
Another benefit of buying health food products online is that you can discover some really interesting ingredients often not available in stores, which brings me to the real subject of today's post. When you think of superfoods, what comes to mind?
Chia Seeds?
Blueberries?
Broccoli?
True, these are all superfoods. But there are so many more, some of which you might never have even seen before. Especially if you're stuck in a food rut, bored of eating the same things over and over again each day—or if you have a curious nature like I do and love trying as many new foods as you can—here are five of my favorite superfoods, and three new recipes where you can use them.
Superfood Recipes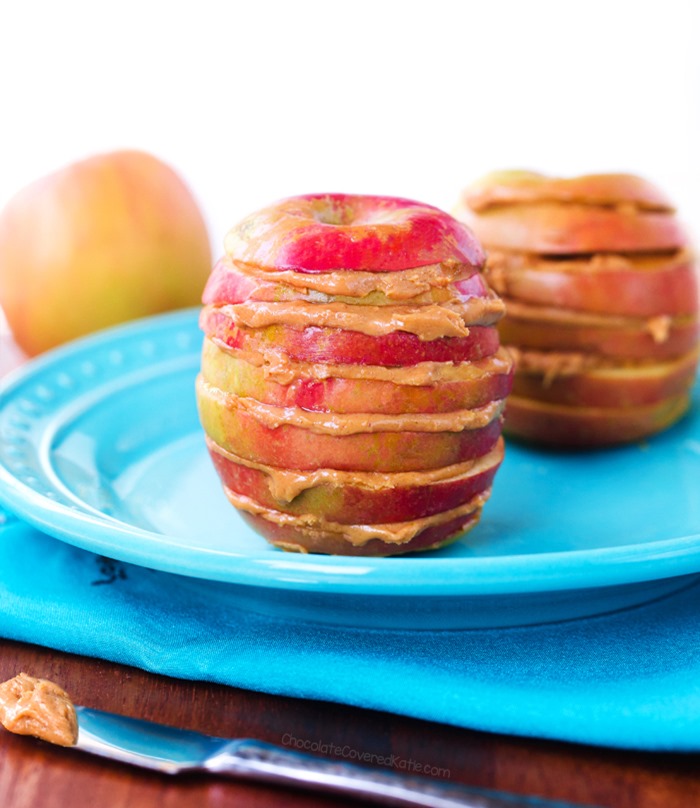 Superfood #1: Maca Powder
If you decide to try just one new ingredient because of this post, I recommend buying maca powder, because it adds such an intriguing flavor to desserts and I've completely fallen in love with using it in recipes. Maca root is a cruciferous vegetable (like broccoli and cauliflower) native to Peru and high in plant-based protein, fiber, and numerous vitamins and minerals. People have been using maca powder for centuries because they say it helps to regulate hormones, support the adrenals, and increase energy and stamina. While many say it tastes like butterscotch, I think it has more of a strawberry jam flavor; so I decided it would pair really well with almond butter: 
Almond Butter Apple Stacks
(Serves 1)
Slice the apple, cored if desired, into rings. Spread almond butter (or allergy-friendly alternative) onto each slice, sprinkle with chia seeds and maca, and stack into a tower. Of course you can eat the slices not in a tower if you prefer… I just think the towers are much more fun!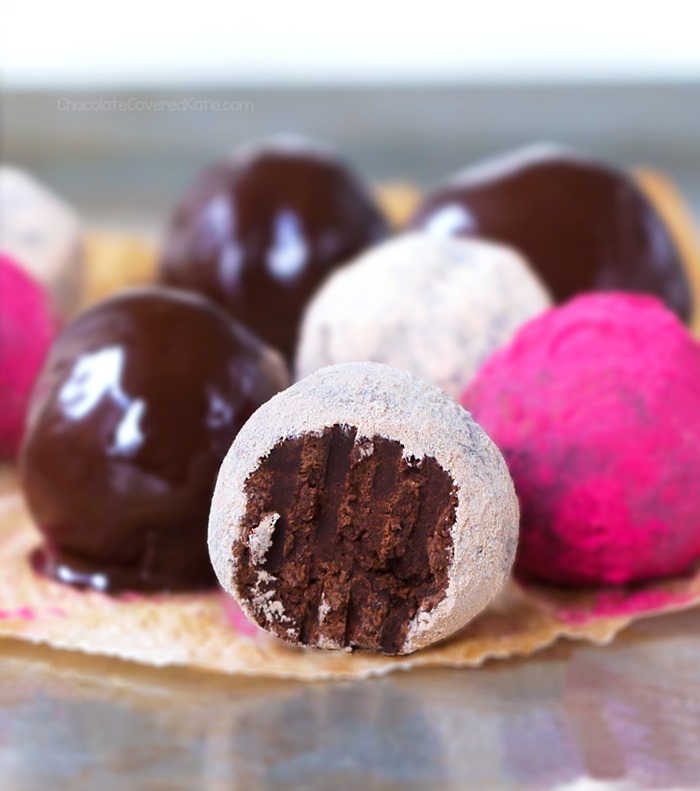 Superfood #2: Lucuma Powder
Lucuma is a popular ingredient in raw-food desserts because it imparts a natural caramel flavor to recipes such as raw cheesecakes, smoothies, or the following superfood chocolate truffles. Lucuma is a fruit that comes from the Pouteria lucuma tree, native to Peru, Chile, and Ecuador. It is said to be anti-inflammatory and can be used to sweeten recipes naturally without added sugar.
Superfood Chocolate Truffles
(Makes 8-10 truffles)
Chop the chocolate very finely so it will melt more quickly and evenly. Heat the coconut milk (use the full-fat canned type) just until it begins to boil. Pour over the chocolate, add the salt and vanilla, and stir until completely smooth. Refrigerate at least 2 hours, or until firm enough to scoop out and roll balls either with your hands or a mini cookie scoop. Roll truffles in whatever you wish – ideas include cacao powder, shredded coconut, freeze-dried berries that have been pulverized into a fine powder, and/or the aforementioned lucuma powder. Set on a parchment-lined plate, and refrigerate or freeze until ready to serve.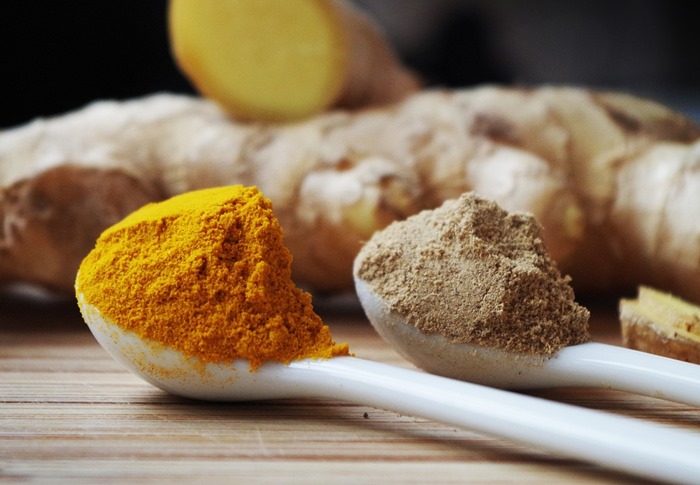 Superfoods #3, #4, #5: Turmeric, Ginger, and Cinnamon
These three are much more well-known than the first two superfoods I've highlighted. Ground turmeric is a common ingredient in curry recipes, and cinnamon and ginger are prevalent flavors in numerous sweet and savory dishes around the world. All three have been found to have powerful anti-inflammatory properties, and studies show they may also help with digestion. Turmeric and ginger add a spicy kick to the savory superfood trail mix below, balanced out with the sweetness of cinnamon.
Superfood Trail Mix
Line a baking pan with parchment. Preheat oven to 350 F. Combine the nuts, maple syrup, and oil (or spray with oil spray). Stir together with all remaining ingredients. Transfer to the baking pan and spread out in a single layer. Bake 8 minutes, stir, and continue to bake until browned and roasted to your liking. Allow to cool – they will harden as they cool.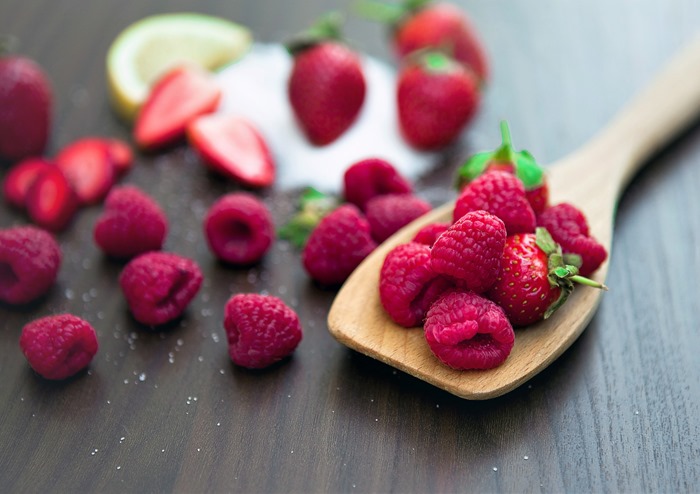 More Ingredients To Stock A Healthy Pantry:
Also, to answer another common question: When one of my recipes calls for the option of using stevia, this is the stevia I use and recommend.
**As mentioned earlier in the post, I receive a small referral commission from linked products on this superfood recipes post, all of which will be donated to Doctors Without Borders, because the organization does really great and necessary work (and is highly rated by Charity Navigator), and because I'd prefer to make money from ads, not readers.