Huge thanks to The Hershey Company for sponsoring this post. As always, all opinions are my own.
This blackout banana bread is so deeply rich and chocolatey…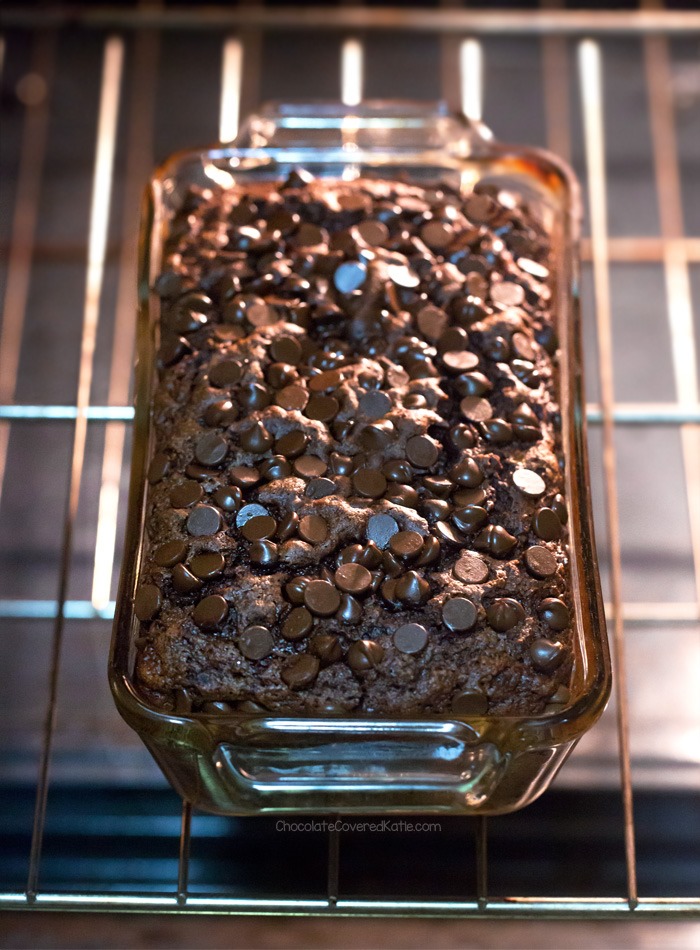 For this ultra dark chocolate banana bread, I got the opportunity to partner with HERSHEY'S Kitchens again to highlight one of my favorite baking "secret weapons" that I've loved for years.
It's the same baking secret weapon employed in my Dark Chocolate Eclipse Cake, and it has the power to elevate your homemade chocolate brownies, cakes, and baked goods from ordinary to out-of-this-world amazing.
Have you ever tried to make a chocolate dessert from scratch, hoping it would taste reminiscent of your favorite restaurant or bakery treat, only to be disappointed and confused when your results had a flat and somewhat bitter taste instead? The most likely culprit for this is that many restaurant or commercial chocolate baked goods, such as boxed brownies, cake mixes, and packaged chocolate puddings, will be made with Dutch cocoa as opposed to the more acidic natural cocoa you can more readily find on display at the grocery store.
Dutch cocoa, which is still unsweetened just like natural cocoa, has been alkalized to neutralize the cocoa's acidity, taking away the bitterness of natural cocoa powder. It gives baked goods a darker color and a bolder, richer flavor.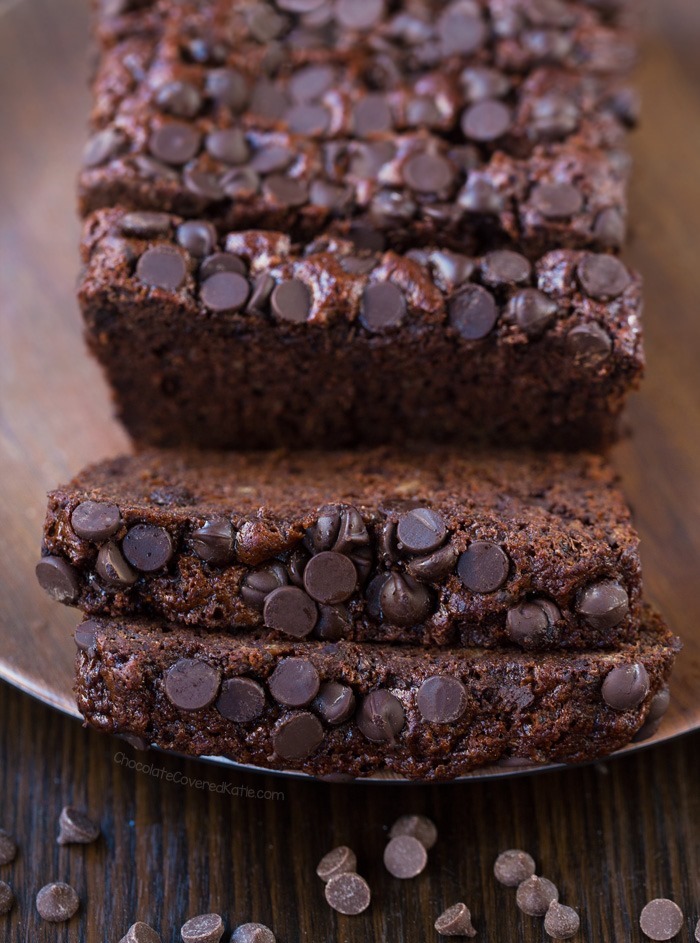 I've been a fan of the HERSHEY'S SPECIAL DARK Cocoa, which uses a blend of natural and dutch cocoas, ever since one fateful night in college when I was trying to make a chocolate pudding from scratch and couldn't figure out why it didn't taste as good as the chocolate pudding that came in a box.
So of course I turned to the internet, which is where I learned about the difference between regular natural and Dutch cocoa powders.
This extra dark and chocolatey banana bread was made especially for a friend who stayed with me a few weekends ago, because I figured it would be an easy breakfast to make ahead of time and have ready to serve in the morning.
While I do also have a regular Chocolate Banana Bread recipe on the blog, I loved this one even more. Using the HERSHEY'S SPECIAL DARK Cocoa in the banana bread took it to a whole new level of brownie-like deliciousness!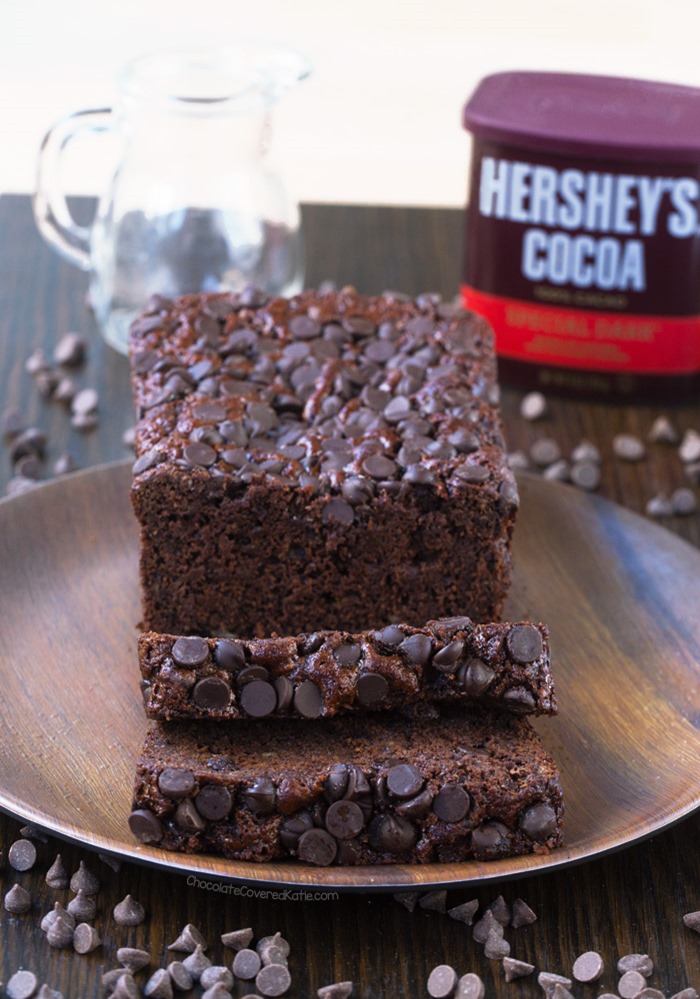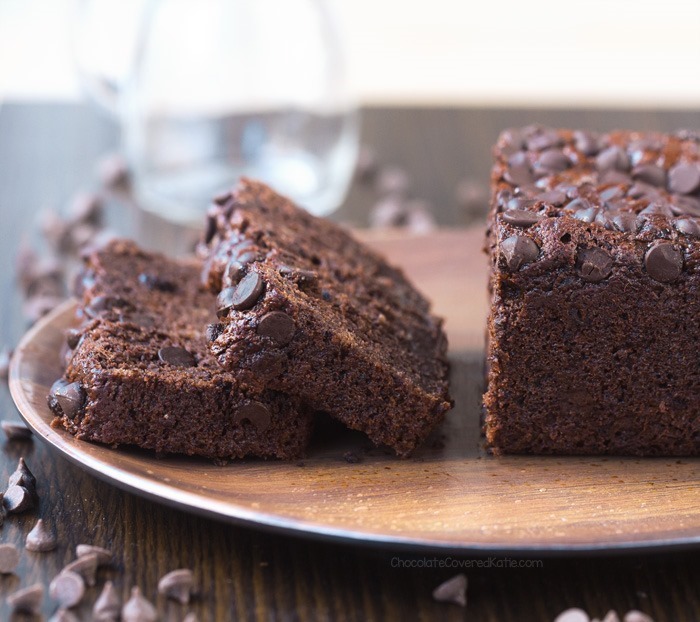 Tips For Success
1. Be sure to use Dutch cocoa here as opposed to natural cocoa. Look for the words "processed with alkali" to be somewhere on the box. I use and recommend HERSHEY'S SPECIAL DARK, which is available at many regular grocery store chains.
2. You want to use overripe bananas, meaning bananas with skin that's at least partially brown, because these will be much sweeter and will yield a more robustly flavored banana bread. If you buy bananas and leave them out on the counter, they should start to brown after a few days. Or you can do what I prefer so that I don't ever have to wait for my bananas to ripen: Buy in bulk, let them brown, and then peel and freeze the ripened bananas. Frozen bananas can easily be thawed and used in banana bread.
3. Baking time can depend on so many factors, including the climate and elevation where you live, the specific ingredients you are using, and whether or not your oven is calibrated. If your banana bread is still not done in the center after the time is up, simply turn the oven back on and continue to bake—checking every five minutes or so—until a toothpick inserted into the center of the bread comes out mostly clean.
4. This banana bread is sweeter and has a better texture the day after it is made, so I recommend not serving it or even tasting it until the second day. Leftovers can also be sliced and frozen for up to a month.
5. It's a good idea to check off the ingredients as you add them, as it can be so easy to skip over an ingredient without ever noticing and then wondering what might have gone wrong. For example, this recipe calls for both baking soda and baking powder, and it's important to add both!


Blackout Banana Bread
This blackout banana bread is so deeply rich and chocolatey.
Ingredients
2

cups

overripe mashed banana

2 1/2

tsp

pure vanilla extract

1

tbsp

white or cider vinegar

1/4

cup

oil OR milk of choice

2/3

cup

pure maple syrup or agave

1/8

tsp

uncut stevia OR 1/4 cup sugar

1 3/4

cup

spelt,

white, or oat flour

1

tsp

baking soda

3/4

tsp

baking powder

3/4

tsp

salt

1/2

cup

+ 2 tbsp dutch cocoa,

such as HERSHEY'S SPECIAL DARK Cocoa Powder

optional

1/2 cup mini chocolate chips in the batter, plus regular chips for decoration
Instructions
*Note: The oil version will be richer and will have a better texture; the oil-free version will be lower-calorie… So it depends on what you're going for and to whom you are serving the bread.

Preheat oven to 350 F. Grease a 9×5 loaf pan, and line the bottom with parchment paper. In a large mixing bowl, whisk together the first six ingredients. In a separate mixing bowl, combine all remaining ingredients. Stir well. Pour dry into wet, and stir until just evenly combined. Spread batter evenly into the loaf pan. If desired, sprinkle chocolate chips over the top, and press down. Bake 45 minutes, then turn off the oven but don't open the door! Let sit 10 additional minutes in the closed oven before removing. If your bread is still undercooked at this time, simply turn the oven back on and continue baking—checking every 5 minutes--until a toothpick inserted into the center of the bread comes out clean. Let the bread cool, and I recommend very loosely covering (or refrigerating) overnight before slicing, because the taste and texture are ten times better the next day!

View Nutrition Facts
More Recipes Where You Can Use Dutch Cocoa: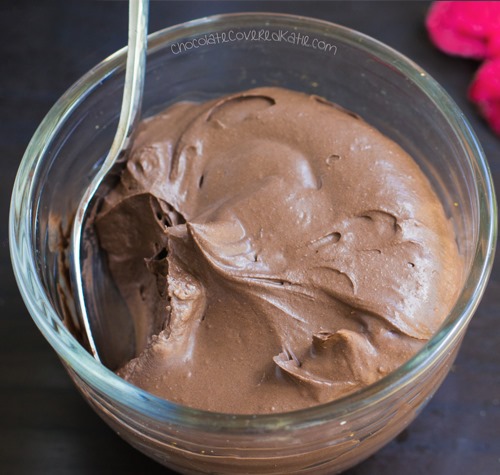 Healthy Chocolate Pudding – NO Tofu!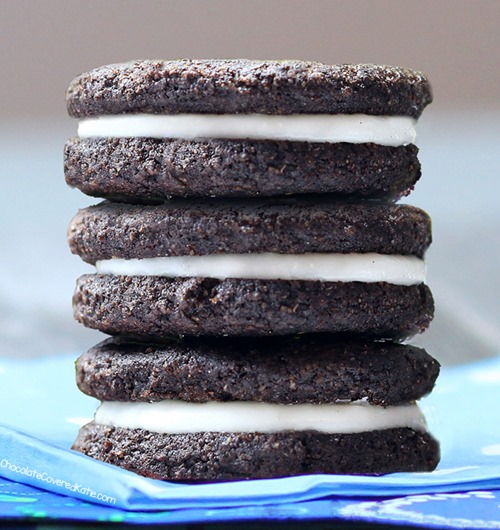 Healthy Chocolate Sandwich Cookies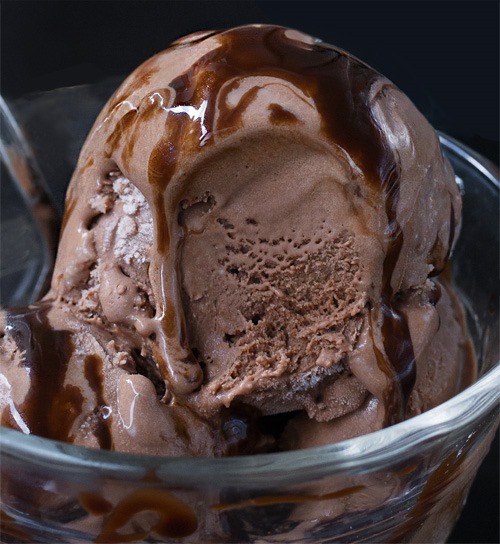 Chocolate Peanut Butter Cup Dessert
Thank you again to HERSHEY'S Kitchens for sponsoring this post and for giving me the exciting opportunity to collaborate. If you try the banana bread, be sure to tag me @ChocolateCoveredKatie on Instagram so I can see and like your photos!