No butter.
No eggs. No flour.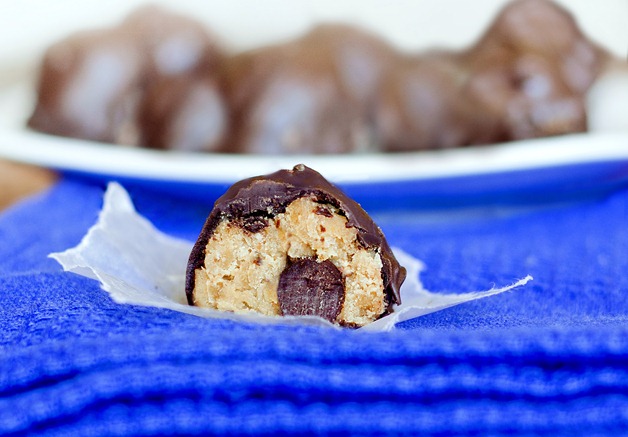 No shoes, no shirt, no service.
And yet… These secretly-healthier cookie dough truffles are scarfed down by everyone who's ever tried them. Even without butter, eggs, and flour, they taste just as sinfully delicious as traditional cookie dough truffles.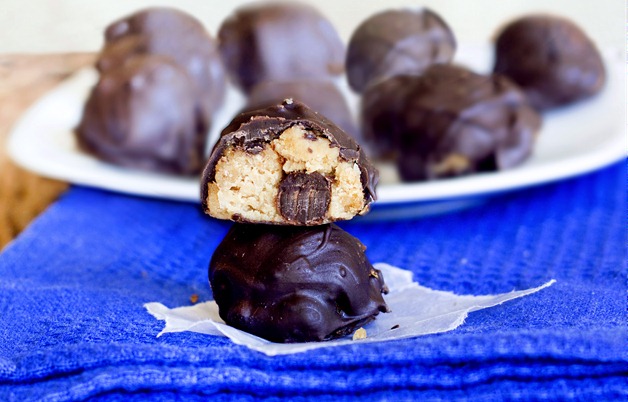 Don't worry if you're bored of all my Healthy Recipes with Beans.
This is probably the last of my famous bean-dessert recipes you'll be seeing for quite a while. There are about a billion new dessert recipes I want to post this year, and they all have absolutely nothing to do with beans. But when I remembered beans are considered a lucky food to eat on New Year's Eve, I *had* to make–and blog about–this one last bean recipe.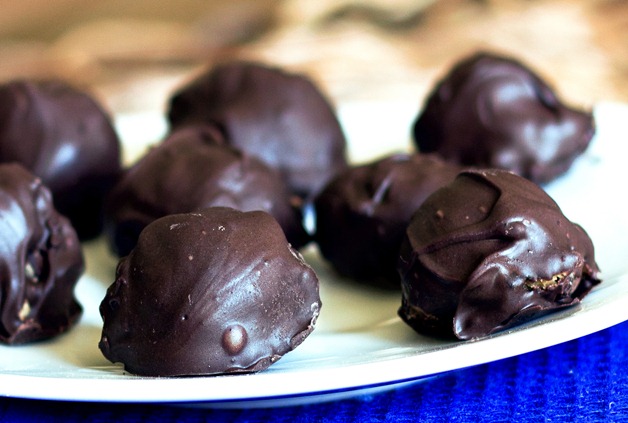 I really regret not making a bigger batch.

Eggless Cookie Dough Truffles
(Makes 18-20 truffles)
1/2 can chickpeas or white beans, drained and rinsed (125g after being drained)
1 tsp pure vanilla extract
scant 1/8 tsp salt
scant 1/8 tsp baking soda
2 tbsp nut butter or oil (If you use peanut butter, they'll have a slight "pb cookie dough" taste.)
1/3 cup brown sugar (For a sugar-free option, see the very last link of this post.)
2 tbsp chocolate chips, or more if desired
1-2 tbsp rolled oats or quick oats (or flaxmeal, almond flour, etc.)
optional: 1 bag chocolate chips, or Healthy Chocolate Sauce
optional: milk of choice if needed, to thin it out
Add all ingredients (except chocolate chips) to a food processor, and blend until very smooth. Then mix in the chocolate chips and form balls. (I used a melon baller.) You can eat these plain, but if you wish to cover them in chocolate, proceed thusly: Allow to chill in the fridge. Once chilled, make up the healthy chocolate sauce (linked above) OR melt chocolate chips with 2 tsp coconut oil (or shortening). Take the balls from the fridge and cover in chocolate, then return them to the fridge to harden. Stored in the fridge, I imagine these will keep for 3-4 days. But I can't be entirely sure, since my truffles were completely gone in closer to 3-4 minutes!
For 100% sugar-free truffles:
Use the following recipe: Sugar-Free Cookie Dough Truffles.