These deliciously eggy Swedish Pancakes will be unlike anything you've ever tried…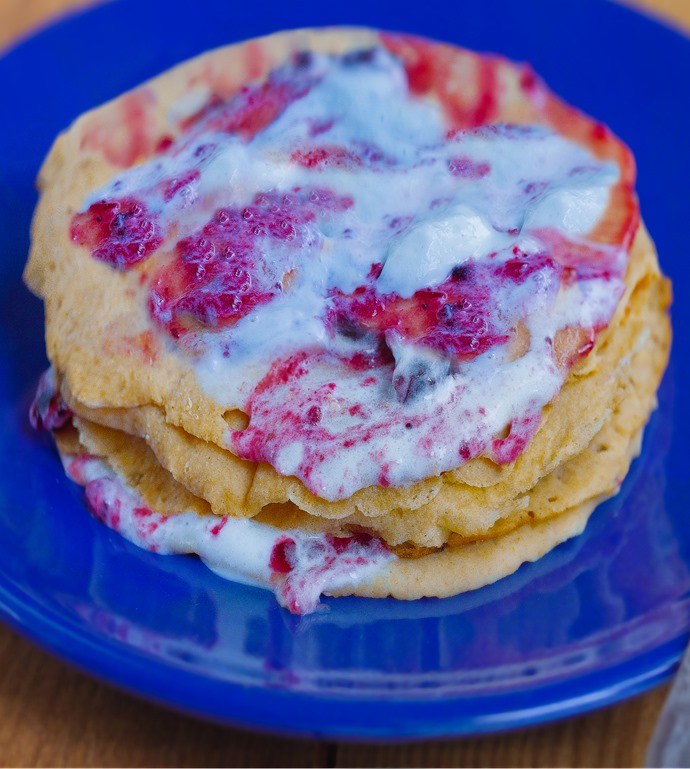 They are ultra light, with a soft and almost eggy texture that is impossible to describe.
Finally, it is starting to feel like Fall.
I'm slowly changing out my summer wardrobe in favor of scarves, boots, and leggings. And along with the cooler weather has come a desire for hearty comfort-food breakfasts like avocado breakfast burritos or thick slices of my homemade Chocolate Banana Bread slathered with peanut butter and extra chocolate chips.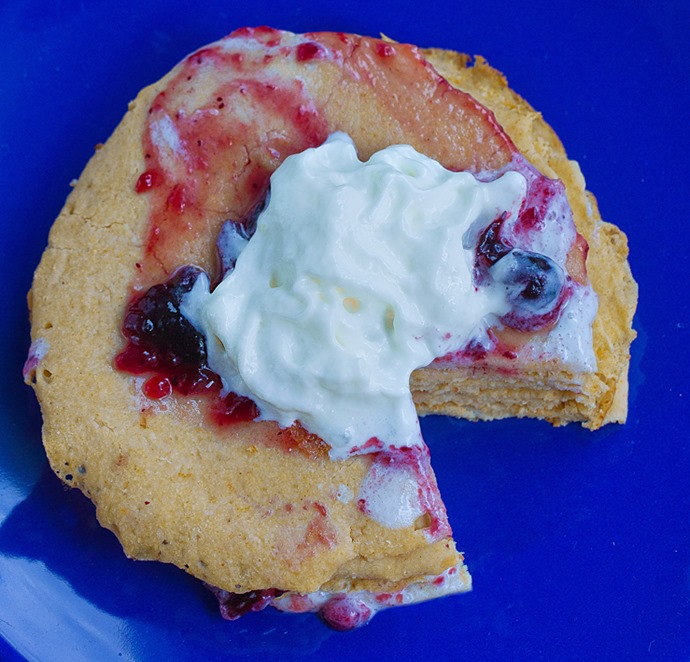 Or, the ultimate in comforting breakfasts: A giant stack of fluffy vegan Swedish pancakes, piled high with jam and homemade cream.
(For the pancakes in the photos, I used my Healthy Whipped Cream recipe.)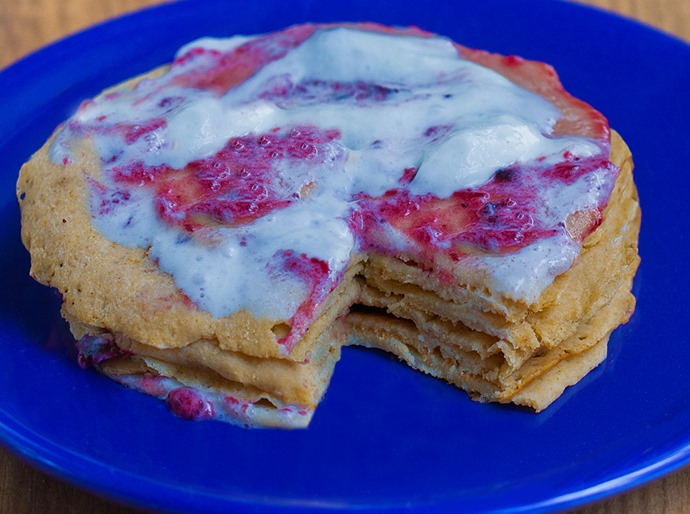 Swedish pancakes fall somewhere between pancakes and crepes: They are lighter and sweeter than American pancakes, with less flour and more liquid, which makes them soft and almost eggy in nature.
It's almost like eating French Toast in pancake form! They are more substantial than crepes; and I have no idea how they stack up (pun intended) against traditional Swedish pancakes, but the friend to whom I served them said that's exactly what these taste like.
Now I'm wondering how I've gone this many years without trying Swedish pancakes…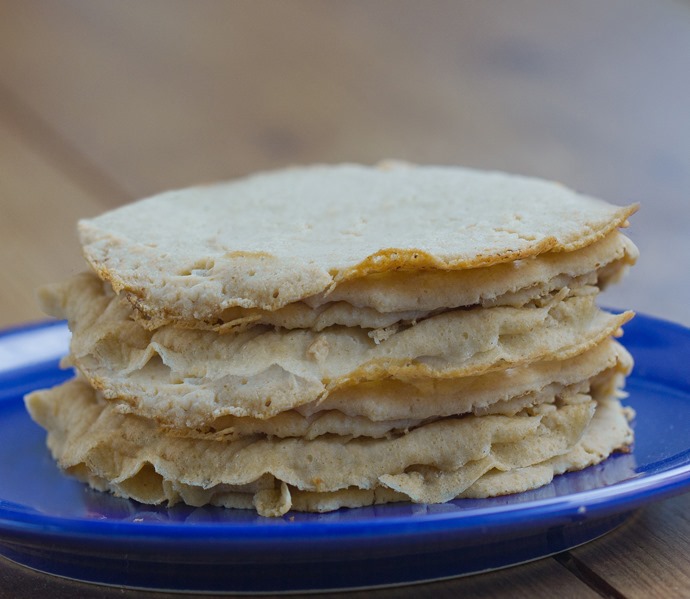 Swedish Pancakes
Swedish Pancakes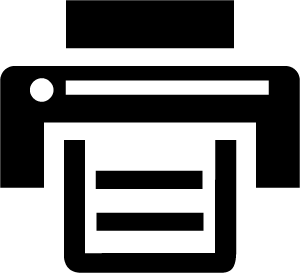 Print This Recipe
[mrp_rating_result show_count="false" show_rich_snippets="false"]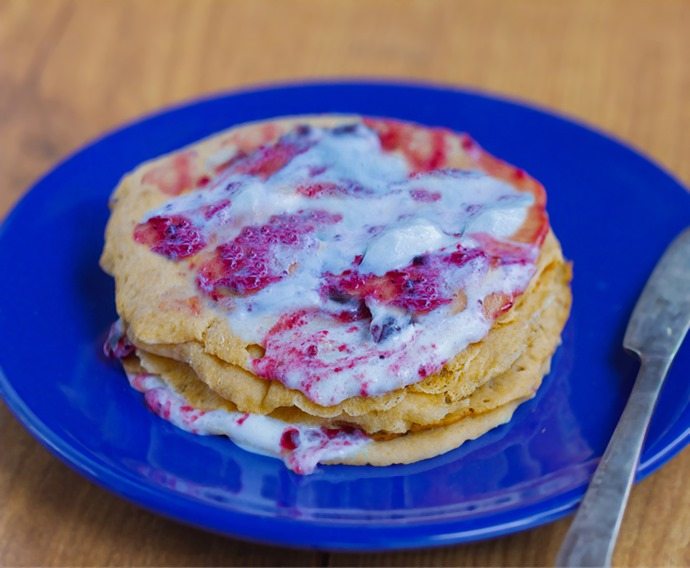 Ingredients
1/2 cup oat flour, loosely packed (50g)
1/4 tsp salt
pinch uncut stevia OR 1 tbsp pure maple syrup
1/2 cup water (minus 1 tbsp if using maple)
2 tbsp applesauce or mashed banana
Instructions
Stir together all dry ingredients, then whisk in liquid to form a thin pancake batter. Let the batter sit 10 minutes. Grease a pan–very well so the pancakes won't stick–and turn to medium heat. As soon as the pan is hot, add a ladle of batter about the size of your palm to the middle of the pan, and tilt the pan to spread the batter out a little. Turn to medium-low, and heat until the pancake is no longer runny. Then use a pancake spatula to remove from the heat. Repeat with the remaining batter, stopping to re-grease the pan as needed. The first pancake sometimes comes out a bit funny looking, but successive batches cook much more evenly. The pancakes also freeze well.
Link Of The Day: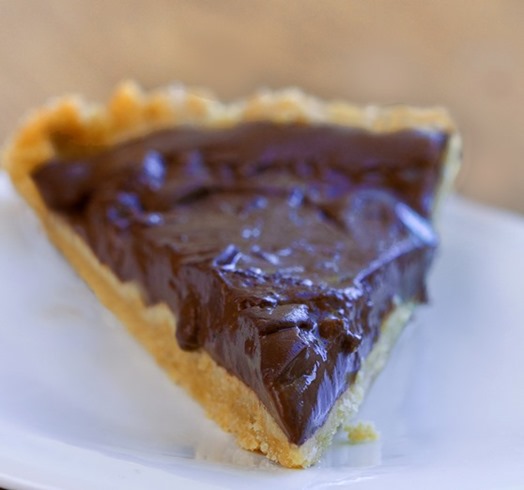 Homemade Chocolate Pudding Pie   –  (with a light + flaky pie crust)