The best thing to come from my kitchen this weekend was not a dessert.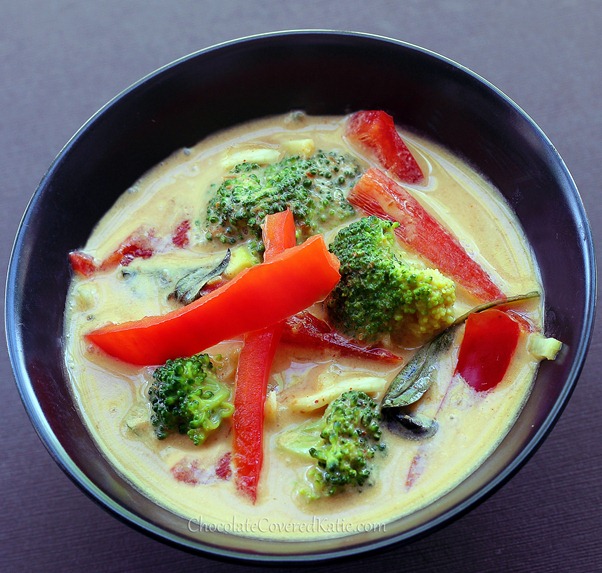 I know a lot of people are interested in the other things that I eat.
You know, the other things besides dessert!
So maybe I will give in and write a day-in-the-life post sometime soon. Until then, I'll at least make an effort to post "Katie" Meals more often, so that nobody gets confused and thinks I subsist on chocolate alone. Oh, in a perfect world…
Partially due to having grown up all over, and partially due to the fact that many non-American cuisines rely much less on meat and dairy products, I eat so-called "ethnic" foods quite often. Thai, in particular, is one of my favorite cuisines, both in terms of eating out and making it at home. I could eat coconut curry every single night, with coconut sticky rice for dessert, and I would be a happy girl.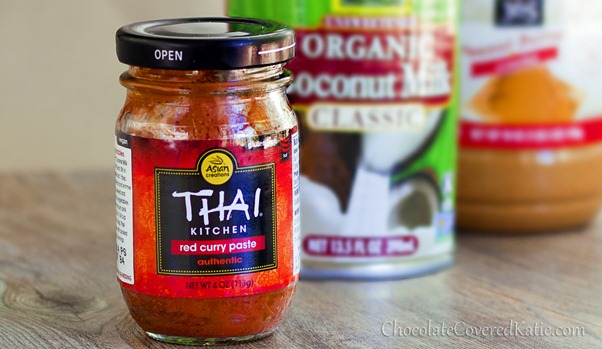 Thai Coconut & Peanut Butter Curry
1 cup onion, chopped (90g)
3 small red bell peppers, sliced thin (330g)
8 oz baby bella mushrooms, sliced
2 cups vegetable broth (480g)
1 can full-fat coconut milk – must be the canned type (for a low-calorie version, see link below.)
2 tbsp soy sauce (or gf soy sauce) (30g)
1 tsp powdered ginger
1/4 tsp salt
pinch pure stevia, or 2 tbsp brown sugar (or coconut sugar)
2-3 tbsp red curry paste (30-45g)
1/4 cup peanut butter (can omit for a peanut-free curry) (60g)
4 cups broccoli florets (300g)
4 carrots or 3 small zucchini, in coins (250g)
1 cup pineapple, chopped (140g)
15-20 fresh basil leaves torn (dried basil works, but fresh is much better)
optional garnishes: cilantro, chopped peanuts (you can also add sriracha)
Sauté first three ingredients in a large pot, in oil or oil spray, stirring every so often, 8 minutes or until onion begins to look translucent. Meanwhile, make the sauce: Combine next eight ingredients in a large bowl, and stir until the curry paste and peanut butter are fully incorporated. Now add all remaining ingredients—including the sauce—to the pot. Bring to a boil, then cook on medium, uncovered, for 8-11 minutes (depending on your texture preference for veggies), stirring occasionally. Garnish if desired. Serves 4-5.
Click for a: Lower-Calorie Version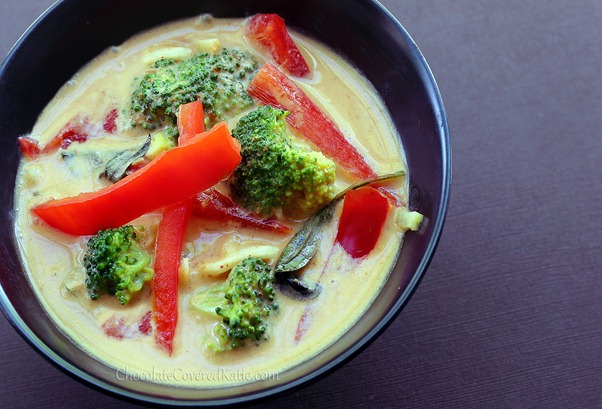 Would you consider yourself to be an adventurous eater?
Do you love trying unusual foods, and foods from different cultures? Or do you prefer to stick with familiar foods you already know you like? I really enjoy trying anything and everything new (as long as it's vegan… frog legs are out!). My favorite non-American cuisines aside from Thai are probably Italian, Indian, and Ethiopian. I also really love Moroccan, such as my dinner from this restaurant, although there sadly aren't very many Moroccan restaurants in my area.
Link of the Day: