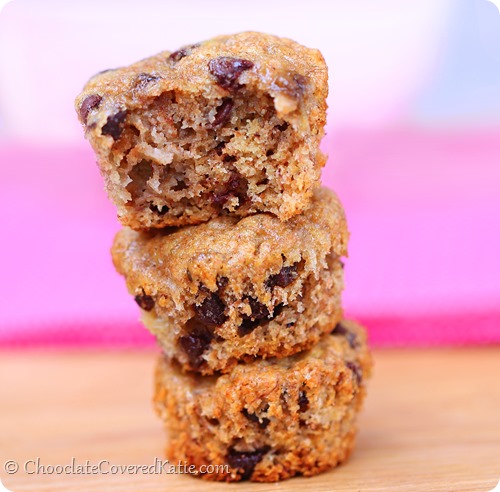 As I hinted in my Chocolate Guinness Brownies post, there are probably quite a few things about me that, even in seven years of blogging, have never come up and might surprise some people!
For instance, I don't know that I've ever mentioned on here how much I love to dance—any kind of dancing; I love it all. Pretty much every weekend, you can find me trying to persuade my friends to go out dancing with me. Sometimes they give in to my appeals, and we put on our comfortable shoes for a night on the town. (I once made the mistake of wearing heeled knee-high boots to go out dancing. Absolutely never again.)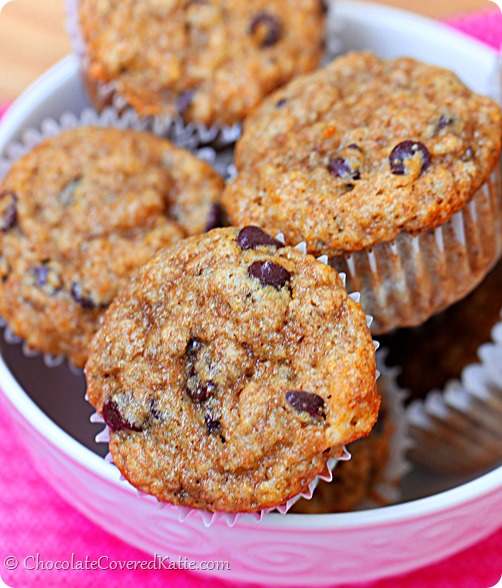 A couple of weeks ago, after friends stayed over following a night of dancing, I found myself in need of a quick and easy breakfast that I could make with limited supplies.
Because… you know… when your name is Chocolate-Covered Katie, it is expected that there will always be food at your apartment to feed your friends, regardless of whether or not you were out all night and therefore had no time to prepare said food.
These homemade mini muffins—inspired by my Homemade Hummingbird Cupcakes—were measured, baked, cooled, and plated before anyone else had even thought about waking up.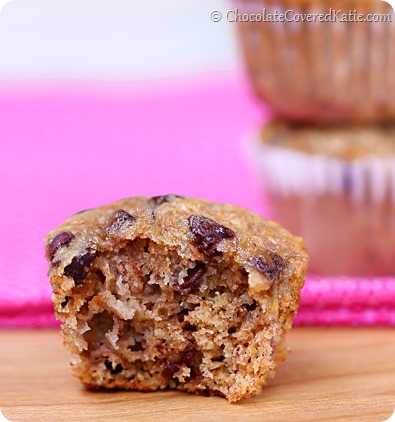 Banana Chocolate Chip Mini Muffins
(makes 30-35 mini or 11 large)
1 cup mashed banana (240g)
2 tbsp milk of choice (30g)
2 tsp pure vanilla extract
2 tsp white or apple cider vinegar
3 tbsp vegetable or coconut oil (30g)
1 cup spelt or all-purpose or Bob's gf flour (130g)
only if using the gf flour, add 1/4 tsp xanthan gum
1/2 tsp plus 1/8 tsp salt
1/2 tsp baking soda
1/2 tsp baking powder
1/2 cup mini chocolate chips, optional
1/3 cup xylitol or sugar of choice (65g)
pinch stevia or 1 extra tbsp sugar of choice
*Note: You will get fewer muffins if omitting the chocolate chips. Preheat your oven to 350 F, and line a mini muffin tin with  liners. In a large mixing bowl, whisk together first 5 ingredients. In a separate bowl, combine all of the remaining ingredients and stir well. Pour wet into dry, and stir until batter is just evenly mixed. Pour into the muffin liners and bake 15 minutes (19-20 minutes for regular-sized) or until muffins have domed and a toothpick comes out clean from the center. Allow to sit 10 minutes before removing from the muffin tin. After a day, it is best to refrigerate or freeze leftover muffins.
Chocolate Chip Banana Muffins Nutrition Facts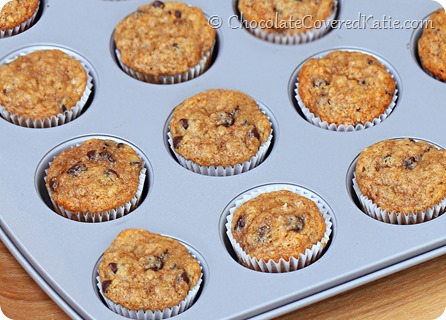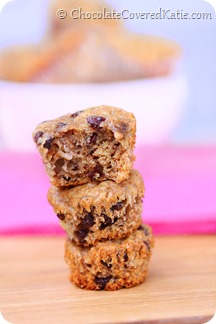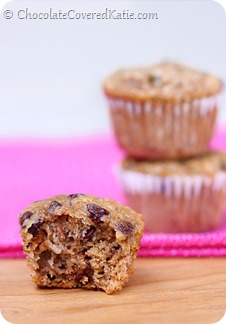 Question of the Day: Dancing: Do you love it or hate it?
Link of the Day:  Homemade Chocolate Fudge Protein Bars