Breakfast gets fancy.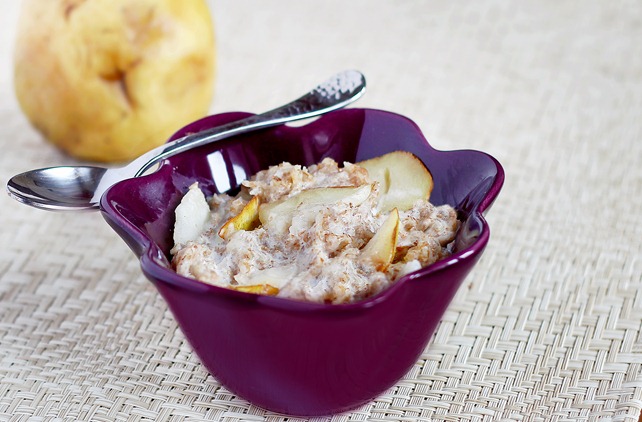 Beautiful Pears
I love pears; yet I rarely think to put them on my grocery list. I'll pick up raspberries for oatmeal, grapefruit for a pre-run snack, bananas for my favorite Chocolate-Chip Banana Bread…
I usually skip right by the quiet, unassuming pears. Recently, however, a recipe for pear muffins caught my eye, prompting me to purchase a few. And yesterday morning I abandoned my muffin plans, slicing the green beauties up for breakfast instead.
I'm capricious like that.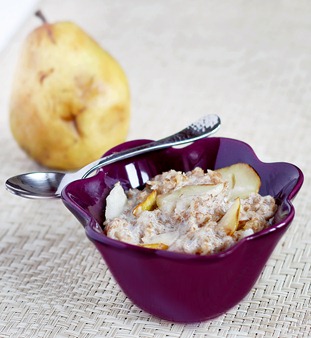 Vanilla-Pear Breakfast Cobbler
(Serves 2-3)
Based on this recipe.
2 1/2 cups sliced pear
1/2 tbsp lemon juice
1/2 tbsp arrowroot or cornstarch
1/4 tsp each cinnamon and ginger
1/8 tsp salt
1/2 cup plus 1/4 cup shredded wheat, crushed (I used Post wheat-n-bran. You can try rice chex or crispies or flake cereal for a gluten-free version. Granola works, too.)
2 tbsp maple syrup, agave, or brown sugar (If I'm serving this to friends, I'll add the sweetener. But I actually like the recipe without it. So if you want a very slightly-sweet recipe, you can omit.)
1 packet nunaturals stevia or omit and add 2 extra tbsp of the sugar or maple syrup.
1 tbsp melted margarine (such as Earth Balance) or sub oil and add 1/8 tsp salt. If you want a fat-free crisp, double the applesauce called for below, and omit the margarine.
1 tbsp applesauce (For a more buttery taste, replace this with an extra tbsp of the margarine)
1 container yogurt of choice: vanilla or plain (I used SoDelicious coconut-based yogurt)
optional: 1/4 tsp pure vanilla extract if using plain yogurt
Preheat oven to 350F. Mix the pears, lemon, arrowroot, spices, 1/2 the salt, and 1/2 the sweetener in a bowl. Let sit for ten minutes. Meanwhile, stir the crushed cereal, remaining sweetener, remaining salt, melted margarine or oil, and applesauce in a bowl until well-blended. Spread the pear mixture in a small baking pan (such as a 4×7), and top with the cereal mixture. Bake for 45 minutes.
See the bottom of the linked post for Calories and Nutrition Info.
Just before serving, mix each portion with some of the yogurt. Alternatively, you can skip the yogurt and serve the breakfast cobbler with a scoop of vegan ice cream instead!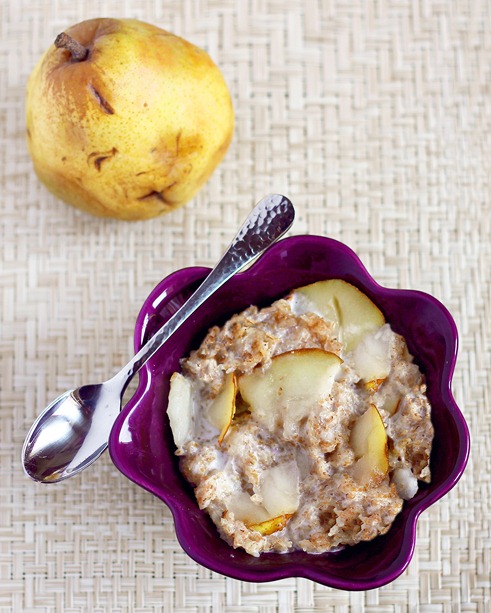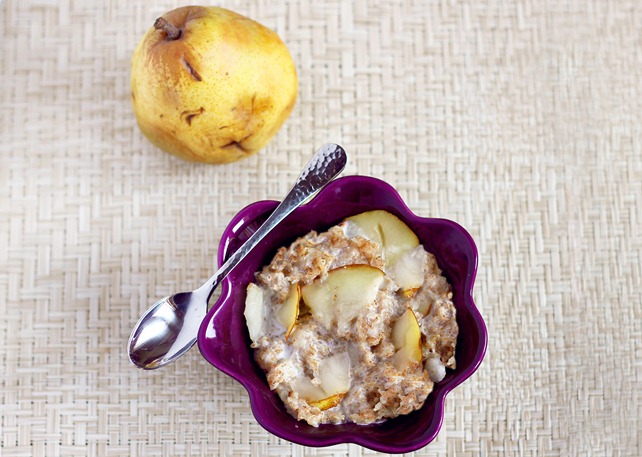 Question of the Day:
Do you have any "fancy breakfast" recipes?
French toast, waffles, crepes… Yesterday, when a reader on facebook asked me for suggestions, I realized I don't have recipes for any of these on my blog! They're all now on my to-make list. As for fancy breakfast recipes I do have:
These are pretty fancy: Hot Apple Pie Pancakes.