.
Can I interest you in a slice?
Thumbing through Living in the Raw Desserts, by Rose Lee Calabro, I encountered a dilemma: how would I possibly choose what to make first?? Blueberry cheesecake, German Chocolate Cake, Fudge Brownies Supreme… Oh how I'd love to have 5 million sous-chefs so I could try all of the recipes that caught my eye. I haven't made any of the recipes yet, but I already love the book because—for the most part—its recipes seem quick and simple, without a lengthy list of ingredients. And if you know me, you know I'm a big fan of quick, uncomplicated recipes. Recipes such as…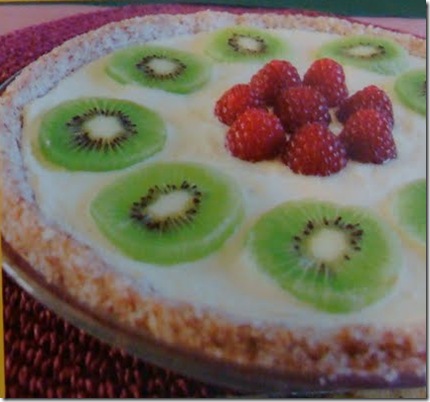 (The photo's from the cover of the book.)
.
Raw Piña Colada Pie
(Yield: 6-8 servings)
Filling:
2 cups chopped fresh or frozen pineapple
1 cup macadamias or cashews, soaked 1 hour
1 1/2 cups young coconut pulp
1 teaspoon vanilla extract
Combine the pineapple and nuts in a blender, and process until smooth, thick, and creamy. Add the coconut pulp and vanilla extract and process until smooth. Pour the filling into the crust and refrigerate for 2-3 hours before serving.
Suggested crust: Hmmm, I think I'd go with a Raw Macaroon crust for this one.
.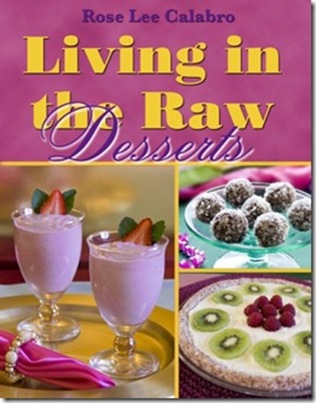 Hopefully I'll soon make one of the book's recipes so I can give you a better review.
What's your favorite cookbook?
And are you good at following a recipe?
I am lousy at following recipes. I'll see one that looks good, and I'll start to make it… but then my creativity gets away with me and direction-reading falls to the wayside, in favor of experimentation. (Either that or I'll realize—halfway in—that I forgot to buy a needed ingredient!)
I don't really have a favorite cookbook, since I use them so rarely. But I still remember my first cookbook: The American Girl cookbook!
.