If you have a special diet, does this sound familiar?
You receive an invitation to a wedding, and the RSVP portion asks you to check off one of two things: chicken or fish. Well, obviously vegetarians do not want to be served chicken or fish. And people with allergies or special dietary needs also can't eat just anything. What do you do?
A. Grumble a bunch, and then check off one or the other
B. Eschew going to the wedding altogether …
Skip the wedding? How sad would that be?
A few months ago, I wrote about how I was once a bit embarrassed about my diet. While this is definitely no longer the case, I still try not to call attention to my veganism when out with friends, family, or other non-vegans. I don't want anyone to feel awkward, and also, sometimes it's not all about me! Sometimes, I just don't feel like getting into the debate, ya know? I want to talk about things other than my culinary inclinations.
In my eight years as a vegan, I've learned that the best way to ensure you'll get some vegan grub, hassle-free, is to call ahead. This is a good strategy for three reasons: One, you don't have to call attention to yourself or seem "high maintenance" when the waiter is taking orders. Two, if they can't accommodate your diet, you have time to make different arrangements. Three, it's courteous to give the chef a heads-up so he/she can be better prepared. Plus, you'll probably end up with something yummier if the chef knows in advance about your diet and is therefore able to brainstorm a meal for you.
By calling ahead, for the wedding I recently attended, I was rewarded with an amazing, gourmet meal: Perfectly-grilled zucchini, eggplant, yellow squash, peppers, tomato, and portabella mushrooms drizzled with a balsamic reduction so sweet I'm still dreaming about it.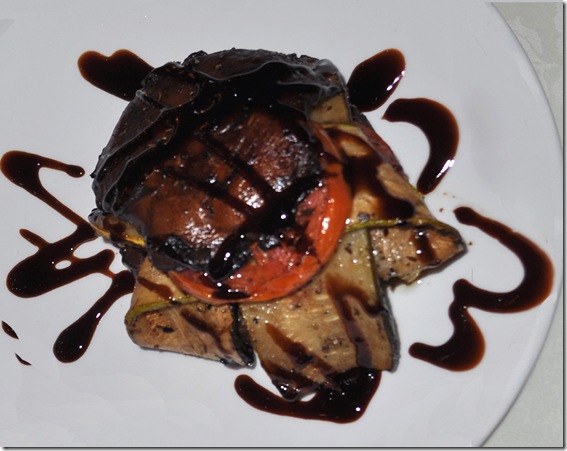 I was lucky this time. However, it's always a good idea to have a back-up plan, just in case. My backup plan for this particular occasion was a bunch of nuts thrown into my purse, if all I was served was an iceberg salad. True, nuts and salad aren't an ideal dinner. But I believe food isn't the most important thing in life. What's more important? Friends, family, and dancing all night! That, and cute party favors like these Love Beyond Measure spoons: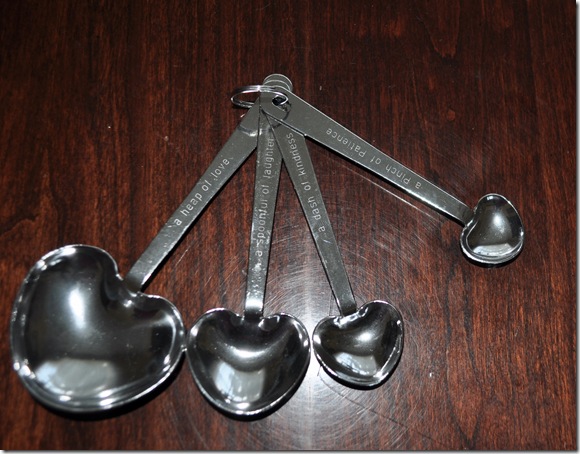 Cute or what?!
Are you always prepared with food in your purse?
And have you ever had a restaurant meal specially made for you?
I always carry some sort of energy bar, fruit, or nuts in my purse or backpack. My friends love me for it; when they get hungry, they know where to turn. Unfortunately, that means I have to routinely remember to restock!