Happy chocolate-covered Sundae… oops, I mean Sunday.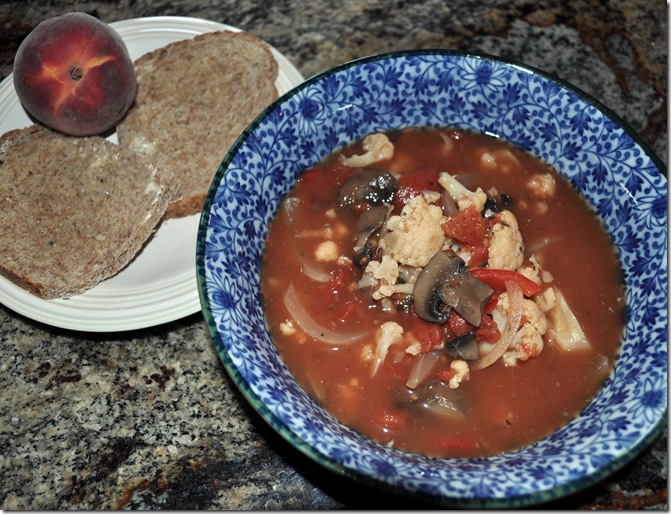 Here was my lunch yesterday: Italian Kitchen Sink Soup, an organic peach, and two slices of buttered (Earth Balance) Ezekiel toast. Just like with some of my stir fries and salads, this soup came about due to a need to "save" a bunch of veggies in the fridge. Don't let the laundry list of ingredients intimidate you; this soup is simple to make. And you can substitute whatever veggies you have on hand. (Also, feel free to ignore the gram measurements. I listed them for those of you who like to be exact, but normally I don't bother weighing veggies when I make soup. It's kind of hard to mess up a soup, you know?)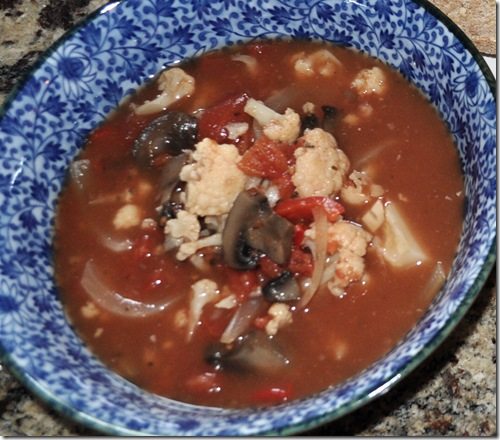 Italian Soup
1 16oz can diced tomatoes (such as Muir Glen Italian Style)
1 28oz can whole tomatoes, drained and cut
1 red pepper, sliced (110g)
1 package sliced mushrooms (250g)
1 head cauliflower (500g)
1 onion, sliced (100g)
4 garlic cloves, chopped
optional: 2 tbsp olive oil
2 mini cans tomato sauce
1 quart broth (such as Imagine No-chicken broth)
4 cups water
1 tsp dry oregano
1 1/2 tsp dry basil
1 1/2 tsp salt (or to taste)
1/2 tsp garlic powder
(I sauteed the onion and garlic in the oil first, but if you want to omit the oil, just skip this step.) Combine all ingredients in a big pot. Bring all ingredients to a boil, then cover and simmer at least 2 hours. Makes a ton! Who doesn't love leftover soup?
Come back Tuesday and I'll show you what I ate for dessert: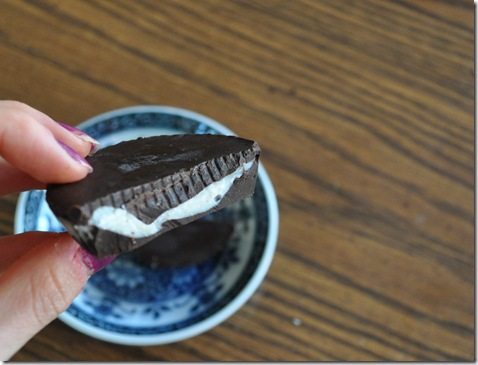 What are your latest recipe creations?
Here's the rest of my "recently-created recipe" list that didn't make it onto yesterday's post: soy-free banana yogurt, healthy chocolate milkshake, mint chocolate chip pudding, pecan pie babies, German chocolate babies, red pepper soup, Christmas pie, voluminous oat bran, oatmeal pudding (a new version), black-eyed-pea dip, and chocolate-cherry protein ice cream sundae. I told you it was crowded up in the brain of CCK.