Chances are…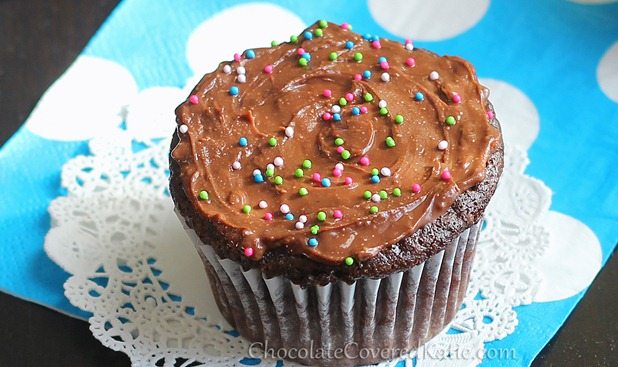 Chances are, you took one look at the title of this post and you…
RAN THE OTHER WAY.
I know these cupcakes sound crazy, but they are also crazy good. The unexpected secret ingredient keeps them soft, light, and super fudgey, without any added oil. They taste almost like a brownie in the shape of a cupcake, and they're so rich they don't even need any frosting!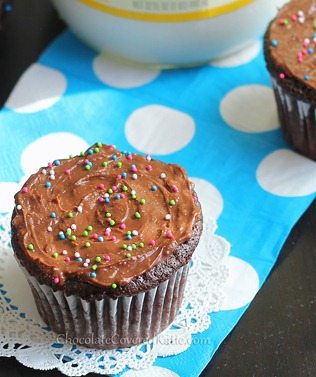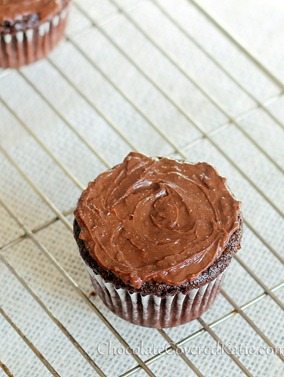 Using mayonnaise to add depth and flavor to cakes is hardly a new concept. The idea is much older than me, and it's probably older than most of you as well. Also known as Wacky Cakes or Chocolate Depression Cakes, the origin of mayonnaise cakes can be traced back to the Great Depression, when ingredients such as butter, eggs, and milk were scarce, which forced bakers to get creative.
Today I'm posting a healthier cupcake adaptation of my grandmother's popular Wacky Cake recipe. (Her version of the classic cake is most likely similar to other versions you'll find either online or passed down from generation to generation in your own families.)
I've played around with the original recipe's ingredient proportions in order to cut back on the sugar while still maintaining a delicate and fluffy texture—these rich and decadent cupcakes turned out so much better than I'd even hoped.
Instead of frosting, I topped them with Healthy Nutella.
They're also delicious without any frosting at all!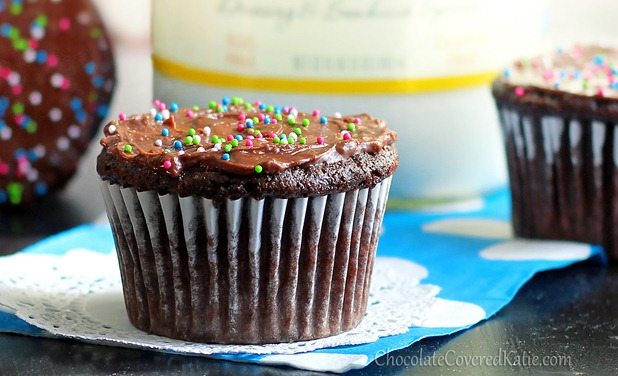 Why the recipe works:
Vinegar reacts with the baking soda, which forms bubbles and thus makes the cupcakes rise, without needing any eggs. Just be sure to follow the recipe instructions and bake immediately after pouring wet into dry, as the vinegar reaction begins as soon as the two ingredients meet. You'll find vinegar in many of my recipes, such as Eggy Breakfast Bread or the Chocolate-Chip Biscuits, as it's a trick I often employ for light, fluffy baked goods.
In this particular recipe, the vinegar present in the mayonnaise is what reacts with the baking soda. I can vouch for the recipe working with Vegenaise (low-fat or regular) as well as Earth Balance Mindful Mayo. If you want to use a homemade mayo-type spread: although I can't vouch for every single homemade mayo spread out there, it should work as long as your mayo spread includes vinegar (or lemon juice) and a fat source such as oil or cashews. If you are using a homemade mayo-type spread, I highly recommend omitting any onion powder and mustard that might be called for in your recipe!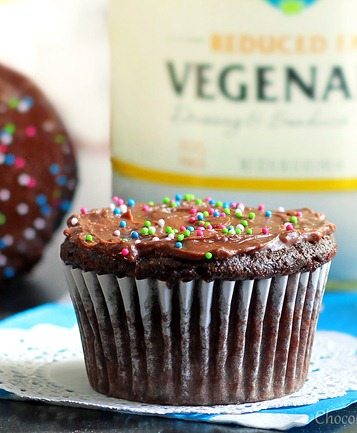 Chocolate Mayonnaise Cupcakes
(or Devil's Food Cupcakes)
1/2 cup spelt or all-purpose flour (65g) (Arrowhead Mills gf also works.)
3 tbsp cocoa powder (15g) (not Dutch)
1/4 tsp baking soda
1/4 tsp salt
1/2 cup xylitol or sugar of choice (90g)
1/4 cup mayo-style spread, such as Vegenaise (See above paragraph for other brands that work.) (58g)
1 1/2 tsp pure vanilla extract
1/3 cup plus 1 tbsp water (95g)
Preheat oven to 350 F and place 6 cupcake liners inside a muffin pan. In a large bowl, combine first five ingredients and sift very well. In a separate bowl, combine remaining three ingredients and whisk until the mayo is completely smooth. Now pour wet into dry and stir until just combined. Immediately divide among the cupcake liners—it won't seem like a lot of filling, but these cupcakes rise a lot!  Bake 21 minutes, then let sit 15 minutes before removing from the pan. These taste ten times more fudgey and rich the next day, so bake the day before eating if possible. Store in the fridge. (Cupcakes in the photos are frosted with my healthy Nutella recipe linked below the second photo on this page.)
View Chocolate Cupcakes Nutrition Facts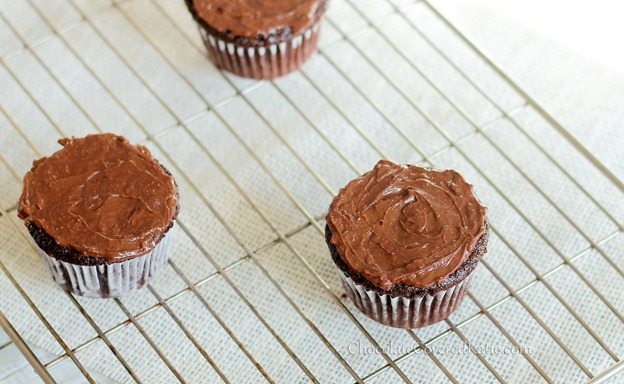 Are you brave enough to try them?
Or have you ever tried using mayonnaise in baked goods before? Honestly, I think this might be the best cupcake I've ever eaten!
Link of the Day: