They're raw.
They're sinful sinless.
They're delicious… and totally addictive. Don't say I didn't warn you.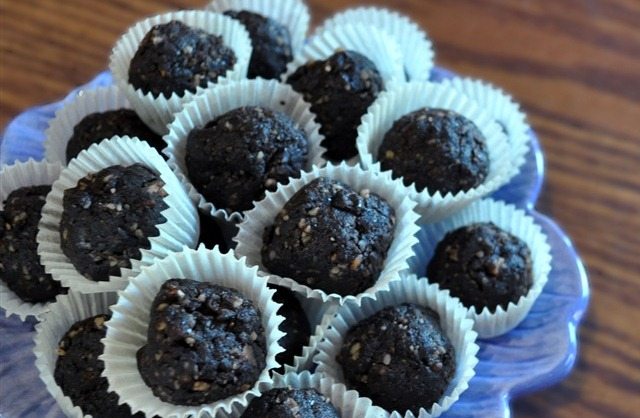 I love recreating dessert recipes.
But that's no secret if you've read my page: About Chocolate-Covered Katie
A few weeks ago, after discovering they're discontinuing one of my favorite energy bars (Clif Nectar) , I set out to try and recreate said chocolate bars.  With only five ingredients, it couldn't be too difficult, could it? Well, as it turned out, the results didn't taste like the packaged bars… mine tasted better!
Don't let the diminutive size fool you; these babies are jam-packed with fudgey deliciousness.  More chocolatey than Clif Nectar bars, more chocolatey than Larabar Jocalats… it's like popping balls of pure chocolate bliss straight into your mouth.  They're so rich and decadent that even a tiny taste is enough to satisfy a skyscraper-sized chocolate craving.
But fudge babies are so healthy you don't have to stop after a tiny taste. It's hard to believe something so good for you—with zero added sugars and unnatural ingredients—can taste so sinful. (They also happen to be quite a bit less expensive than Jocalats, Nectars, and many other such chocolate bars.)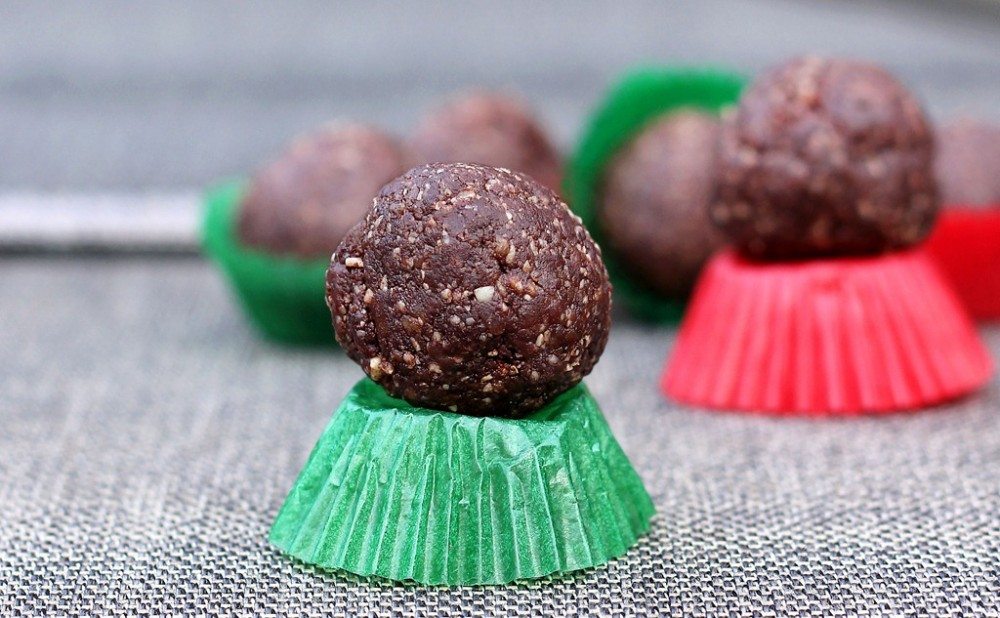 Original Fudge Babies
(paleo fudge balls)
1 cup walnuts (120 g)
1 and 1/3 cups pitted dates (220 g) (I often use SunMaid dates, which are super-soft.)
1 tsp vanilla extract
3-4 tbsp cocoa or cacao powder
optional: 1/8 plus 1/16 tsp salt (I always add this)
optional: raw chocolate chips – recipe in the Chocolate-Covered Katie Cookbook 
Blend all the ingredients, using a food processor, Magic Bullet, etc.  (No need to blend the dates first; I just blend everything all at once in a Cuisinart food processor, which works much better than a blender.) Roll into cutey-pie little balls.  (Use plastic wrap if you wish, or smush it all together in a plastic bag so it'll stay together better.) Or, if you want true brownies, shape the dough into bars!
For a chocolate pie crust: press the dough down firmly into a pie pan.
Hot Cocoa Fudge Babies
I've been toying around with the original recipe.  Here is my newest-favorite variation: 30 grams cashews, 80 grams dates, 5 grams (1 tbsp) dark cocoa powder. Blend. (Add pure peppermint extract + cacao nibs if desired. Or leave out the cocoa powder, for a homemade cashew cookie Larabar!)
.
Let's talk variations!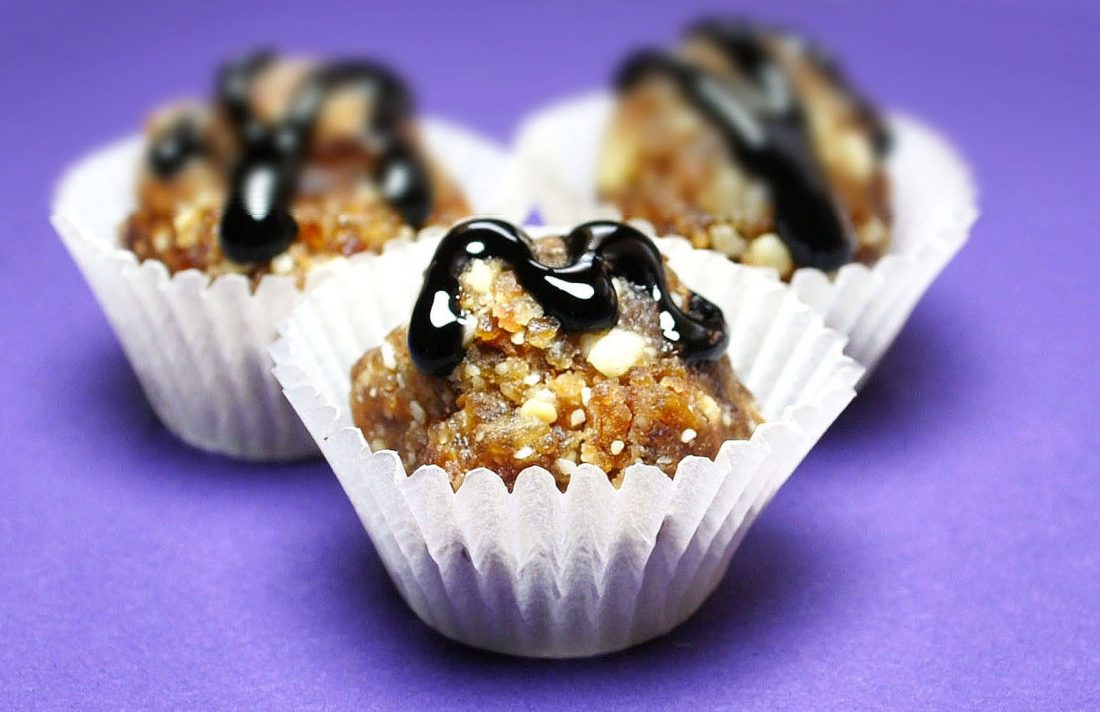 For a list of Fudge Baby Flavors, click the following: Homemade Larabars Recipes
Flavors include chocolate chip cookie dough, peanut butter, and even s'mores! Shown above are samoas girl scout cookie fudge babies.