Velvety chocolate cheesecake blankets a rich and fudgy brownie crust, in this absolutely show-stopping chocolate brownie cheesecake recipe.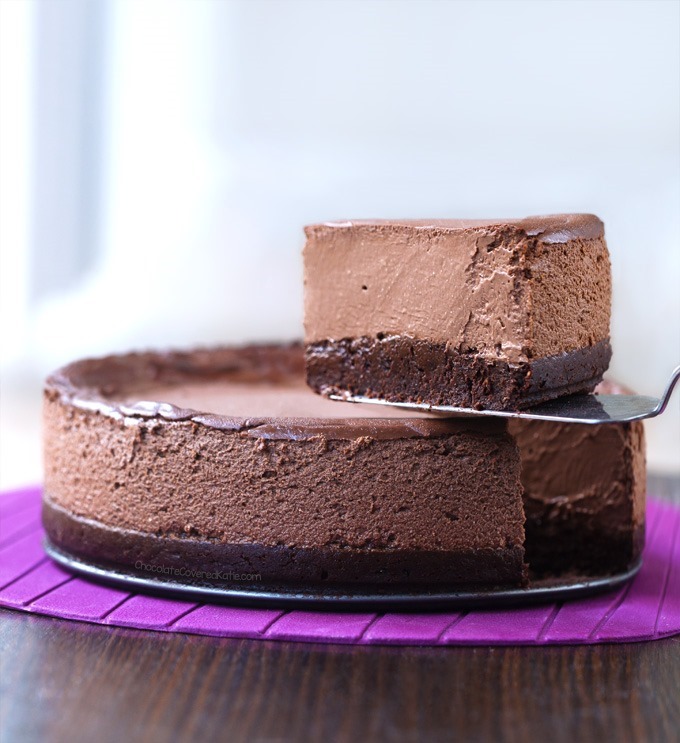 This brownie cheesecake is YOUR cheesecake.
If your two favorite desserts in the world happen to be brownies and cheesecake like mine are, this decadently dark chocolate brownie cheesecake recipe is pretty much the best dessert you could ever make, because it solves the problem of being forced to choose one over the other.
Now there is no need to choose at all – you can have both.
You May Also Like: Vegan Cheesecake Recipe – NO Cashews!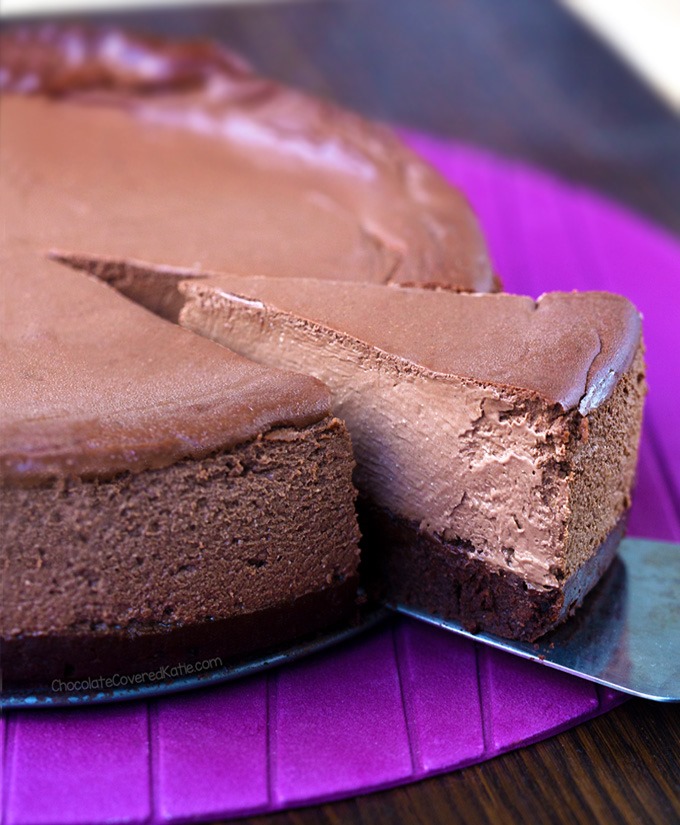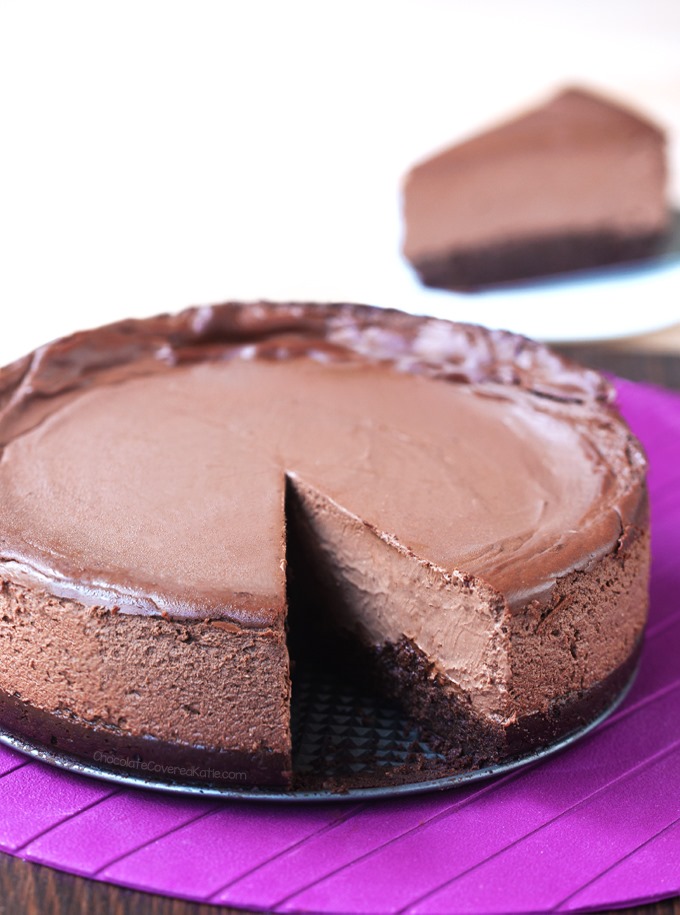 Basic Chocolate Cheesecake Recipe
This chocolate cheesecake looks fancy, but it's deceptively simple to make.
And if you're short on time, you can easily skip the brownie crust for a plain chocolate cheesecake that comes together in just minutes.
I used my go-to vegan brownie recipe for the base, but if you have a favorite brownie recipe, feel free to use it instead.
Just remember to undercook the brownie layer, because you'll be baking it a second time when you bake the cheesecake.
I bet my Black Bean Brownies recipe would be amazing here.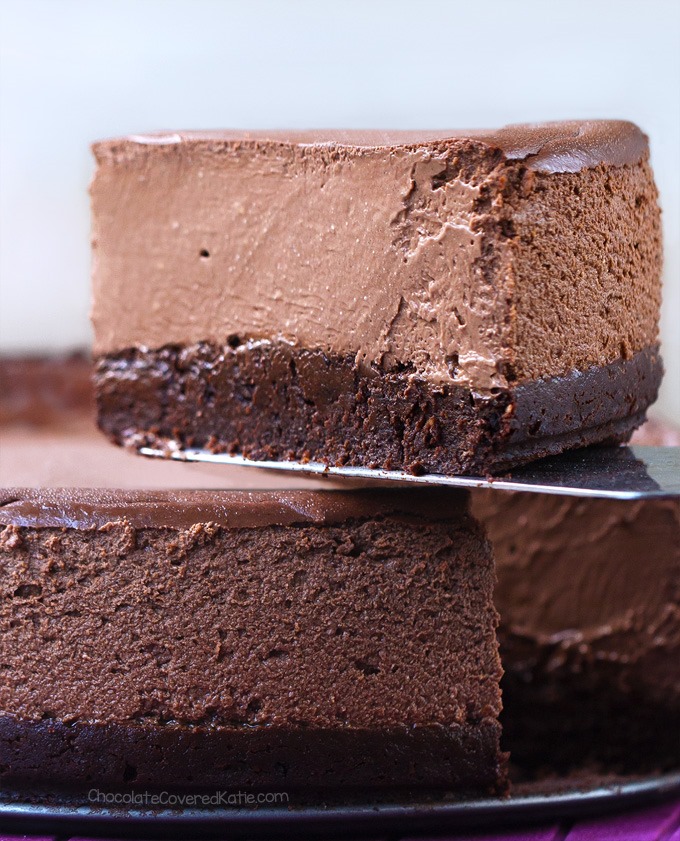 The flax or cornstarch in the recipe is optional because I accidentally forgot it the second time I made the cheesecake (yes, I make baking mistakes too!), and surprisingly I didn't notice a difference.
The brownie bottom still held together as if I hadn't forgotten the binder ingredient – so I marked it as optional.
Side note: For a keto version, try this popular Keto Cheesecake Recipe.
(Watch the recipe video, above)
Also, because I really love you, I made you a video.
Or maybe I made the video because I wanted an excuse to make this cheesecake again.
I'll never tell.


Chocolate Brownie Cheesecake
Adapted from my Healthy Cheesecake Of Dreams
Brownie Cheesecake Recipe
Print This Recipe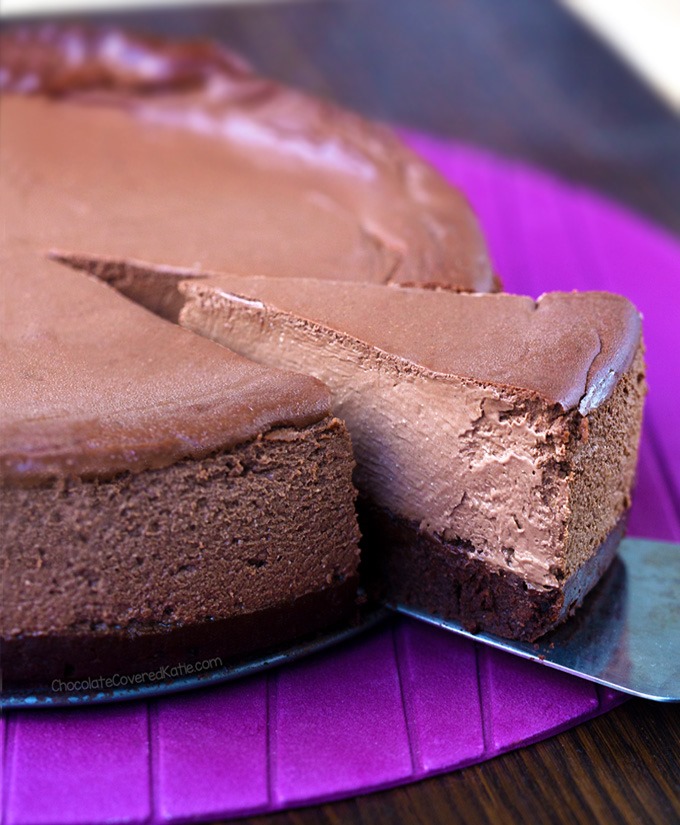 Ingredients
1 cup + 2 tbsp milk of choice
1/2 cup + 2 tbsp oil
1 tbsp pure vanilla extract
1 cup spelt or white flour, or packed 3/4 cup Bob's gf
1 cup cocoa powder (I used mostly regular, plus 2 tbsp dutch, to make 1 cup)
1/4 tsp + 1/8 tsp salt
1/2 tsp baking powder
1/2 cup brown sugar or packed coconut sugar
1/3 cup unrefined sugar OR stevia baking blend
2 tbsp flaxmeal or cornstarch, optional
1/2 cup mini chocolate chips, optional
Instructions
Whisk together the first 3 ingredients, then set aside. Preheat oven to 350F. Grease a 9-inch springform pan, and set aside. In a large mixing bowl, thoroughly combine all remaining ingredients. Pour wet into dry, stir to combine, and pour into prepared pan. Smooth down. Bake 12 minutes.
For the Cheesecake:
24 oz cream cheese, such as tj nondairy
2 cups plain yogurt, such as coconutmilk yogurt
2 1/2 tsp pure vanilla extract
3/4 cup sugar or maple syrup, honey, or xylitol for sugar-free
3/4 cup cocoa powder (I used mostly regular, plus 2 tbsp dutch, to make up the full amount)
Preheat oven to 350 F. Fill a 9×13 pan about halfway with water and place it on your oven's lower rack. Bring cream cheese to room temperature. In a blender or food processor, beat all cheesecake ingredients just until smooth. (Don't overbeat, as this would introduce air bubbles that could burst in the oven and thus cause cracking.) Smooth into the 9-inch springform pan with the baked brownies. Place on the middle rack above the other pan. Bake 30 minutes, and do not open the oven during this time. When the time is up, leave oven door closed and turn off heat. Leave in the closed oven an additional 5 minutes. Then remove—it will look underdone—and let cool 20 minutes before placing the still-underdone cheesecake in the fridge. Chill at least 6 hours, during which time it will firm up. Leftovers covered in the fridge will last around 3-4 days.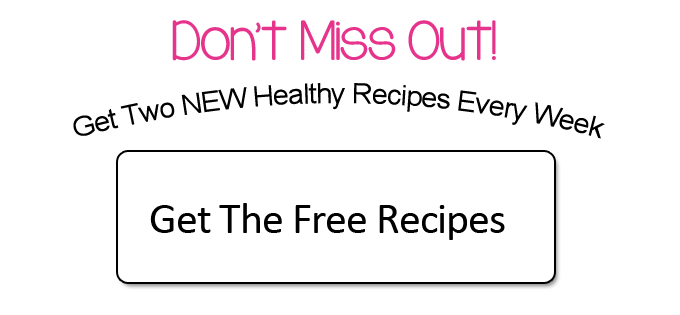 Popular Recipes Right Now: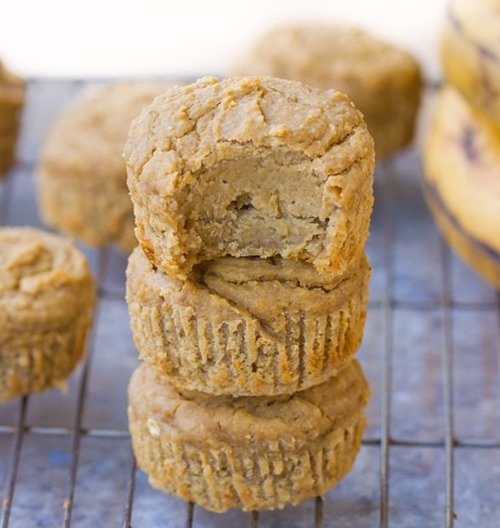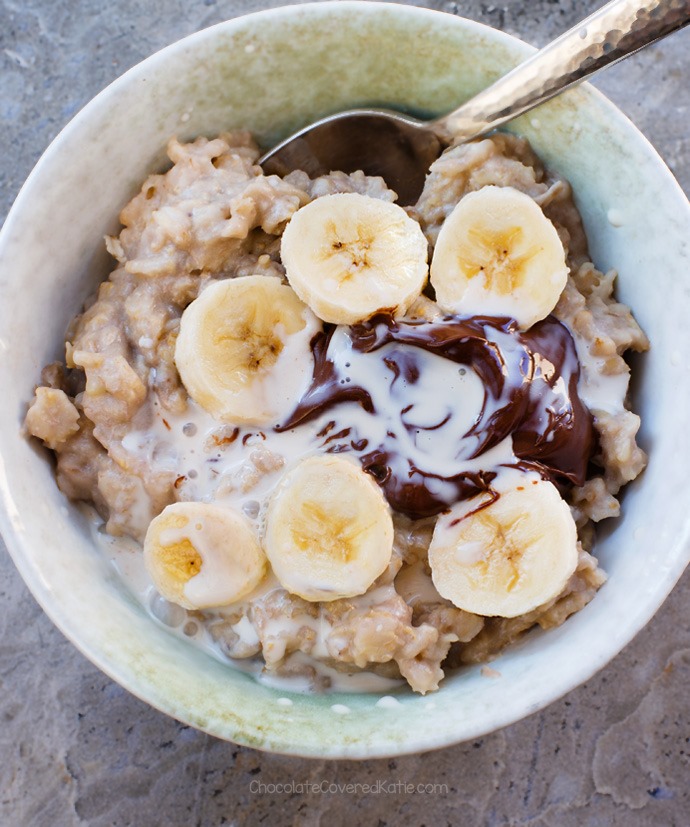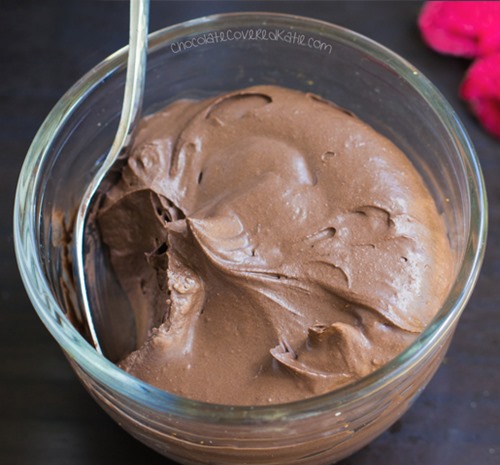 (NO Avocado, NO Tofu!)