This shockingly rich and creamy vegan chocolate pie recipe is the ultimate healthy dessert. Just one taste of the silky smooth chocolate filling, and you will absolutely never believe the ingredients!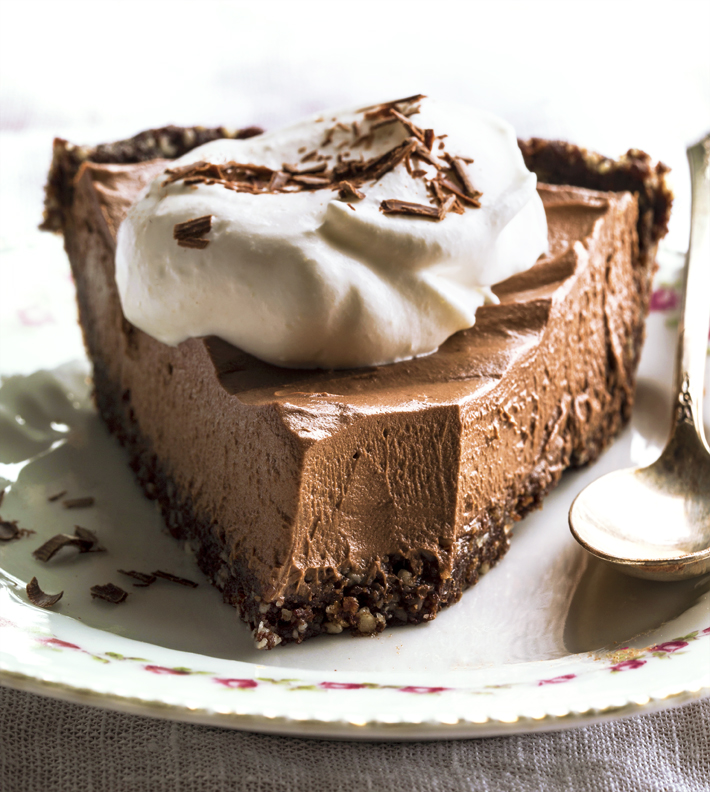 Rich, creamy, luxurious, fudgy, velvety, and melt-in-your-mouth delicious…
If you can think of any more extravagant description words, go ahead and add them to the above, because this homemade chocolate pie is deserving of ALL THE WORDS.
And even better, the delightfully simple vegan pie recipe can be gluten free, oil free, egg free, and dairy free, with no cashews and NO coconut milk required!
Serve it at your next party, and don't be surprised at all when everyone begs you for the recipe. With fewer than 150 calories per slice, this unbelievably creamy chocolate pie is a chocolate lover's dream come true!
Also try these Vegan Cinnamon Rolls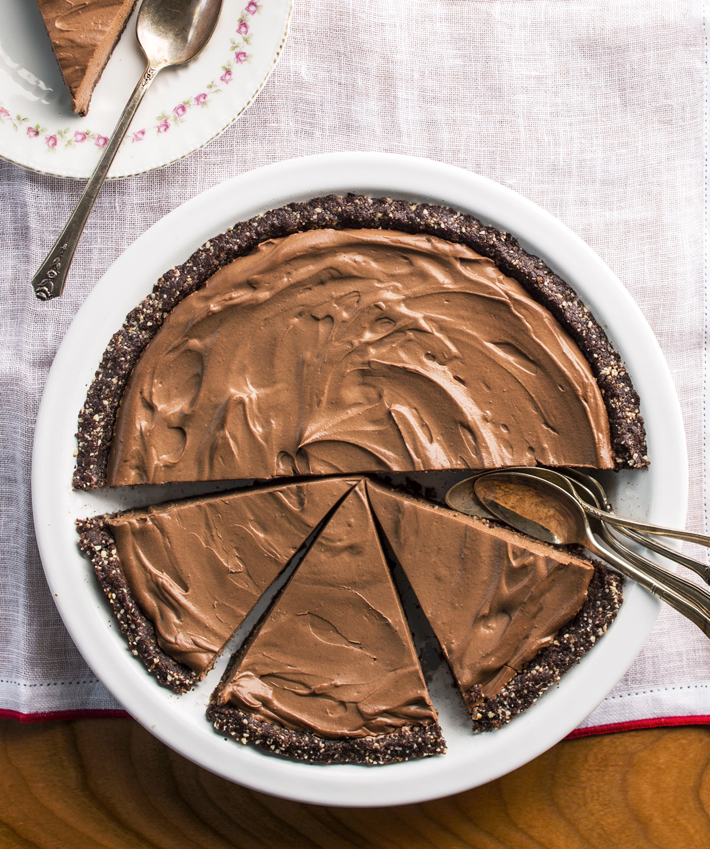 The best vegan chocolate pie recipe
Don't just take my word for it. Here are a few of the positive reviews on Pinterest and other social media from readers who have tried the easy vegan recipe:
This tastes like traditional french silk pie… it's one of our family's favorite recipes, and we're not even vegan!
The flavor and texture of this secretly healthy chocolate pie is like fudge chocolate.
I have been making this recipe for years, and if I had to choose any one healthy dessert to convince people that vegan desserts can taste amazing, this would be the first recipe I'd choose. No one—seriously no one—ever believes me when I tell them the ingredients. Highly highly recommended.
This chocolate vegan pie is freakin' delicious!!!
Made my own crust with dates and oatmeal, and I love that it's high in protein. The vegan chocolate pie was a hit, even the non vegan devoured it.
Still craving chocolate? Make Sweet Potato Brownies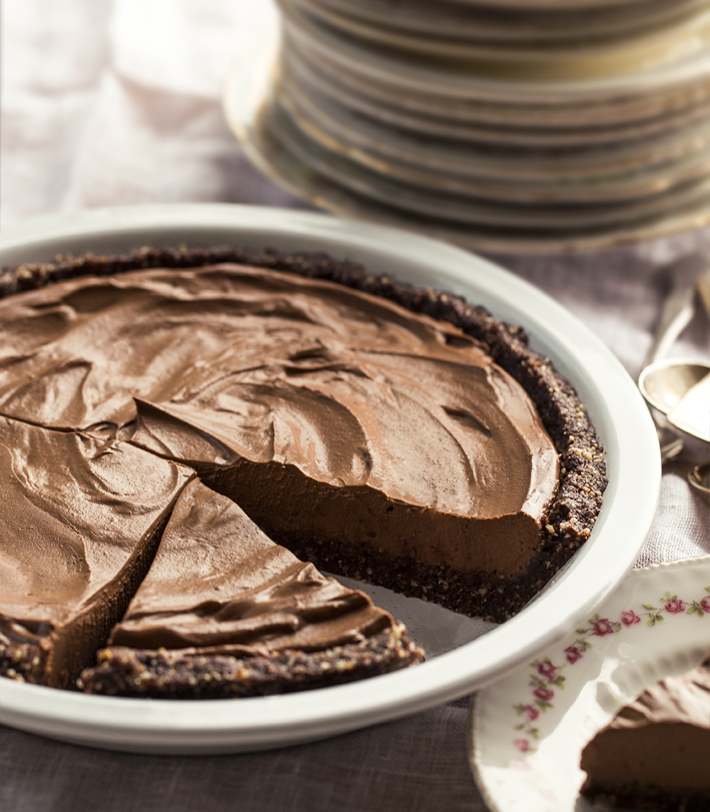 Tofu chocolate pie ingredients
Just like with the popular Avocado Smoothie Recipe, no one will ever guess the secret ingredient. Only this time, the secret ingredient is not avocado…
For the tofu: My favorite tofu to use for this recipe is the Mori-Nu shelf stable tofu in firm or extra firm. The pie also works with refrigerated firm tofu or with silken tofu if you prefer a softer vegan pie.
For the chocolate: To make the pie vegan, look for dairy free chocolate chips or chocolate bars, which should be available even at many major grocery stores. Companies sometimes change formulas, so always consult the package for most up to date ingredients. Here's a list of just a few options you may find:
Enjoy Life Foods, Evolved Chocolate, Simple Truth Organic, Target Simply Balanced, Lily's Sweet Stevia Sweetened, Kirkland semi sweet (Costco brand), Guittard extra dark, Scharffen Berger dark chocolate baking chunks, Trader Joe's semi sweet chips, Sprouts semi sweet, or Pascha.
To make a sugar free pie, use store bought or homemade Sugar Free Chocolate Chips.
For the sweetener: You can use any all purpose liquid or granulated sweetener, such as regular or brown sugar, pure maple syrup or agave, coconut sugar or date sugar, or erythritol or xylitol for a low carb chocolate pie.
For a low carb and keto version, try this Keto Chocolate Pie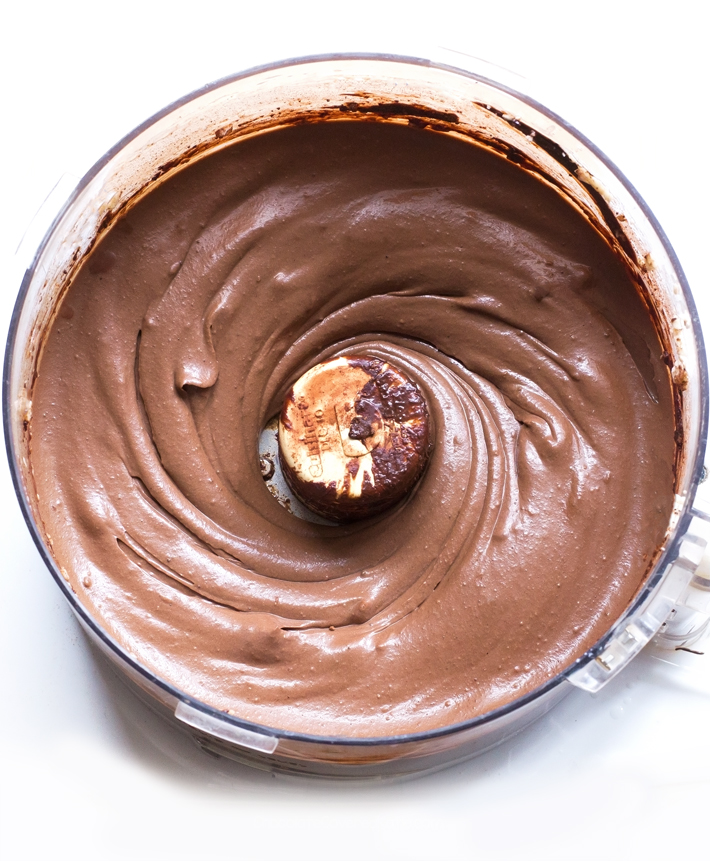 How to make dairy free chocolate pie
Start by carefully melting the chocolate chips. This step can be done either on the stovetop or in the microwave.
Add all of the pie ingredients to a good food processor, and blend until the mixture is completely smooth.
Pour the contents of the food processor into a prepared pie crust. Or you can opt for a crustless chocolate pie. The chocolate filling also makes a fabulous chocolate mousse if you smooth it into ramekins. Refrigerate the pie or ramekins until firm.
It tastes like a classic old fashioned chocolate pie and is especially good topped with thick homemade Coconut Whipped Cream!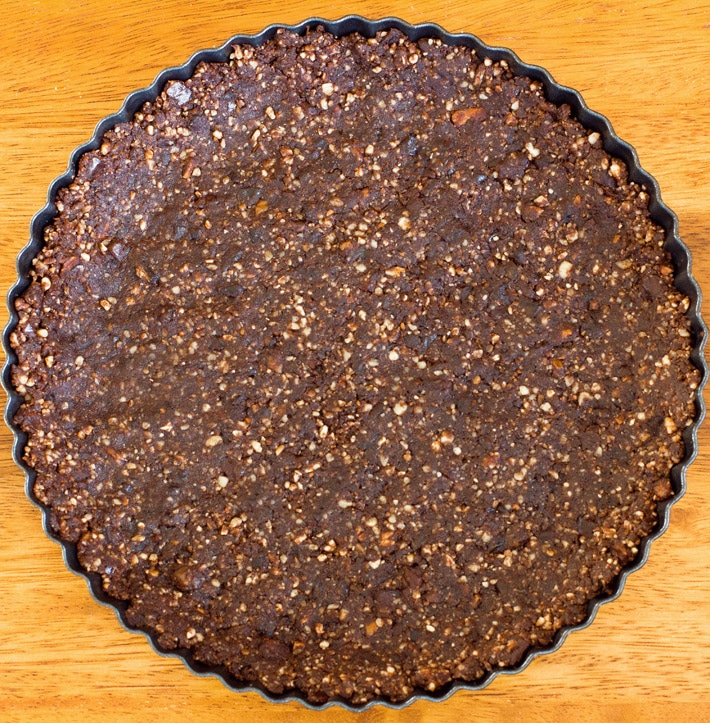 Vegan pie crust options
If you are using a crust, feel free to go with a packaged or homemade pie crust.
The chocolate pie in the pictures shows the raw crust from this Vegan Chocolate Tart recipe. Other options include a traditional flour crust, graham cracker crust, Oreo cookie crust, or a keto almond flour crust.
I like an eight or eight and a half inch dish for a deeper pie. A nine inch pie pan is also fine. Or double the recipe to fill a ten inch pan.
If you want to make it crustless, just use firm tofu instead of silken (there's also a soy free option below). Or spoon the filling into ramekins or fancy bowls for a coconut free version of Vegan Chocolate Mousse.
Above – Watch the video of how to make vegan chocolate pie


Vegan Chocolate Pie
This creamy vegan chocolate pie recipe is the ultimate party dessert recipe!
Ingredients
12.3

oz

firm tofu

(for soy-free, try this Brownie Cheesecake)

2

tsp

cocoa powder

1 1/2

cup

chocolate chips, or 10 oz broken-up chocolate bars

scant 1/8

tsp

salt

2 1/2

tbsp

milk of choice

2-3

tbsp

sweetener of choice

optional 1/2 cup peanut butter

optional pinch instant coffee
Instructions
*For a sugar free version, use Sugar Free Chocolate Chips.Carefully melt the chocolate, either on the stovetop or in the microwave. If using refrigerated tofu, let it come to room temperature. Combine all ingredients in a food processor (I use this food processor) until completely smooth. Pour into a pie crust if desired, or keep it crustless or pour into ramekins to make chocolate mousse. Refrigerate until firm.View Nutrition Facts
More Vegan Chocolate Recipes: