These deliciously soft and moist homemade applesauce muffins will quickly become a staple recipe at your breakfast table. And the recipe can be completely oil free!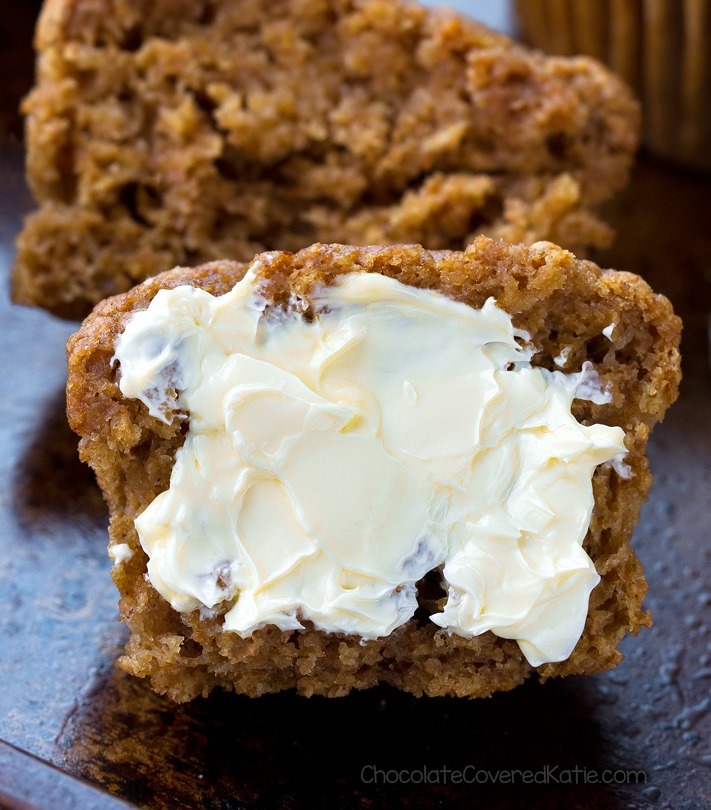 My new favorite muffin recipe
Five out of five stars
I could eat these every day
There's no way these muffins are so healthy!!!
As some of the reader reviews above show, people seriously cannot get enough of the secretly healthy applesauce muffins!
You may also like these Overnight Oats – 15 New Recipes
Above, watch the step-by-step applesauce muffin recipe video
Easy applesauce muffins
The wholesome muffins are great for packing into a lunch box, and they can be vegan, gluten free, egg free, dairy free, whole food plant based, and oil free.
It's possibly one of the most delicious and healthiest muffin recipes you'll ever make, and they pair well with savory recipes too.
Try the muffins for dinner alongside my favorite Lentil Soup or Mushroom Stroganoff, or this easily customizable vegetarian Coconut Curry.
You can also double the recipe if you want and freeze leftovers for a rainy day, to always have a nutritious snack or healthy breakfast on hand any time you're in a rush or don't feel like cooking.
Kids, toddlers, teens, and adults all love these clean eating muffins, because they taste like apple pie and are packed with nutrition at the same time.
Also be sure to try these healthy Pumpkin Muffins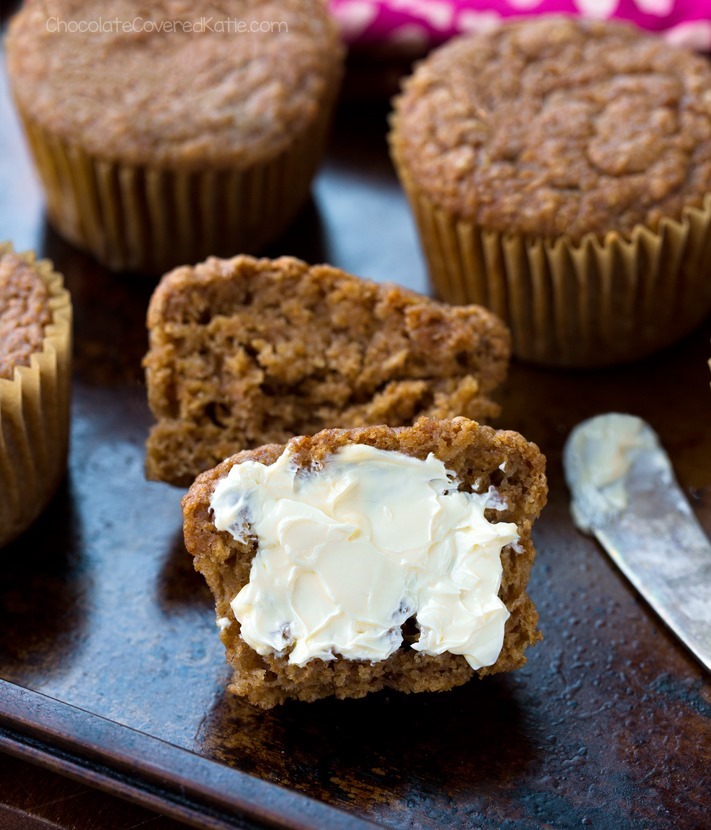 Applesauce muffin ingredients
Soft and cinnamony, these classic muffins are made with just a few basic ingredients.
They have no butter or eggs, and you can customize the recipe by adding in a handful of raisins, chopped walnuts, flax seeds, or shredded coconut, or by pressing a few blueberries into the top of each muffin right before baking.
To turn them into oatmeal applesauce muffins, simply use oat flour as your flour of choice, or they can be whole grain with the benefit of extra fiber if you use spelt or whole wheat flour.
The muffins can be refined sugar free if you use date sugar or coconut sugar. Or to make them lower in carbs and completely sugar free, you can use xylitol or granulated erythritol.
For low fat or weight watchers muffins, the oil can be substituted with additional applesauce, pumpkin, mashed banana, or even peanut or almond butter.
The photos in this post are actually of the oil-free version made only with applesauce!
Leftover applesauce? Use it to make Vegan Cinnamon Rolls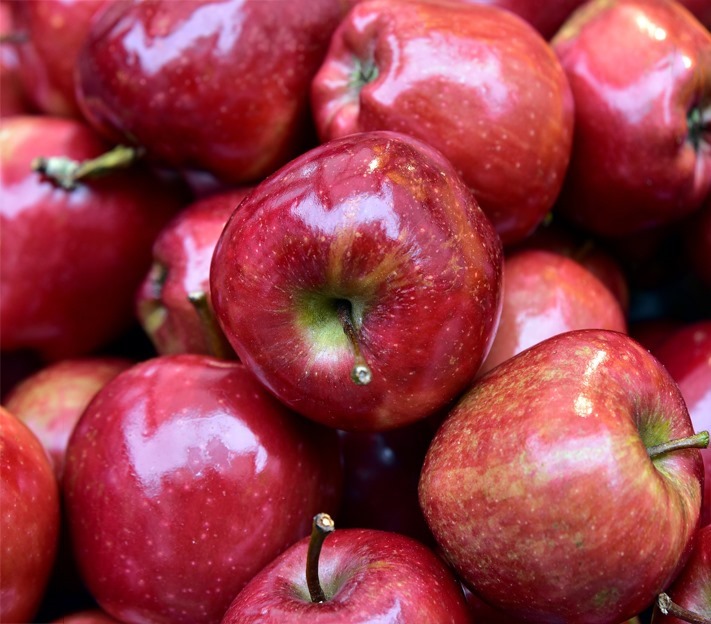 How to make applesauce muffins
This healthy snack recipe is super quick to throw together.
Start by whisking all of the liquid ingredients together and greasing or lining a muffin pan with muffin or cupcake liners.
Preheat the oven to 350 degrees Fahrenheit. Stir all of the dry ingredients in a bowl, then combine with the liquid mixture to form a muffin batter.
To ensure everything is evenly mixed, I like to use different bowls for the liquid and dry ingredients. However, it can be a one bowl muffin recipe if you prefer.
Portion the muffin batter into the lined muffin pan. It should make about eight or nine regular size muffins. Only fill each tin about two thirds of the way up, because they will rise while baking.
Place on the oven's center rack, and bake for twenty minutes or until a toothpick inserted into the center of a muffin comes out mostly clean. Let cool.
If you want to make applesauce mini muffins, follow the instructions above and bake them for only ten minutes. I recommend this mini muffin pan.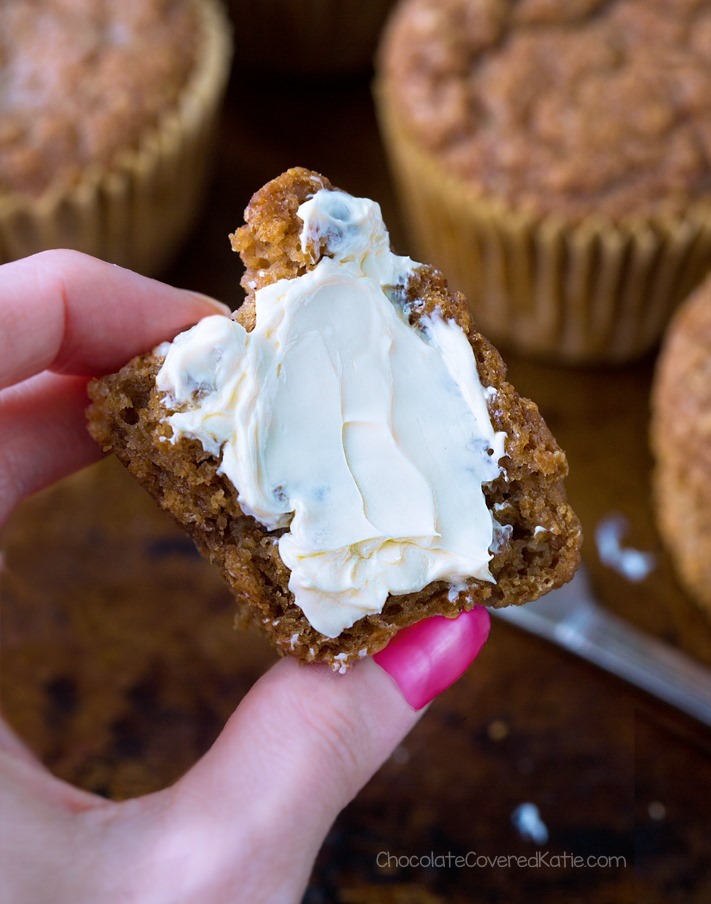 Muffin storage tips
My favorite muffin trick is to cover them overnight on the counter or in the refrigerator. The liners peel off easily the next day, and their flavor and texture will be even better the next day.
After a day, store leftover muffins in an airtight covered container. Due to the perishable ingredients, I recommend refrigerating for optimum freshness.
You can also freeze the applesauce muffins for up to three months. Thaw before eating, and reheat in the microwave or on the stovetop if desired.
They will make your entire house smell like cinnamon sugar!

Applesauce Muffins
Soft and moist homemade applesauce muffins that can be oil free and are great for a healthy breakfast.
Ingredients
1

cup

applesauce

3

tbsp

oil OR applesauce or mashed banana

2

tbsp

milk of choice

2

tsp

pure vanilla extract

2

tsp

white or cider vinegar

1

cup

spelt,

white, or oat flour (for flourless, try these Keto Muffins)

1/4

cup

sugar or unrefined sugar

1/2

tsp

salt

1/2

tsp

each: baking soda and baking powder

1/4

tsp

cinnamon

optional handful raisins,

crushed walnuts, shredded coconut, etc.
Instructions
*If you want to make mini muffins, bake only 10 minutes. I recommend this mini muffin pan.

Whisk all liquid ingredients together. Preheat oven to 350, and line a muffin tin. In a new bowl, stir remaining ingredients very well. Pour dry into wet, and stir until just evenly mixed. Fill each liner about 2/3 of the way, leaving a little room because they will rise. Bake on the center rack, 20 minutes or until muffins have domed and a toothpick inserted into the center of a muffin comes out mostly clean. Let cool. (If you loosely cover overnight on the counter or refrigerated, the liners peel off easily the next day and flavor and texture are even better.) Leftovers can be frozen if desired. Be sure to rate the recipe below if you try it!

View Nutrition Facts
More Healthy Muffin Recipes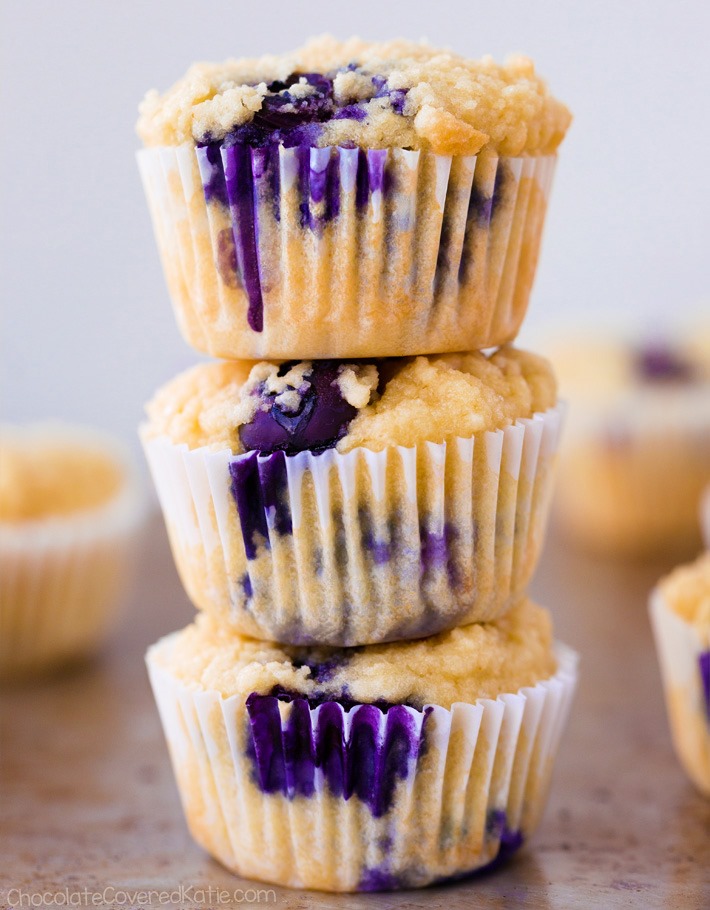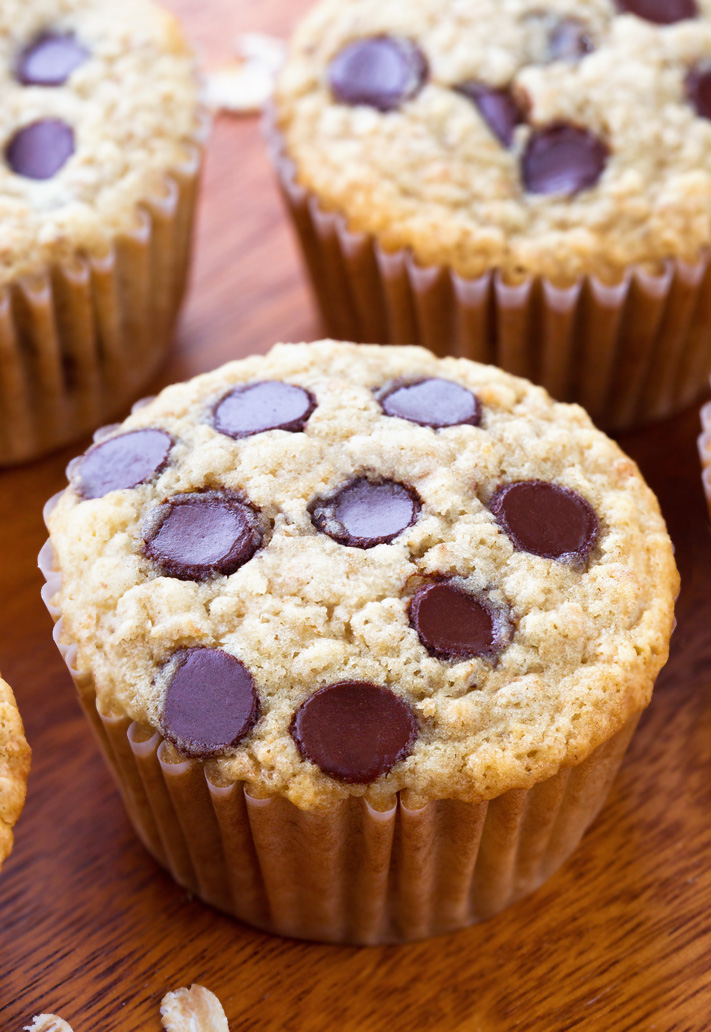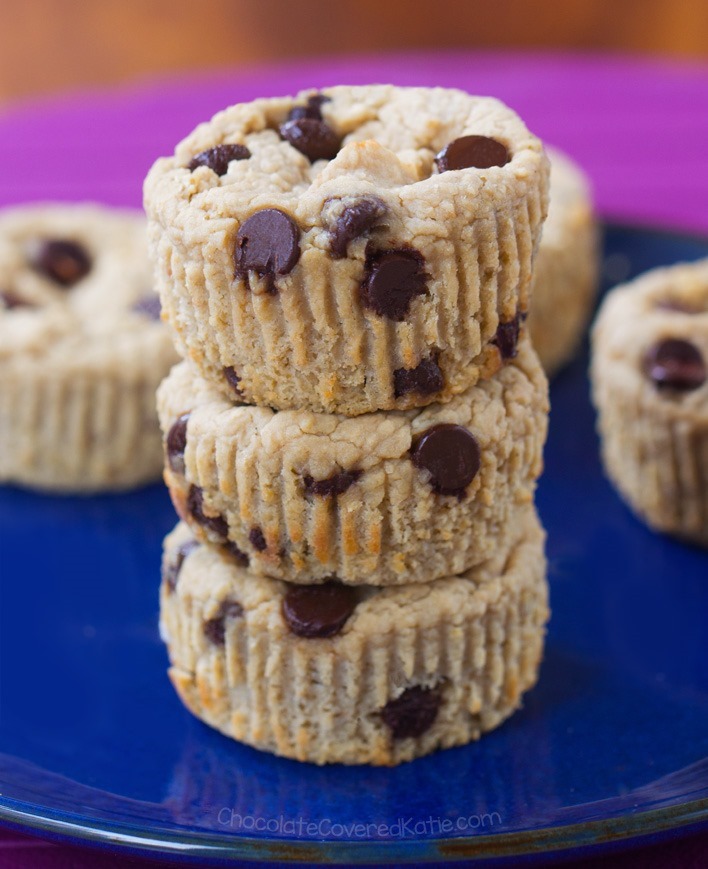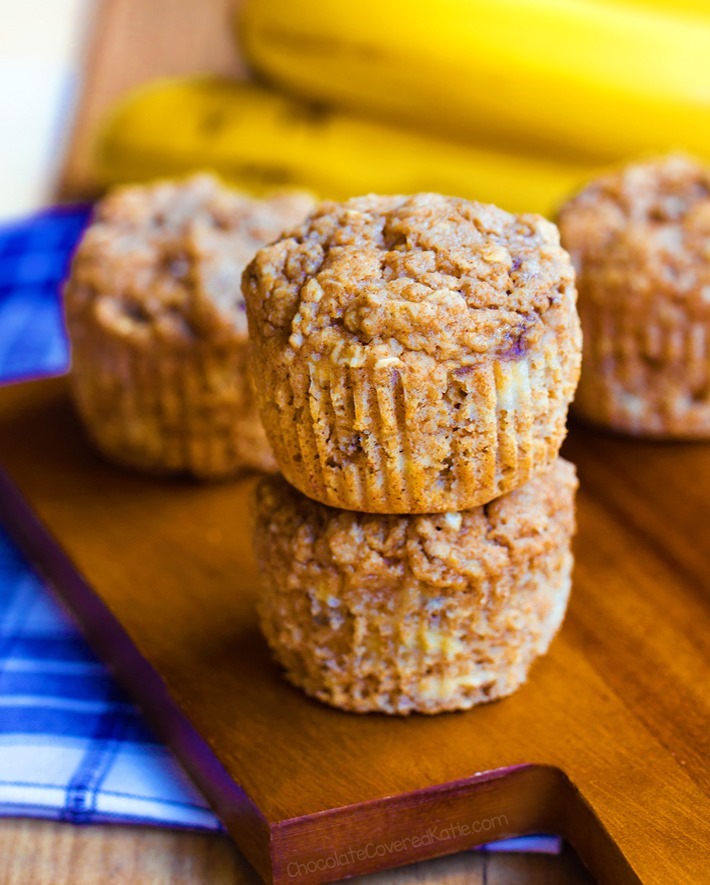 Or these healthy Bran Muffins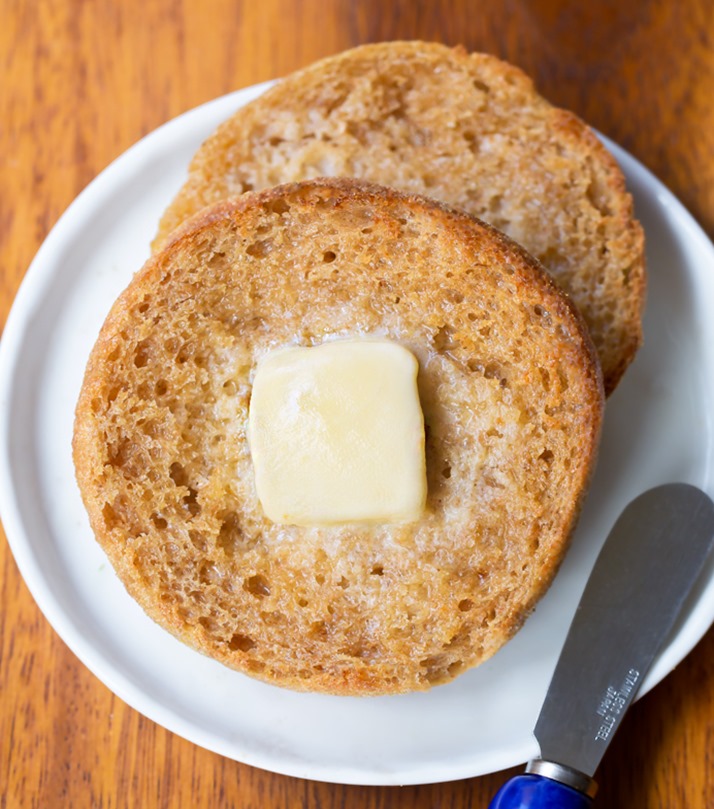 Easy Whole Wheat English Muffins
Recipe in the Hello Breakfast Cookbook