Gerber's got competition…
Lately, thanks to the (finally) warmer weather, I've been craving Faux-Yo.
But yesterday I was being lazy and therefore wanted to use my easy-to-clean Magic Bullet instead of the Vita-Mix.  So I opted for canned fruit, because Mr. Magic Bullet's tummy doesn't agree with frozen fruit (i.e. he refuses to blend it).  There was a can of 365-organic peaches (in pear juice) needing to be used up anyway.
I poured the whole can into a Magic-Bullet cup and blended away. Oddly enough, the result reminded me of those jars of Gerber baby apricots.  My sister and I used to eat those as snacks when we were little.  Well those and the plums.  I know it sounds weird, but when you think about it, people eat applesauce, so why not pureed apricots or plums?
Anywhoos, my snack: "Grown up baby food" and a  raisin-less Carrot Cake Sandwich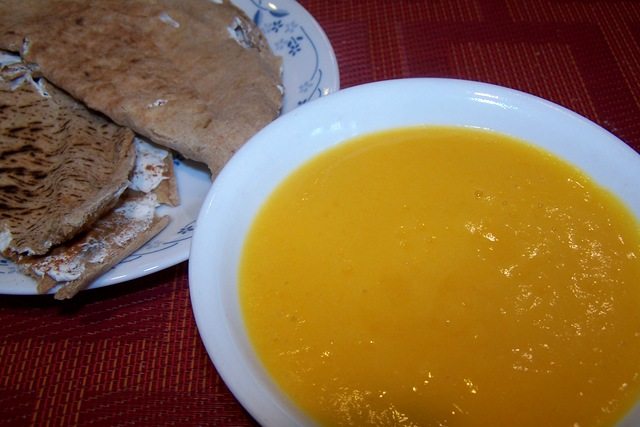 Baby Food for Grown Ups
(serves 2)
1 can fruit-of-choice (such as 365 peaches)
Oh wait, there aren't any other ingredients…
Guess I can't really call this a recipe then, can I? 😉
Blend the whole can (juice included).  You can add sweetener if you wish. I opted to put mine in the freezer for a few minutes, but you can always freeze the fruit (and juice) prior to blending if you have a strong blender.