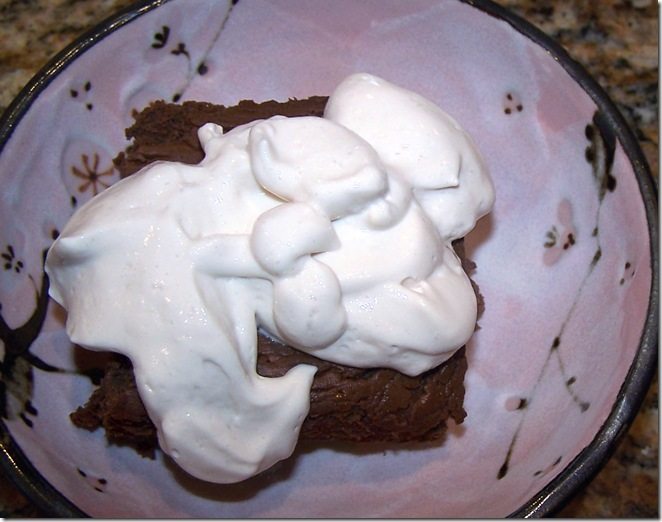 Above and below, covered in Vegan Whipped Cream.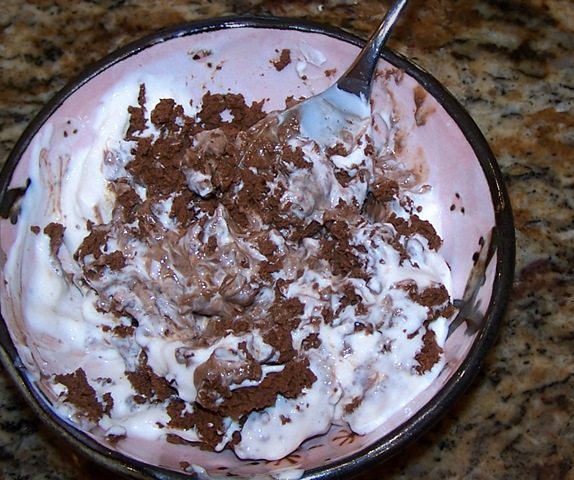 Possible problems with making a whole pan of brownies: After only a few days, they get hard and crumbly (especially the end pieces). If you live alone, it's hard to finish a whole pan by yourself before they go stale. If you're my mom, you disagree with the above… which presents a different problem: you might want to eat the whole pan by yourself!
Solution: Make brownies for one!
The following recipe makes 1 to 3 big servings (I usually eat it in two), stays super-moist for at least a few days if kept in the fridge, and it even offers a healthy amount of protein and vitamins.
"Fudge You!" Chocolate Protein Cake
(or make brownies or even cupcakes!)
1/4 cup (48 grams) chocolate protein powder (I used NutriBiotic. Spirutein did NOT work)
2 tbsp to 1/4 cup (up to 50-ish grams) canned pumpkin (I like 60g, but it will be much less firm with that much. Moist, but not firm)
1 and 1/4 tsp ener-g egg replacer (or 1 1/2 tbsp ground flax)
Level 1/8 tsp salt
sweetener (I like bitter chocolate, even in cake form, so I use less. But for most people's tastes, I'd recommend at least 4 tsp sugar or 1 tsp stevia
1/2 tsp baking powder
up to 1/2 cup (120g) water (or other liquid)
I also add cinnamon and sometimes a few drops of extracts.  You can add chocolate chips, coconut, nuts… Procedure: Preheat oven to 390*F.  Combine dry ingredients (including pumpkin).  Add water and stir. Pour batter into a mini-loaf pan and cook for 30 minutes.  (It's important to put it in the oven as soon as you add the liquid, because the "egg" starts to work right away.)  Open the oven and leave in ten more minutes (with the heat turned off and the door open).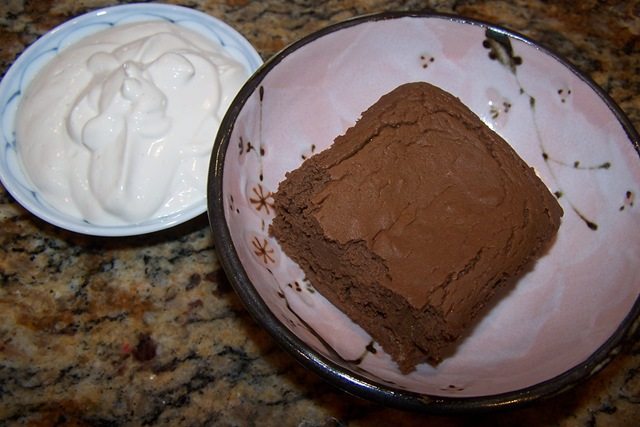 If you put Ricemallow Cream or something similar in the middle, you can have a vegan Ho Ho! (Or a Hostess-style "CupCake")
Question of the Day:
What's your favorite unhealthy food? Or, what's something you'd like to see health-i-fied?  It can be sweet or savory.