This delicious sweet and buttery blueberry crisp is the perfect recipe for parties, because it's quick to make and always gets rave reviews from everyone who tries it!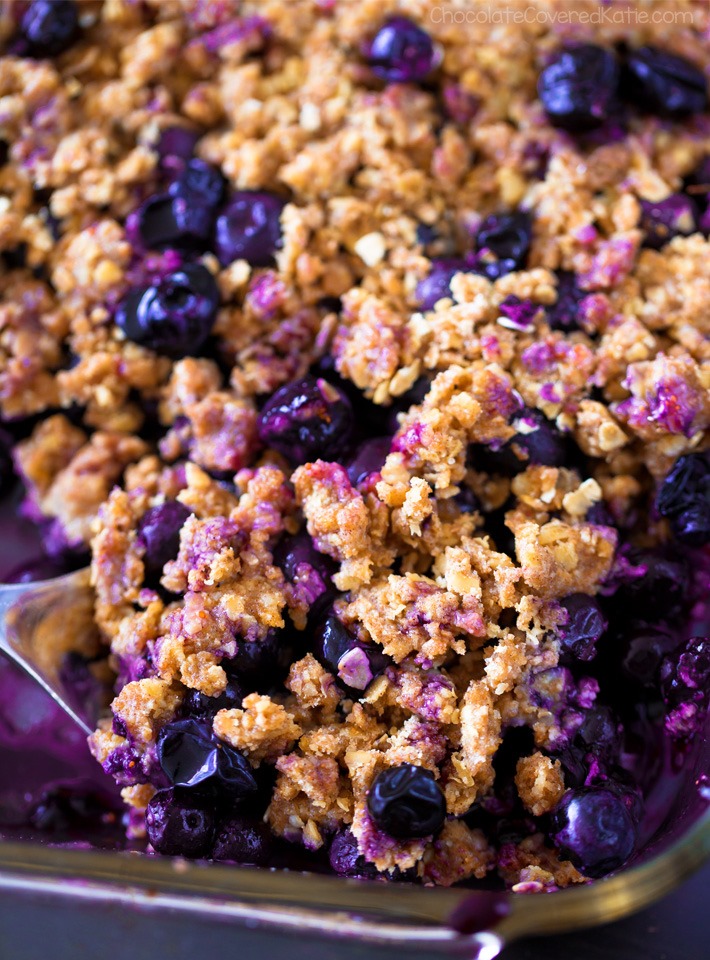 The Best Homemade Blueberry Crisp
This is one of my go-to recipes for a super easy party dessert.
Good for potlucks, brunches, barbecues, or Sunday night dinner, the classic fruit crisp has been a staple in my family since as long as I can remember.
It was originally my grandmother's recipe, and I've made it so many times that I could probably bake it with my eyes closed!
The recipe can easily be modified to use up whatever fruit you have on hand – raspberries, apples, cherries, and peaches are all fantastic in this healthy and crowd-pleasing dessert.
You may also like this Brownie In A Mug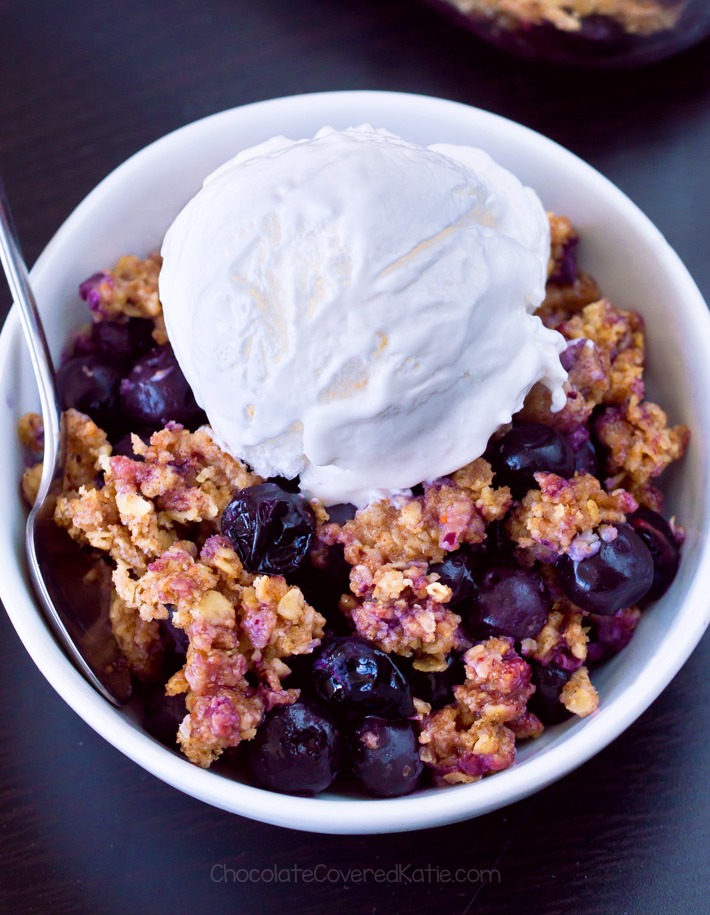 Blueberry Oatmeal Crisp
Sweet blueberry filling is covered with a melt-in-your-mouth crispy oatmeal crumb topping…
The recipe is pretty much guaranteed to be a hit with guests, and it's no wonder there are never any leftovers! The easy berry crisp is everything you could ever want from a homemade dessert and the perfect segue from summer to Fall.
Ice Cream Topping Options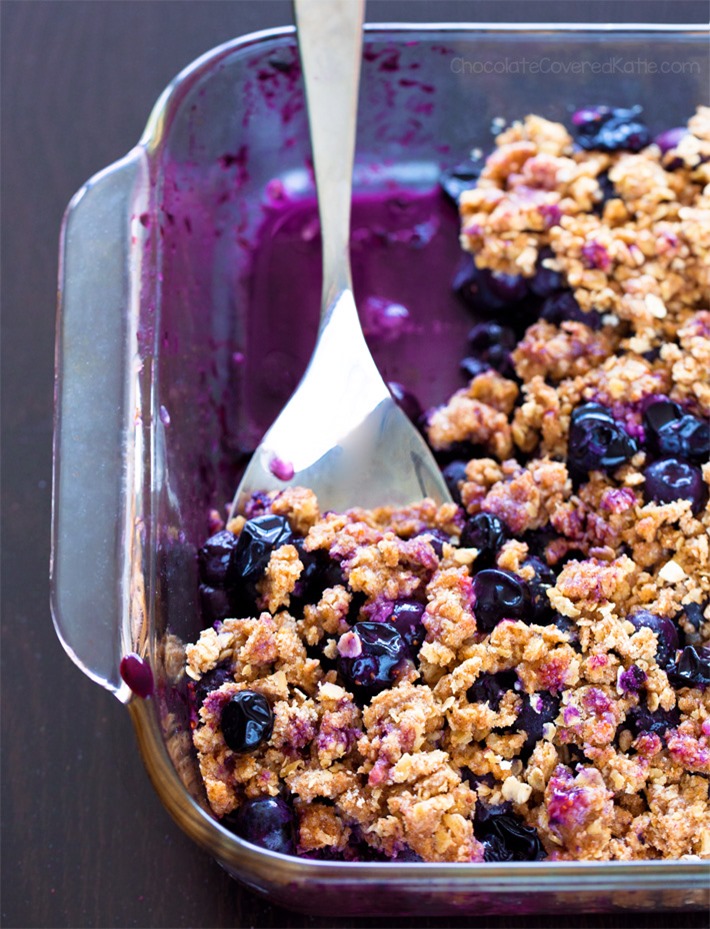 Or serve it in a bowl topped with yogurt or a swirl of nondairy creamer, almond milk, whipped cream, or melted coconut butter.
Personally, my favorite way to eat this fruit crumble is warmed up and topped with a scoop of vanilla ice cream so that the cold and creamy ice cream melts into the warm berries underneath. Blueberry crisp and vanilla ice cream were pretty much made for each other.
What's The Difference Between A Crisp And Cobbler?
Fruit crisps or crumbles traditionally include a layer of fruit on the bottom with a simple crumbly streusel topping made from flour, sugar, and butter. In contrast, a cobbler has a thicker batter resembling drop biscuits, dumplings, scones, or pie crust, without oats.
Can I Use Other Fruit?
You can! Feel free to replace some or all of the blueberries with chopped peaches, plums, strawberries, blackberries, raspberries, cherries, or apples, like in this Apple Crisp recipe.
You can also add a handful of crushed walnuts, almonds or pecans, shredded coconut, a tsp of lemon zest, or even some mini chocolate chips!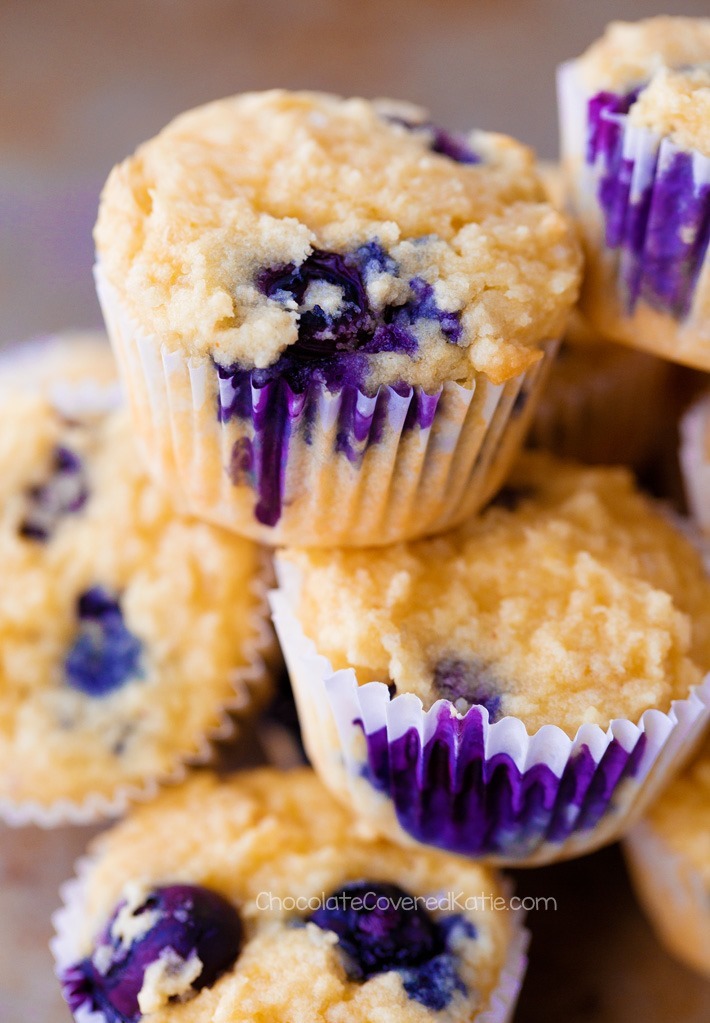 More Blueberry Recipes
Healthy Blueberry Muffins (recipe video included)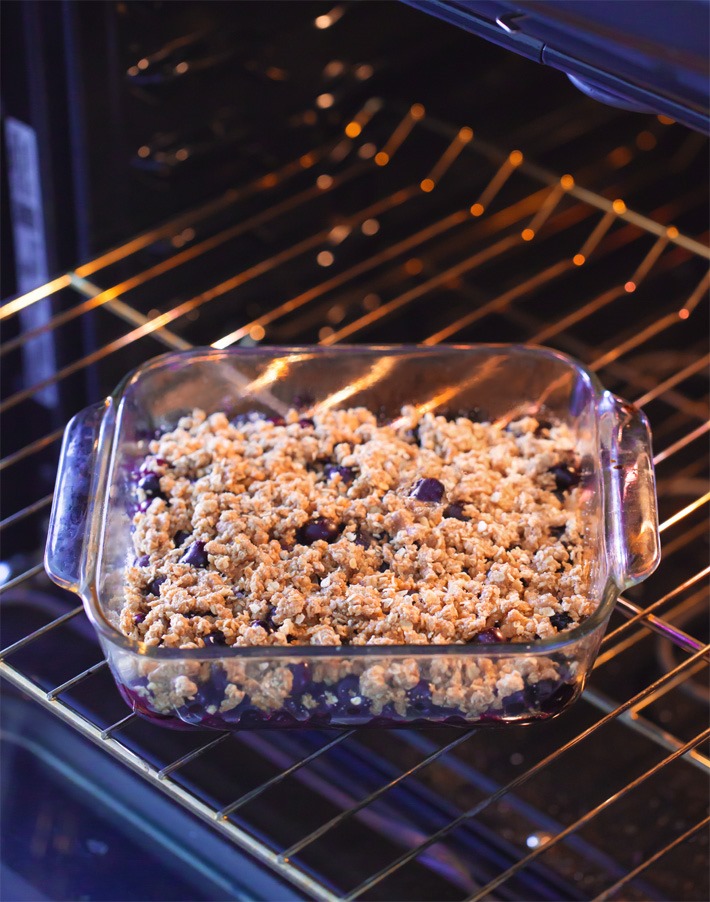 Vegan Blueberry Crisp
There are numerous vegan butter options on the market. Most regular grocery stores in the US, as well as stores like Whole Foods, Target, and Walmart, should carry at least one or two options. Brands include Melt, Earth Balance, Miyoko's Creamery, I Can't Believe It's Not Butter, Country Crock, or Smart Balance Light. Shortening, although not the healthiest option, will work in the recipe if it's all you can find. Crisco and Spectrum spreads are both vegan.
For A Gluten Free Version
Oat flour, almond flour, or gluten free all purpose can be subbed for the wheat flour in the recipe. I haven't tried sorghum or rice flour but would think they'd work. If you try one of these flours before I do, definitely be sure to report back.
While many people with gluten sensitivities do still consume regular rolled oats, certified gluten free oats are also fine to use for those with Celiac disease or if you're unsure and want to be on the safe side. I haven't tried but would think quinoa flakes should also work.
Paleo Or Keto Blueberry Crisp
For a flourless version of the recipe or a low carb blueberry crisp without oatmeal, see this grain free blueberry crumble recipe made with almond meal.
I've read conflicting things about whether or not blueberries are keto friendly. So if you want to make the recipe for someone on a keto diet, I'd recommend first asking the person if he or she consumes them.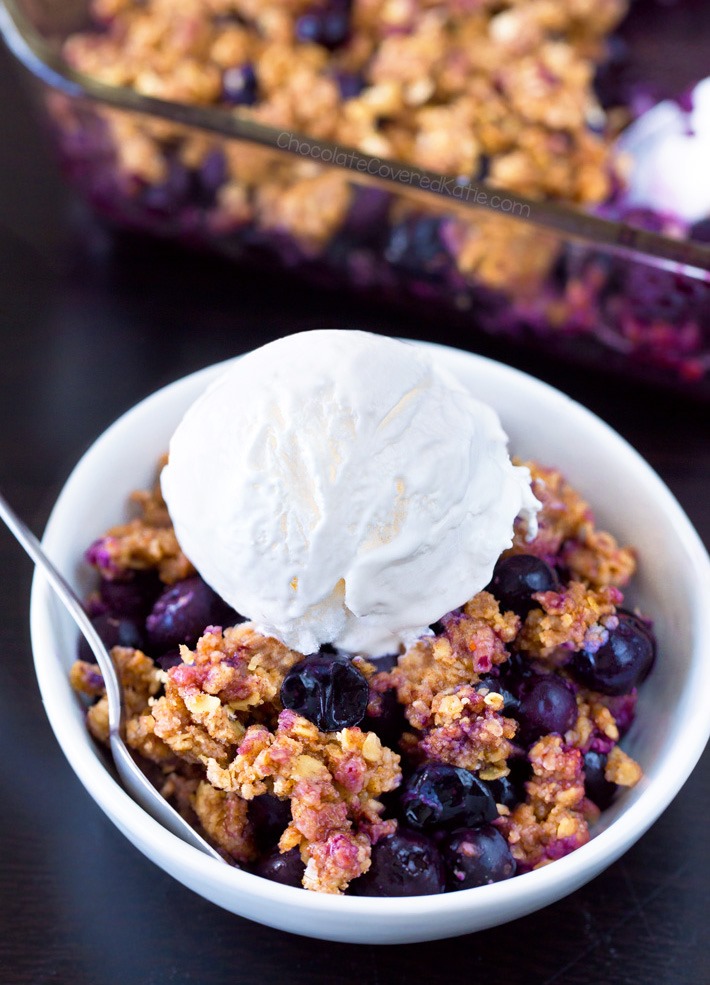 How To Make The Recipe
Begin by preheating the oven and gathering all of your ingredients. Fresh or frozen berries can be used, so the recipe can be enjoyed year round.
If using frozen berries, be sure to thaw them first. Combine the berries, sweetener, and optional cornstarch, then spread into a greased pan. Combine remaining ingredients except butter spread in a bowl.
Cut the butter spread into the dry ingredients with a fork or pastry cutter until small crumbles form. (If using oil, simply stir it in with the crumble ingredients.) Sprinkle evenly over the berry layer, then bake until bubbly. Leftovers should be refrigerated or frozen for freshness.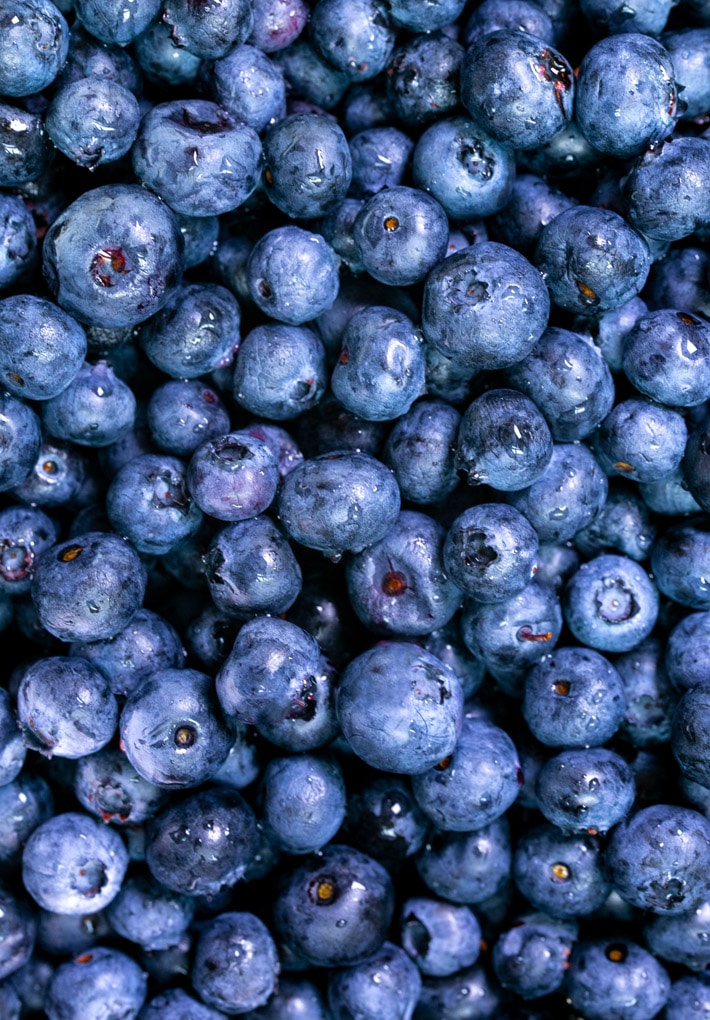 Healthy Blueberry Crisp
With a full 4 cups of blueberries packed into the recipe and less than a third cup of sugar for the entire pan, it's already remarkably healthy for a dessert!
For an even healthier crumble, you can get away with omitting the 1 1/2 tbsp sweetener and decreasing the butter to just 4 tbsp and/or using one of the light spreads mentioned above.
You can omit the butter completely for a low fat version that, although not as rich and buttery, will still be delicious. It makes an especially good healthy breakfast topped with yogurt or oatmeal.
For sugar free, simply substitute the sugar with xylitol or erythritol.
Or for a naturally-sweetened blueberry crisp, use 1/3 cup date sugar or pulse 1 cup pitted dates in a food processor until finely diced and use that to sweeten the recipe instead of sugar.


Blueberry Crisp Recipe
This delicious sweet and buttery blueberry crisp is the perfect recipe for parties.
Ingredients
4

cups

blueberries,

fresh or frozen

1 1/2

tbsp

sweetener of choice

optional 1 tbsp cornstarch

1/3

cup

flour,

such as white, spelt, or oat (or here is a low carb version)

1/2

cup

rolled or quick oats

1/4

cup

sugar,

unrefined if desired

1/2

tsp

cinnamon

6

tbsp

butter or oil
Instructions
*The cornstarch will thicken the filling, but I've made it without and it's just as good, so feel free to omit if desired. If you like more crumble, increase the oats to 2/3 cup and butter to 8 tbsp. For all other ingredient substitutions, see notes above in this post.

Preheat oven to 375 F. Grease an 8×8 pan (or double the recipe for a 9×13). If using frozen berries, thaw first. Combine berries, sweetener of choice, and optional cornstarch, then spread into the pan. Combine all remaining ingredients except butter in a mixing bowl. Cut butter into the dry ingredients with a fork or pastry cutter until small crumbles form. (If using oil, simply stir it in.) Sprinkle the crumbles evenly over the berries. Bake on the center rack 25-30 minutes or until bubbly and lightly browned. Let cool before serving, as it thickens while it cools. The crumble will also thicken overnight. Store leftovers covered in the fridge, or they can also be frozen. Serve either hot or cold. If you try the recipe, be sure to rate it below!

View Nutrition Facts
More Reader Favorite Party Desserts: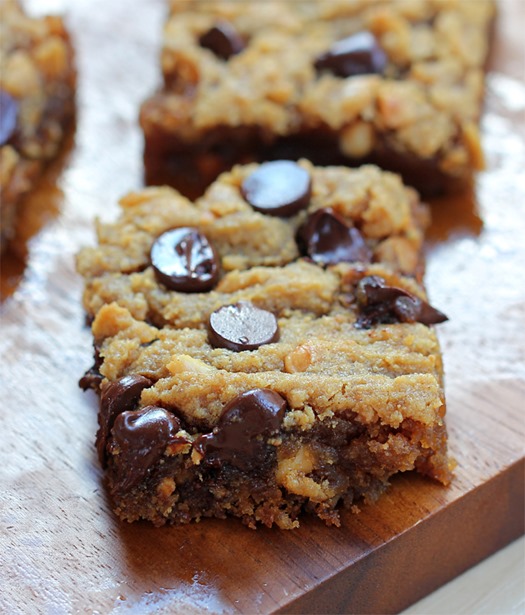 Chocolate Chip Peanut Butter Bars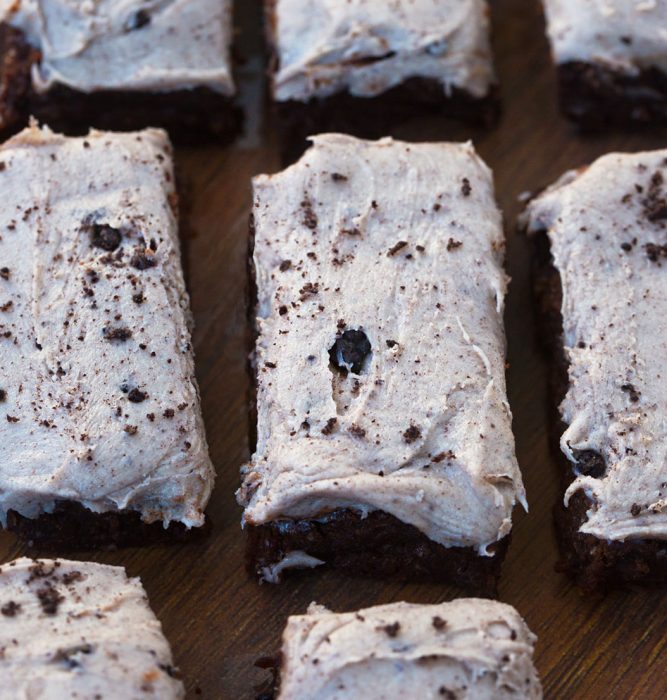 Oreo Brownie Bars, from the Hello Breakfast Cookbook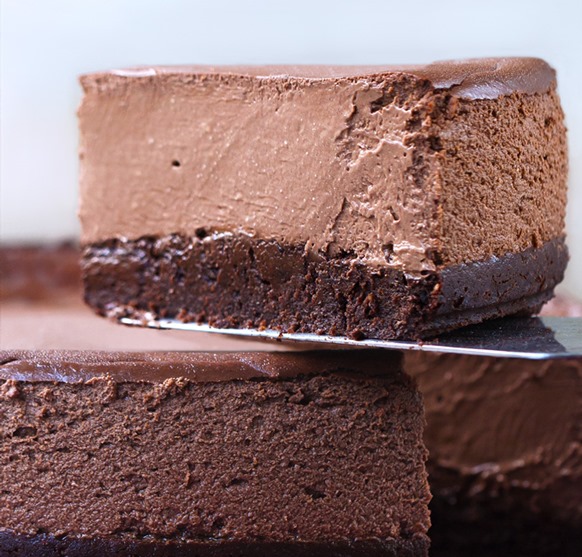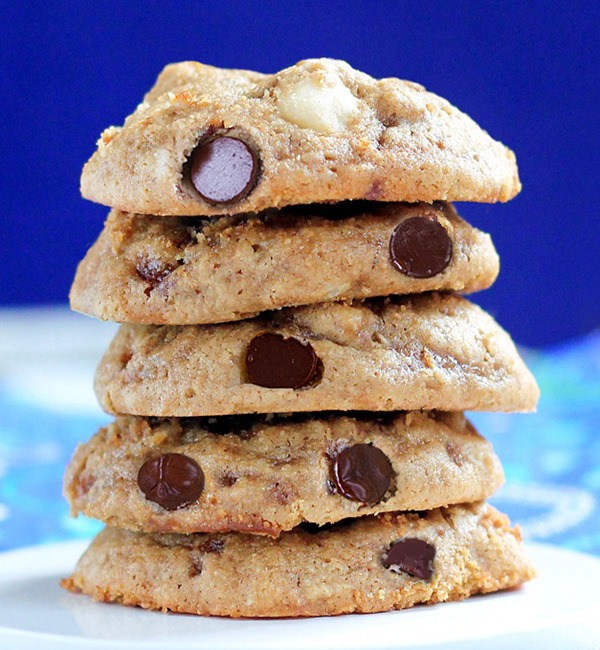 Healthy Chocolate Chip Cookies